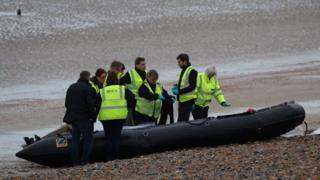 Two UK Border Force boats will be redeployed from overseas to patrol the Channel in response to recent migrant crossings, the home secretary has said.
Sajid Javid said the operation would protect human life, as well as borders.
Mr Javid met Border Force officials earlier after agreeing a joint action plan with France.
Twelve migrants were found on the Kent coast on Monday, bringing the total number of people to have reached the UK by boat since November to 239.
The home secretary said around 230 people tried to cross the Channel in December, but half of them were "disrupted" by French officials and did not leave France.
The decision to recall the vessels was taken by the Home Office after some MPs – including Conservative backbenchers – called for more Border Force patrols to be deployed.
Only one of the five Border Force cutters – specialist boats which the force describes as being capable of rescuing several migrant boats at the same time – had been working in the Dover Strait.
The two being brought back are currently in the Mediterranean.
The Border Force also has three of its six coastal patrol vessels in the Channel, but the Home Office said this remained under "constant review".
Sorry, your browser cannot display this map
Mr Javid said the incidents around the Channel were still a "serious concern" to him, adding: "It's both about protecting human life but also about protecting our borders.
"When it comes to human life, clearly I want to make sure that we are doing all we can to protect people.
"This is one of the most treacherous stretches of water. Twenty-one miles with people taking grave risk, really putting their lives into their own hands by taking this journey."
But in a message to those thinking of crossing the Channel this way, he added: "We will do everything we can to make sure it is not a success, in the sense that I don't want people to think that if they leave a safe country like France they can get to Britain and then just get to stay."
The migrant view from Calais
By Damian Grammaticas, BBC Europe Correspondent
The port at Calais is ringed with barbed wire and security fences, floodlights and cameras. Parked up in the dunes behind it are police vans full of officers monitoring the city and coast.
It is here the refugees try to sneak through, boarding small boats in the dead of night.
Mostly men from Iran, Afghanistan and Eritrea and elsewhere, they live in small, squalid encampments. Having trekked all the way from their home countries, the few hundred refugees here are determined to reach the UK in any way possible.
Mohamed from Iran, told me he had tried twice in the past week, setting off in a tiny boat with 10 other men who had all paid smugglers to help them. He is trying to reach the UK because his wife and children are already there.
On their first attempt they ran out of fuel. The second time they got close to the English coast and phoned 999, seeking assistance from UK coastguards, but he said a French vessel turned up instead and they were returned to France.
The reason refugees are increasingly trying the sea crossing, we were told, is that heightened security around French ports and the Channel tunnel has made it almost impossible to stow away on lorries and trains.
It is in desperation that people are turning to boats instead.
Mr Javid, who returned from a family holiday in South Africa after coming under pressure to act, earlier agreed an "enhanced action plan" with his French counterpart, Christophe Castaner, to be put in place in the coming week.
It includes increasing joint patrols and surveillance, disrupting organised trafficking gangs and raising awareness among migrants of the dangers of a Channel crossing.
The prime minister's official spokeswoman said Theresa May supported the home secretary's work to tackle the "deeply concerning rise" in migrants crossing the Channel on small boats.
Dover MP Charlie Elphicke said it was important illegal migrants were not allowed to stay in the UK.
He told BBC News: "What we need to see now is this Dover patrol work hand in glove with the French authorities in a new Channel compact, so that anyone found in the English Channel in one of these unseaworthy craft can be helped carefully and safely back to the French coast – so that they know there is no chance of getting into Britain."
But Ben Bano, from the Seeking Sanctuary migrant support group, warned migrants should not be demonised.
He said: "We have to hold on to the fact that people, however desperate they are, are our brothers and sisters in humanity, and that is what we need to keep reminding people about. And they are refugees unless proved otherwise."
Writing on Twitter on Sunday, Labour leader Jeremy Corbyn said: "We have a duty to reach out the hand of humanity, support and friendship to people who are in danger and seeking a place of safety."
And speaking to the Guardian, his shadow home secretary Diane Abbott accused Mr Javid of exploiting the problem.
She told the paper: "There's no question that, with Brexit and also with the approach of the meaningful vote in January, people are being whipped up about migration issues, because the government thinks this is the best way of frightening people to vote for their deal."