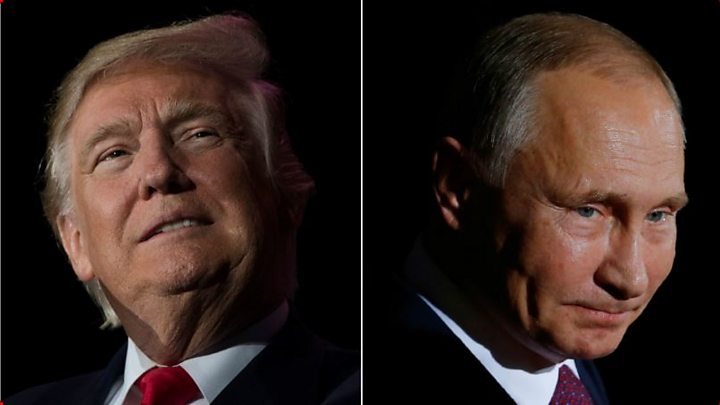 US President Donald Trump says his country's relationship with Russia is at a "dangerous low", amid a feud with Congress over new sanctions imposed against Moscow.
Mr Trump approved the measure on Wednesday, despite calling it "flawed".
Russia said the new sanctions were tantamount to declaring a "full-scale trade war" against Moscow.
The law aims to punish Russia for its alleged meddling in the 2016 US elections and its actions in Ukraine.
Mr Trump had opposed the bill, which also contains measures against Iran and North Korea, as it constrains his ability to ease the sanctions without the consent of Congress.
The final line of his signing statement argued Congress was making a mistake, saying "as president, I can make far better deals with foreign countries than Congress".
In a fresh outburst on Thursday, he made clear where he thought blame lied for the state of US-Russia ties.
"Our relationship with Russia is at an all-time & very dangerous low," he wrote on Twitter.
"You can thank Congress, the same people that can't even give us HCare!" he added, in reference to his inability to repeal his predecessor Barack Obama's flagship heath reforms.
Russia has also reacted angrily. Prime Minister Dmitry Medvedev said the sanctions package "ends hopes for improving our relations with the new US administration".
In a Facebook post, Mr Medvedev said the measures showed Mr Trump's "total weakness" and that he had been humiliated by Congress.
Moscow, which denies interfering in the US presidential election, had already retaliated last week by ordering the US to cut its diplomatic mission in Russia by 755 people.
The legislation limits the amount of money Americans can invest in Russian energy projects, and makes it more difficult for US companies to do business with Russia.
President Trump has repeatedly denied that his campaign staff colluded with Russia to help him win the election.
Allegations by the US intelligence community that Russia interfered in the US election to aid Mr Trump are currently being investigated by Congress and a special investigator.