The President dismisses Rex Tillerson's stance on Pyongyang contact, saying: "Save your energy Rex, we'll do what has to be done!"
Donald Trump says he told his Secretary of State that negotiating with North Korean leader Kim Jong Un was a waste of time.
Rex Tillerson, America's top diplomat, disclosed at the weekend the US was in "direct contact" with Pyongyang over its nuclear and missile programmes.
The State Department said North Korea had shown no interest in dialogue.
"I told Rex Tillerson, our wonderful Secretary of State, that he is wasting his time trying to negotiate with Little Rocket Man," President Trump wrote on Twitter.
"Save your energy Rex, we'll do what has to be done!" he added.
Mr Trump later vowed he "would not fail" on North Korea.
He wrote on Twitter: "Being nice to Rocket Man hasn't worked in 25 years, why would it work now? Clinton failed, Bush failed, and Obama failed. I won't fail."
Mr Tillerson's comments marked the first confirmation that backchannel discussions have been taking place as North Korea's nuclear tests and a war of words between the two leaders sparked fears of a military conflict.
He was speaking in China, where he is hoping to encourage President Xi Jinping to implement recently agreed UN sanctions against North Korea.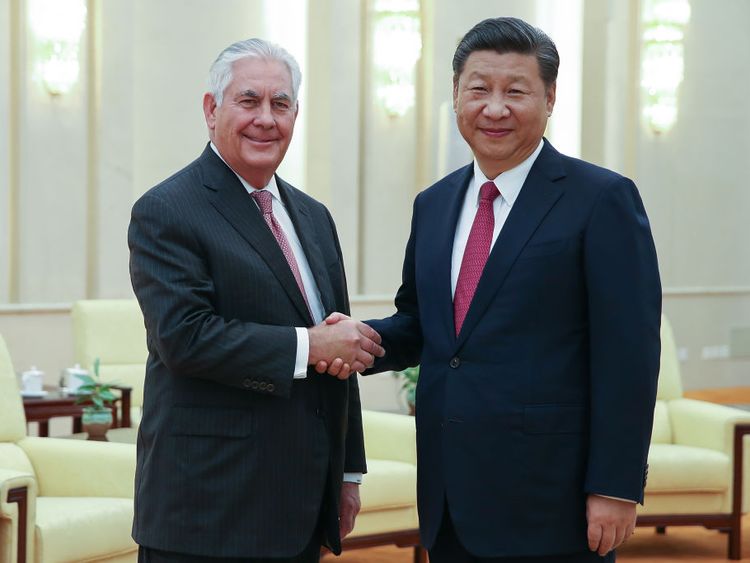 He said: "We have lines of communication with Pyongyang. We're not in a dark situation, a blackout, we have a couple, three channels open to Pyongyang."
According to the US State Department, North Korea has shown no indication they are interested in, or ready for, talks about denuclearisation.
The US has not ruled out the use of force to compel Pyongyang to halt missile and nuclear tests, and last week Mr Trump threatened to "totally destroy" the country.
But privately, senior figures admit the military options do not look promising, with South Korea's densely populated capital Seoul in range of the North's artillery.
As Mr Tillerson met China's top diplomats, North Korea's state media produced a new barrage of insults.
A statement branded Mr Trump an "old psychopath" bent on the "suicidal act of inviting a nuclear disaster that will reduce America to a sea of flames".
The US Secretary of State suggested the key to easing diplomatic tensions was putting an end to Mr Kim's missile tests.
He said: "The whole situation is a bit overheated right now. I think everyone would like for it to calm down.
"I think if North Korea would stop firing all the missiles, that would calm down things a lot."