These 10 Bullets Ware Removed From My Head And 2 Bullets Close To My Eyes – Actress Angela Okories Says As She Shares Video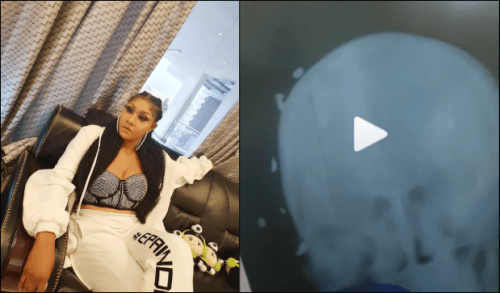 Popular Nollywood actress Angela Okorie has taken to her Instagram account to appreciate God after she survived a recent violent attacked by an unknown gunmen.
Recall that the actress was allegedly attacked by gunmen in the early hours of Saturday December 14th. It was widely believed that the attack was carried out by suspected armed robbers.
In a post she shared on Sunday morning, Angela described the attack as an assassination attempt. According to her, 10 bullets were removed from her head.
READ ALSO
Who Ever That Wants Me Dead, Will Surely Die My Death – Angela Okorie Writes After Being Attacked By Gunmen
She wrote;
"Undiluted grace will never stop to exist in my home,
10 bullets was removed from my head and 2 bullets close to my eyes,
God alone deserves all the glory and honor
You are God all by your self,
I am a child of Grace
Thank you lord
Nothing in this world will ever make me ungrateful for all you've done in my life
And family,
The assasins kept on shooting for 30 minutes, No help from anywhere,
No human came for our rescue
Only God came for our Rescue
#epaindem
#protectmelord
View this post on Instagram

Undiluted grace will never stop to exist in my home, 10 bullets was removed from my head and 2 bullets close to my eyes, God alone deserves all the glory and honor You are God all by your self, I am a child of Grace Thank you lord Nothing in this world will ever make me ungrateful for all you've done in my life And family, The assasins kept on shooting for 30 minutes, No help from anywhere, No human came for our rescue Only God came for our Rescue #epaindem #protectmelord Come on live now and worship with us, immediately after the live I will be receiving calls to speak to few people, because I might not be able to speak with everybody, God is in control Hotlines: +2349074742282

A post shared by Angela Okorie (@realangelaokorie) on