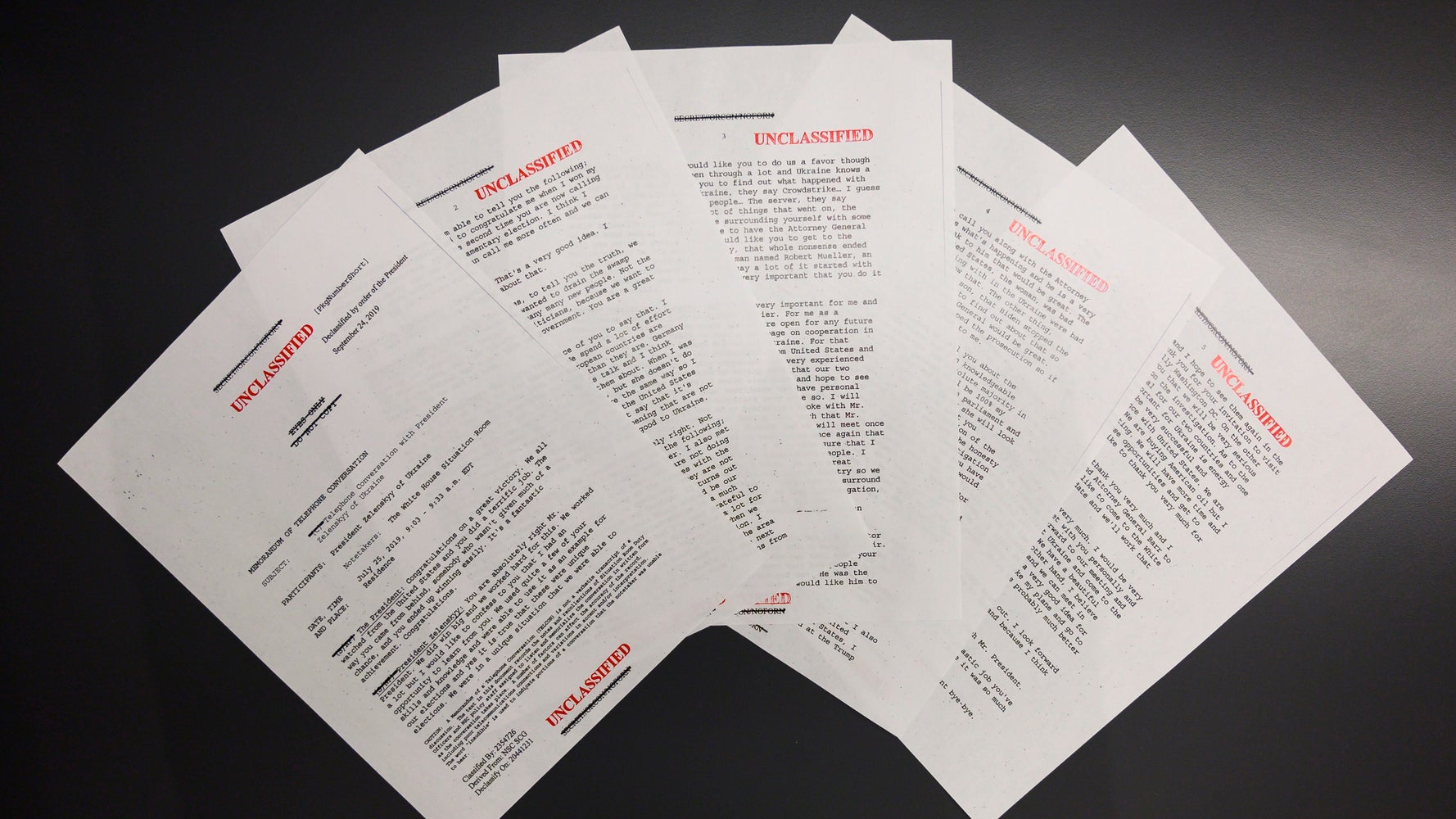 The White House memo about a phone call between President Donald Trump and the president of Ukraine released Wednesday appears to contain several potential omissions at crucial moments when Trump asks the foreign leader to help dig up dirt on political rival Joe Biden.
The document, which is not a verbatim transcript of the call, contains ellipses just after Trump launches into his request that Volodymyr Zelensky do "a favor":
"I would like you to find out what happened with this whole situation with Ukraine, they say Crowdstrike… I guess you have one of your wealthy people… The server, they say Ukraine has it."

"Biden went around bragging that he stopped the prosecution so if you can look into it… It sounds horrible to me."
The first quote is a reference to an unsubstantiated claim being pushed by Trump's personal lawyer Rudy Giuliani that Ukraine played a role in hacking the Democratic National Committee during the 2016 campaign. The consensus among national security agencies places blame for the hack on Russia.
The second quote refers to a debunked claim being pushed by the president that Biden bragged about foiling a corruption probe into a Ukrainian company linked to his son Hunter Biden.
As a punctuation mark, an ellipsis typically indicates the omission of words or entire sentences from a quote, although it can also indicate when a speaker trails off.
It was not immediately clear in which sense they were used in the summary, although Trump's train of thought wanders at several points without being punctuated by ellipses. The entire call lasted for 30 minutes.
The document released by the White House on Wednesday is not a word-for-word recreation of the call but a detailed memo based on "notes and recollections of Situation Room Duty Officers and NSC policy staff" who are assigned to listen to and take careful notes on the call in real time, a footnote cautions. A senior White House official told reporters that voice recognition software was also used to compile the memo.
House Democrats' potential options for uncovering the meaning behind the ellipses include subpoenaing Situation Room or National Security Council staff.
"This White House has a history of doctoring public disclosures to save the president from embarrassment," he said in a statement. "If they do it for small things, like when they changed the transcript of the White House communications director saying the president 'sinks three-foot putts' into saying 'he sinks 30-foot putts,' then there's no telling what they do in a document as consequential as this one."
He continued, "Even with the possibility that the administration doctored or left out major sections, though, this document demonstrates that President Trump made it abundantly and redundantly clear to the president of the Ukraine that he wanted him to investigate his political opponent." 
The summary of the July 25 phone call is at the heart of explosive accusations that Trump leveraged United States foreign policy to damage Biden, who is a frontrunner for the 2020 Democratic presidential nomination.
The White House initially resisted releasing a transcript of the call to Congress, as well as a whistleblower complaint that first brought the president's actions under scrutiny. The White House reportedly plans to release the complaint, which Congress has a right to see by law, and facilitate congressional interviews of the whistleblower.
Earlier this week, Trump attempted to walk back the notion that he pressed Zelensky for his own political gain.
"The conversation I had was largely congratulatory, with largely corruption, all of the corruption taking place and largely the fact that we don't want our people like Vice President Biden and his son creating to the corruption already in the Ukraine," he told reporters at the White House.
During the call, Trump repeatedly asked Zelensky to contact his personal lawyer, Giuliani, or U.S. attorney general William Barr about opening a corruption probe against Biden.
"There is a lot of talk about Biden's son, that Biden stopped the prosecution, and a lot of people want to find out about that," Trump said, according to the phone call memo. "So whatever you can do with the attorney general would be great."
The Justice Department claims Barr was unaware of Trump's overtures to Zelensky.
Just days before the call took place, Trump had ordered his acting chief of staff to suspend $391 million in U.S. foreign aid to Ukraine, although the aid does not come up in the memo.
Trump has accused Biden of using his authority while he was vice president to force the dismissal of a Ukrainian prosecutor who was investigating a company with ties to Biden's son.
Trump's accusations, however, are not substantiated. Although Biden called for the prosector's dismissal, he was one of many world leaders and good governance groups to do so, because of that prosecutor's storied history of failing to bring corruption cases.
One entity with a history of corruption was Burisma Holdings, where Biden's son Hunter was a paid board member beginning in 2014. But the United States under President Barack Obama actually pushed for a possible investigation into Burisma and its owner, and there is no evidence that Biden interfered.
Hunter Biden has been criticized for the appearance conflict of interest but is accused of no legal wrongdoing.