Last Updated: 30/05/17 7:15am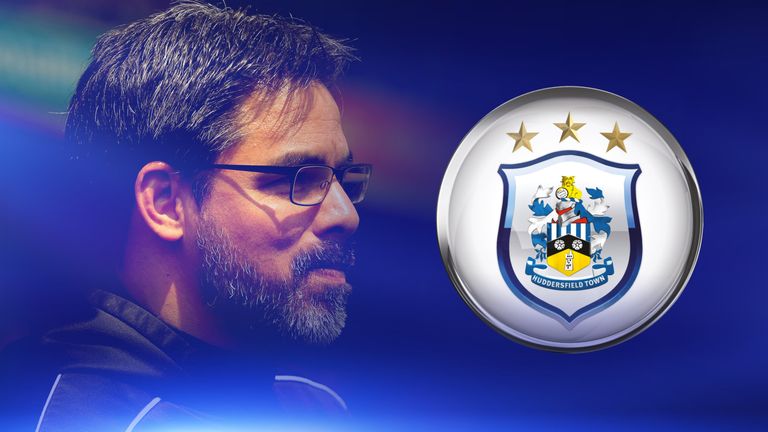 David Wagner's fresh ideas have overcome the Championship odds
David Wagner's Huddersfield fairytale is a triumph for new ideas in the Championship, writes Adam Bate.
When David Wagner bounded into his Wembley press conference fresh from taking Huddersfield into the Premier League after 45 long years outside of English football's top flight, the sense of satisfaction was as palpable as it was understandable. As he himself had been fond of pointing out, for Leicester City in 2016 read Huddersfield Town in 2017.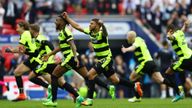 Huddersfield in the Premier League
Huddersfield Town defeated Reading on a penalty shootout at Wembley to win the Championship play-off final.
An exaggeration, no doubt. But with parachute funds, billionaire investors and heavyweight clubs aplenty, this was still supposed to be the toughest Championship season anyone could remember. And yet, here was Wagner with one of the smaller budgets in the division, reeking of champagne after seeing his side defeat Jaap Stam's Reading in the play-off final.
It must have been tempting to use his new Premier League platform to address some of the critics. Instead, he largely eschewed the opportunity to hit back too hard at QPR counterpart Ian Holloway for predicting Huddersfield's relegation on account of his "inexperience". After all, Wagner could not call this a fairytale and then wonder why people might be surprised.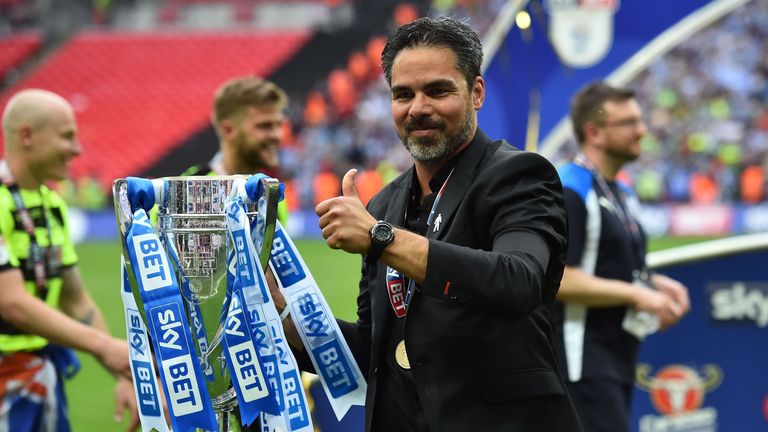 Wagner's Huddersfield were tipped by some to struggle this season
However, that there are lessons to learn from his achievement should not be doubted. It is a promotion that flies in the face of accepted wisdom – and not just because Huddersfield are the first team in the history of the English game to go up with a negative goal difference. The notion that this league requires skills that only come in good time should be challenged.
Newcastle and Brighton did both succeed by adding Championship experience. But Wagner turned to loan signings from Chelsea, Manchester City and Liverpool. Club record acquisition Christopher Schindler, one of five German-born players to feature at Wembley, had spent six seasons in his country's second tier. He was the man who scored the winning penalty.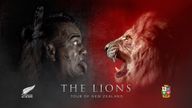 The Lions Tour live only on Sky Sports
Watch every match from the British & Irish Lions tour of New Zealand only on Sky Sports. Get Sky Sports today!
"I'm so happy we've proved that experience is not everything in England," said Wagner. "I've always been confronted with having no experience in English football, no experience in this league, no experience of not having the winter break, no experience of the play-offs. Experience is important, but if you have passion, desire and ideas you can match it.
"I'm so happy we've proven this is possible and brought this fairytale to a happy ending."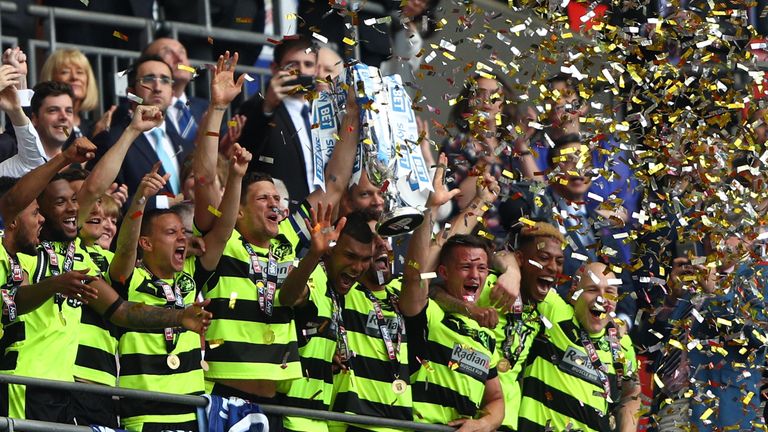 Huddersfield celebrate their play-off final win over Reading at Wembley
One hopes that Huddersfield's story is far from over yet. But more than that, the hope must be that the lessons that it can teach us are heeded too. New ideas need not be dirty words; even – or perhaps that should be especially – in the Championship. Five foreign managers among the top six hints as much but it's the example of Wagner that is most instructive.
It can be all too tempting to dismiss that which is different on the assumption that change is in and of itself something to be instinctively resisted. That is not an irrational concern, of course. Indeed, the Football League is currently awash with high-profile examples of clubs with a penchant for perverse – at times ruinous – decision making.
But that only makes it all the more refreshing when a coach goes against the grain and yet somehow succeeds in taking a team with him on the journey. From the outset it was clear Wagner was going to remove players from their comfort zones with the double training sessions and a much-discussed pre-season in Sweden that set the tone for what has followed.
Christopher Schindler slotted home to net Huddersfield £170m and promotion
With no running water or electricity for three days, it was certainly a test; one that midfielder Jonathan Hogg described as the experience of a lifetime. The 28-year-old has a rival for that title now but the link between the events of last July and Huddersfield's courage and confidence in coming through two penalty shootouts could well be significant.
"Let's say it was a starting point to develop this togetherness," said Wagner. "Over the 10 to 11 months of playing together this bonding and togetherness grows more and more. This was only the start of it. It is not as easy as going to Sweden and then we will be successful. It was a small detail which helped us bond together quicker than we'd usually bond together.
"Then we did some further things as a football club. We created a family day. We created in the stadium a family area. We brought the [partners] and children to a training camp in Marbella and now before the play-offs we brought them to Portugal. So this is a really strong group we have here in the dressing room with the partners as well."
Wagner speaks to Sky Sports after he guided the Terriers to the top flight
Wagner, with his insistence that every player lives within 15 miles of the club's base, has worked hard to foster this family ethos. Much like the team's on-pitch style of play, it has become a part of what makes Huddersfield a bit different. And if a club like Huddersfield want to get to the Premier League mirroring the strategy of their rivals just will not work.
Even against Reading that thinking prevailed. The trademark pressing game was tweaked to combat Stam's side. "Reading are so strong in possession that it made no sense to press high and chase them as you'd just waste your energy," reasoned Wagner. "We said we wanted to sit deeper and play on the transition to counter and I think it worked well."
Not that they will abandon their entire philosophy. "It was always our target that we created an identity," Wagner explained. "A style of football where even if we are maybe wearing neutral jerseys people could think that it may be Huddersfield who are playing there. This football club has to create its own story. I think that we are on the way."
He added: "What happens next season we will see."
Watch highlights of the play-off final between Huddersfield and Reading
Wagner was referring to Huddersfield and his own plans but the question could also apply to the Championship itself. Interestingly, Stuart Webber, the sporting director who helped bring Wagner in has since switched to Norwich and promptly appointed Daniel Farke as the new head coach. Farke happens to be the man who replaced Wagner at Borussia Dortmund.
Huddersfield's manager should be flattered. Imitation and all that. It worked once for Webber and it might work again. But perhaps this just represents a new spin on that familiar old problem. The real lesson of Wagner's success is surely that teams should find their own unique identity not make the mistake of thinking there is only one way that works.
But that is a problem for the rest of the Championship now. The league, as Wagner put it, that "they have left behind". Right now, all we do know for sure is that this way works for David Wagner, Huddersfield Town and the 39,000 fans who got to enjoy the culmination of their coach's ideas at Wembley Stadium on Monday afternoon.