Eric Bigger is not so supportive of Rachel Lindsay's happily ever after. 
After The Bachelorette's controversial season finale where the Texas-based attorney accepted a proposal from Bryan Abasolo, her second runner-up stopped by the Almost Famous podcast to share his point of view on Rachel's pick. (Spoiler alert: Eric called Bryan the "rebound.")
"Honestly, from watching the show last night for the first time, I don't think she picked the right man in that moment," Bigger admitted to co-hosts and fellow Bachelor Nation members Ben Higgins and Ashley "I" Iaconetti.
He said that while filming the ABC reality series, Bryan seemed like the obvious frontrunner. But upon watching the finale, where Rachel bid an emotional farewell to Peter Kraus over his reluctance to pop the question, Bigger's perception shifted. "I felt bad for [Bryan,]" he shared. "It seemed like he was a rebound."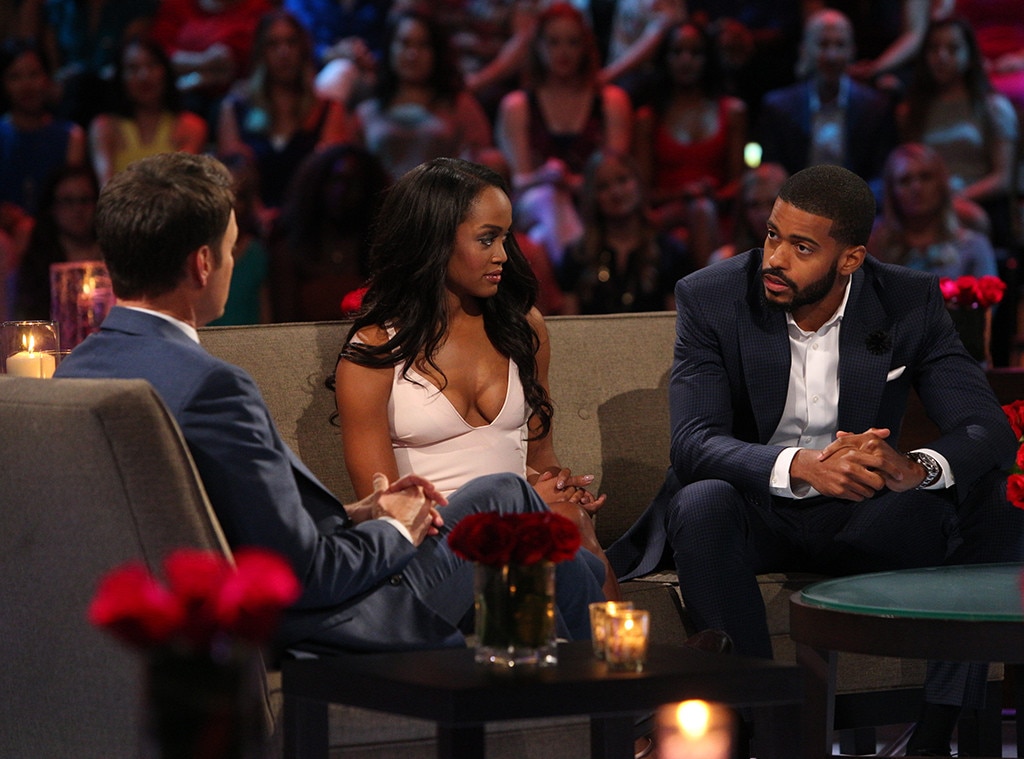 Paul Hebert via Getty Images
Eric, 29, continued, "I could be wrong, but that's what it looked like in my eyes and maybe the feelings they had for each other is different from what I see. But man, it was tough."
So what, in Bigger's opinion, made Lindsay give Abasolo the final rose? "She made a decision because she had to as opposed to what she felt," he said, later adding, "From the heart, I really think she was more with Peter but in the mind Bryan made sense."
Eric also said that although Rachel might have had strong feelings for Bryan throughout her journey on the show, it was Peter's obvious hesitation that kept her hanging on. "Sometimes something too good might not last because there's no resistance," he mused. "We need challenges in life to change. With what happened at the end with [Bryan,] she didn't have a challenge with him. Peter was a challenge. You want what you can't have."
In an interview with E! News' Zuri Hall, Rachel defended her fiancé from skeptics of their relationship. 
"It's a week of filming that's put into two hours, so obviously some parts are left out. I hate that you don't get to see the essence of Bryan… You didn't really get to see our love story unfold the way that I felt it did," Lindsay, 32, offered. "We had a lot of depth to our relationship. It's very mature. Through time, maybe people will see that."
But from Eric's point of view, he fears Bryan might feel like a "consolation prize," adding, "I just pray it's not that. But from what I saw, I was like 'Woah.'"
When Ashley asked Eric his thoughts on their chance of making it to the altar he responded, "That's a great question. I feel like it will only work if they're willing to sacrifice, commit and love each other unconditionally. And if not, I don't think it's going to work."