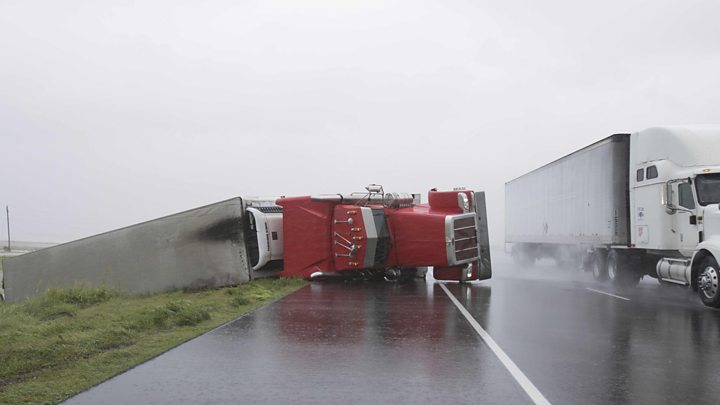 More than 1,000 people have been rescued in flooded parts of Houston, as Tropical Storm Harvey continues to batter Texas with heavy rains.
There is a "flash flood emergency" across the Houston Metro area, with travel near impossible, the National Weather Service (NWS) says.
It noted reports of five fatalities in the Houston area, but only one has been confirmed there so far.
Governor Greg Abbott has said that severe flooding is his main worry.
The NWS in Houston and Galveston said that it had recorded 24.1in (61.2cm) of measured rain in the past 24 hours.
Flooding in the Houston area is expected to worsen and "could become historic", with "potentially significant flooding also expected in other saturated areas of south-east [Texas]", the forecaster says.
Galveston was also hit by "epic catastrophic flooding" overnight, it added.
Two deaths have so far been confirmed from the storm:
In Aransas County, where Rockport is the chief town, a person died in a house fire on Friday night
A woman died in Houston as she drove through flooded streets on Saturday
Rescue efforts are being hampered by strong winds and thousands are without power. The US Coast Guard in Houston has requested more helicopters as more people ask for help.
Governor Abbott has mobilised 1,800 military personnel to help with rescue and repair operations
Mr Abbott said another 40in of rain could be due before the storm subsides midweek.
Houston is one of the most populous cities in the United States, with 6.6m people living in the metropolitan area.
The weather service has issued flash flood emergency warnings for many counties in south-eastern Texas.
In some places, storms are producing rainfall of 4in to 6in per hour, it said in the early hours of Sunday local time.
"Many creeks, rivers and bayous have flooded and have surpassed previous flood record levels."
Travel in the Houston area "is severely hampered if not impossible", it said, advising people to move to higher ground amid "an extremely dangerous and life-threatening situation".
"Over 1,000 high-water rescues have been performed and in some places emergency crews cannot reach the worst hit areas," it said.
Residents were warned not to try to travel unless "fleeing an area subject to flooding or under an evacuation order".
Harvey began as a major category four hurricane – the first to make landfall in the US in 13 years when it arrived late Friday – but was downgraded to a tropical storm later on Saturday.
It is forecast to meander across south-east Texas until Wednesday.
President Donald Trump said he would travel to Texas "as soon as that trip can be made without causing disruption".
In another tweet, he said: "Good news is that we have great talent on the ground."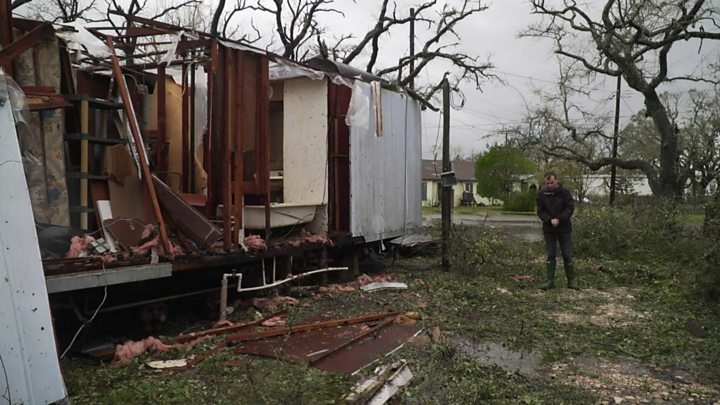 The storm is the strongest to hit the US since Charley in August 2004 and the most powerful to hit Texas since Hurricane Carla in 1961, which killed 34 people, according to the Houston Chronicle.
Are you affected by Tropical Storm Harvey? Let us know about your experiences. Email haveyoursay@bbc.co.uk with your stories.
Please include a contact number if you are willing to speak to a BBC journalist. You can also contact us in the following ways: