Last Updated: 28/05/17 8:27pm
Watch our interview with Huddersfield Town fan Sir Patrick Stewart ahead of Monday's Championship play-off final live on Sky Sports
Ahead of the Sky Bet Championship play-off final, Sky Sports sat down with a very famous supporter of Huddersfield Town
Acting legend Sir Patrick Stewart spoke to us at length about his love for the club and, in particular, his admiration for their manager David Wagner.
Read on for the highlights of the fascinating interview as Sir Patrick explains why Wagner reminds him of great theatre directors and why he refuses to think too much about victory against Reading on Monday afternoon…
I was seven years old when I saw my first game.
My uncle Arnold took me by bus and we stood on the terraces of the old Leeds Road ground surrounded by men; I've looked at photographs and it seems that women didn't go to football matches in those days. It was a lot of men smoking cigarettes in flat caps.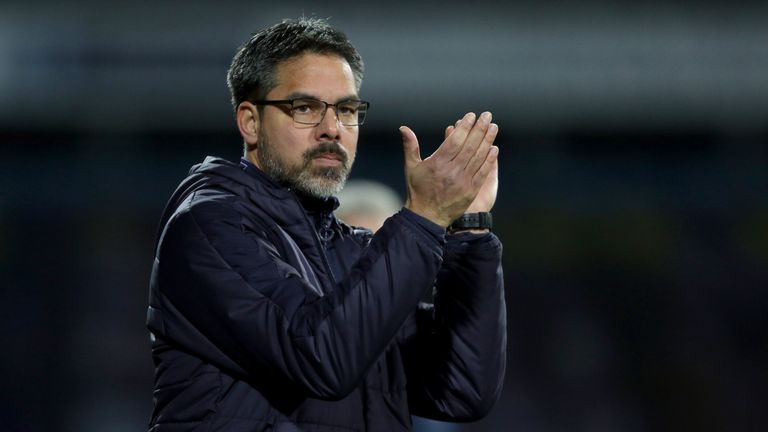 Sir Patrick Stewart says David Wagner reminds him of great theatre directors
I'd never seen a football match before. I'd kicked a ball around and later on in my life I played, but there was something about being in the stadium that I'd never experienced before. I get the same rush when I walk up the steps of any stadium, no matter where it is.
I've been a fan for 70 years. There is no comparison between this season and any other that I have ever experienced at Huddersfield Town or watching them on TV or video.
One person has to take responsibility for that – the manager we acquired a season-and-a-bit ago, David Wagner, who might have gone to Liverpool as Jurgen Klopp's assistant.
But Dean Hoyle, our chairman – and I wasn't at this conversation, so I'm just imagining it – was smart enough to say 'why would you want to be an assistant when you can be manager at your own club?'
So David came and his impact was instantaneous; a different approach to football.
All of us who are fans of the club – and you know, 'fan' doesn't really begin to describe the relationship – have seen that influence grow and grow and grow.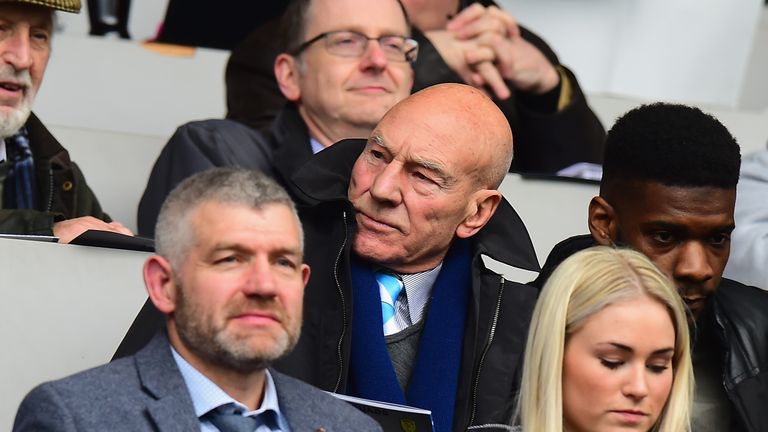 Sir Patrick Stewart taking in a Huddersfield game against Burton earlier this season
David finished off the 2015/16 season, but from the very first game of 16/17 we knew that we were in for something different and special; a style of football that I had never seen played by Huddersfield before. A lot of it was simply based on supreme fitness. I have never seen one of our sides with the energy and the stamina that these guys seem to have; it's extraordinary.
David has a plan. He hasn't told me his plan by the way, I have only ever spent 12 or 15 minutes in conversation with him and I was too intimidated to ask him what his plan was – but there is a plan, and it has never been more evident than in the last half-a-dozen games.
Yes, we seem to have tailed off towards the end of the season; we had some poor results and our playing seemed to fall off – and that happens to the best of sides.
Now that we are approaching the final, we can put all of that into a context because watching the club play over the last two or three games, I have to admit they appeared to be coasting somewhat. There was an easing off the pedal and that was frustrating for a lot of us.
But he already knew that we were in the play-offs three or four matches before the end of the season. That's what he was preparing us for, and for our two games against Sheffield Wednesday, nail-biting though they were.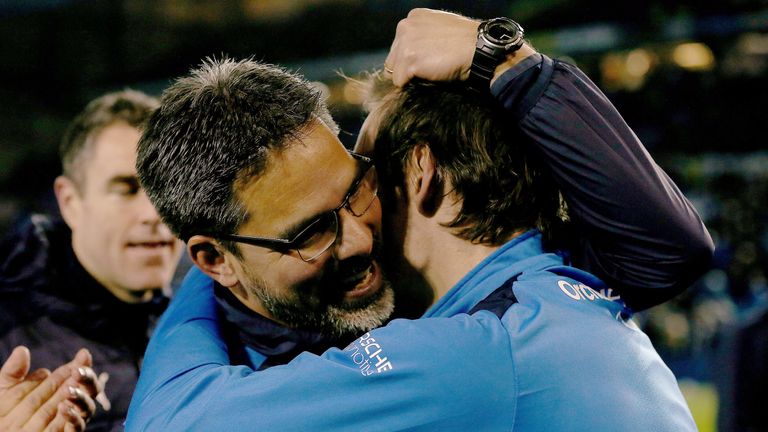 Wagner celebrates the play-off semi-final victory over Sheffield Wednesday
I only saw the first one where Wednesday came to our stadium and they pretty much put the shutters up from the beginning. Wednesday have always had a very, very good defence but at Huddersfield, they were so difficult to penetrate.
I watched the second leg on television and at least I had alcohol to hand to get me through it. It was extraordinary; I had an instinct we would go to extra-time which we did, another half-an-hour of tension, and then waiting for us was a penalty-shoot-out.
The last penalty-shoot-out Huddersfield took part in – and this was at Wembley – went to 22 penalties. Every single player on both teams had a shot at goal and the last one, sad as it was, their goalkeeper missed and we won promotion.
So we have a good record of penalties and I was feeling confident but just before the penalties began, my phone dinged. I was not watching the match in real time and I saw a text from my son saying 'you won, congratulations'. Argh… oh dear.
So I watched the penalty shoot-out knowing everything was OK, which actually is not a bad way to do it. It saves you a lot of stress.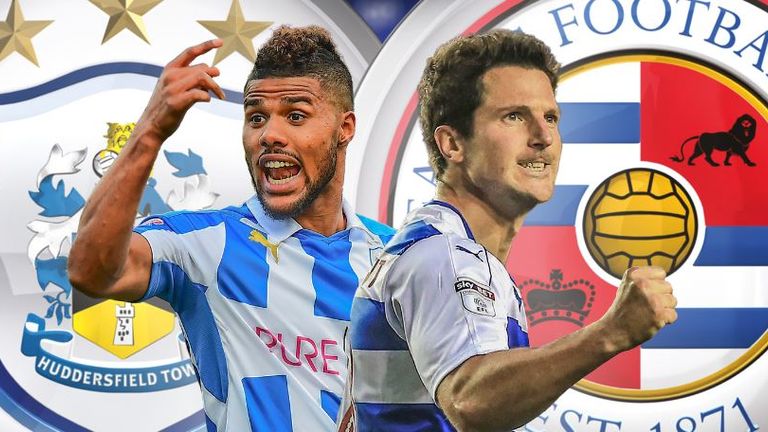 Huddersfield v Reading will be live on Sky Sports on Monday
We have good penalty takers, but again there was a plan there about the penalties and who exactly was taking them. If it had been like the last time we were at Wembley and it had gone to another 22, there would have been no selection process at all. I wonder to what extent David might have been influenced by the possibility there would be a penalty-shoot-out.
I love watching his manner and attitude during games. He doesn't do a lot of screaming and yelling, unless we win, of course, and he got into trouble for that.
He is calm and he is considered and he is thoughtful. He stands there on the touchline in the technical area and you can see that he's thinking and planning and plotting, and this is very reassuring. No matter how Monday afternoon turns out, it has been a great season and everybody – everybody – is satisfied.
I think I can even speak for Dean Hoyle, for whom promotion will have a huge impact on his life and his world, as it will on everything that's coming up.
I can only imagine the self-satisfaction in the club will be enormous; the players, the coaching staff, the administrative staff, the board, Dean Hoyle our chairman and of course, the fans who have been turning out in significant numbers.
Someone mentioned to me they'd heard that 35,000 were going to Wembley from Huddersfield… I didn't know there were 35,000 people in Huddersfield.
To the town itself, the impact will be extraordinary; a town that is attracting Premier League clubs every couple of weeks is going to be a town that people will want to visit, and maybe even spend some time in.
Huddersfield is a great place, I love the town, it looks a lot nicer than when I first saw it, but I love it. It was the first place I ever saw professional theatre, although that theatre is now gone.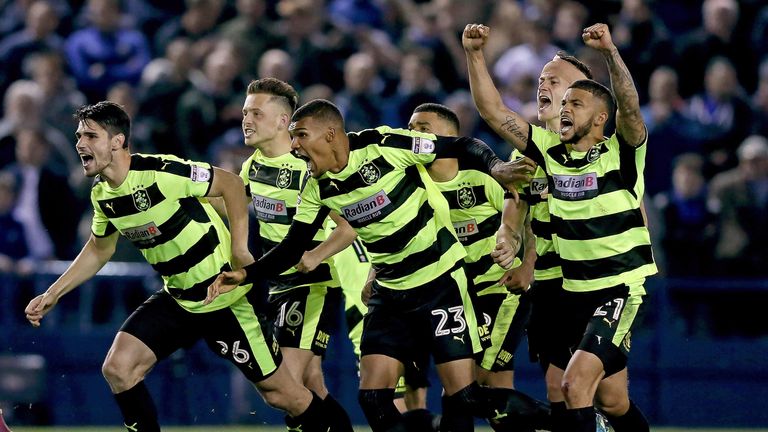 Huddersfield beat Wednesday on penalties a fortnight ago
Here is a detail; I am Emeritus Chancellor of the University of Huddersfield and the vice-chancellor told me just a few days ago that promotion to the Premier League is going to have a huge impact on the university because being a Premier League university, the town becomes even more attractive, particularly he tells me to overseas students and particularly those in the Far East.
Football is growing and growing and growing in China and we already have a significant number of Chinese students in Huddersfield. We have over 100 nationalities in the university and it is a very, very cosmopolitan university and he says we are having to prepare ourselves for the flood of applications that will come.
I'd never thought of that. The excitement is everywhere.
You know, I could dream and fantasise about Huddersfield in the Premier League, but I think that would be taking too much of a risk. We have 90 minutes of football, maybe 120 minutes of football plus penalties waiting for us, so I don't want to jinx the event by talking too confidently about life in the Premier League.
I try, actually, not to think about it because thinking about it will stimulate my anxiety and my anxiety will stimulate a negative attitude. I don't want to have that at all, so it's another game.
When Huddersfield step out onto the pitch, the anxiety, then, will be minimal. It's going to be just excitement and anticipation. I am taking my big son with me to the game, who is not a Huddersfield supporter; he supports another team not a million miles away that shall be nameless.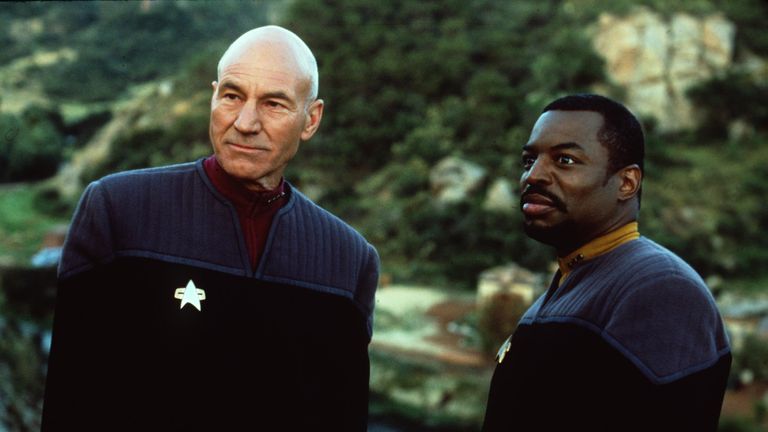 Sir Patrick Stewart has had a stage, television, and film career spanning almost six decades
But he is coming to support me, as well as Huddersfield on Monday, and no matter what happens, he will be able to prop me up and drive me home if it's either too good an outcome or too bad an outcome.
I have thought more than once that David Wagner is the kind of man that I'd like to be directed by. Let me tell you why.
He is thoughtful, he has done his preparation and he knows what a match means; the directing equivalent would know what a play meant. He knows what he wants to achieve and he prepares his players as a director prepares his cast for what they are going to do.
But, like the very best, when the moment of performance comes, he liberates his players and that's what great directors do.
"Forget everything I've said, forget everything I've done, just go and enjoy yourselves. Have a wonderful time."
He may not say those actual things, but I have seen it. I have seen that in wonderful productions on stage when I think 'these actors know what they are doing, but they are also at liberty'.
I feel that about Huddersfield Town's play this season.