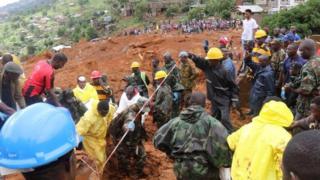 At least 600 people are still missing following a mudslide and flooding that devastated parts of Sierra Leone's capital, Freetown, a spokesman for the president has told the BBC.
President Ernest Bai Koroma earlier pleaded for "urgent support", saying entire communities had been wiped out.
Nearly 400 people are confirmed dead after a mudslide in the Regent area and floods elsewhere in Freetown on Monday.
The Red Cross has warned it is a race against time to find survivors.
A mass burial of victims is planned on Wednesday to free up space in mortuaries.
Presidential spokesman Abdulai Baraytay told the BBC that bodies were still being pulled from the mud and rubble.
"The entire community is now in mourning. Loved ones are still missing, well over 600 people," he said.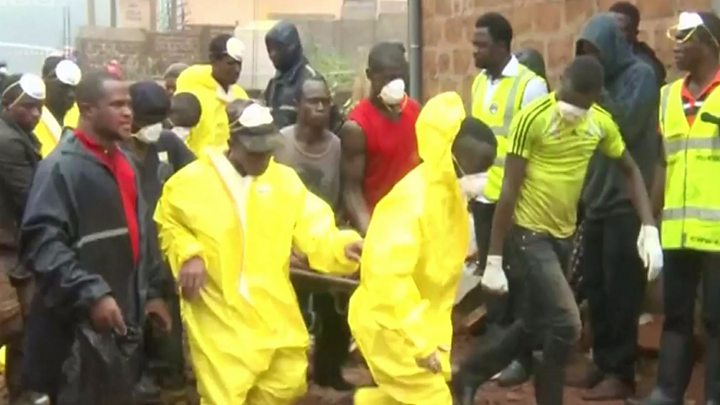 The UN said its teams in Sierra Leone had mobilised and were supporting rescue efforts.
"Contingency plans are being put in place to mitigate any potential outbreak of waterborne diseases such as cholera, typhoid and diarrhoea, UN spokesman Stephane Dujarric said.
Homes in the hilltop community of Regent were engulfed after part of Sugar Loaf mountain collapsed following heavy rain early on Monday. Many victims were asleep in bed when disaster struck.
President Koroma fought back tears as he toured Regent on Monday and said the devastation was "overwhelming us".
"Entire communities have been wiped out. We need urgent support now," he said.
He urged people to stay away from the affected areas.
"This tragedy of great magnitude has once again challenged us to come together, to stand by each other and to help one another," he said.
Flooding is not unusual in Sierra Leone, where unsafe housing in makeshift settlements can be swept away by heavy rains.
The rains often hit areas in and around Freetown, an overcrowded coastal city of more than one million people.