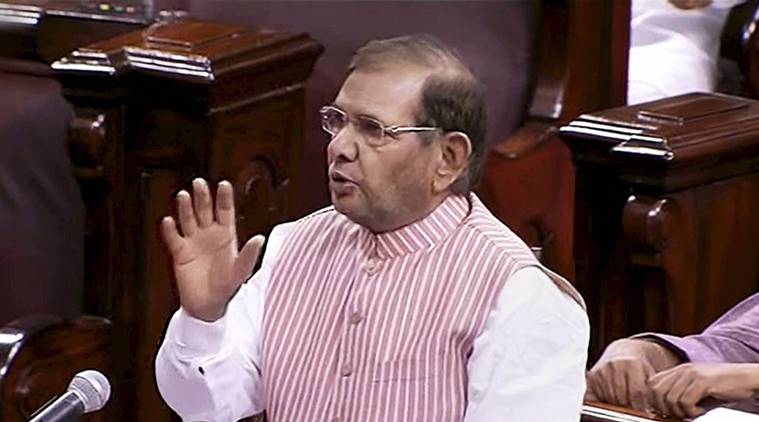 JD(U) leader Sharad Yadav speaks in the Rajya Sabha during the ongoing Monsoon Session of Parliament in New Delhi. (PTI Photo/TV Grab/File)
The strained ties within the JD(U) were evident on Tuesday after senior leader Sharad Yadav sided with the Opposition in Parliament over the "different sizes" of Rs 500 notes printed by the government after demonetisation. Yadav, who is learnt to be "deeply pained" by Bihar Chief Minister Nitish Kumar's decision to join hands with the BJP, held up enlarged copies of the differently-sized notes to the House, reported news agency PTI.
"I can give signed copies (of the notes)," he was heard saying from the front rows of the Opposition benches, adding that India is the only country in the world that does not have uniform notes. "One is big, one is small," he added, as Congress members trooped into the well of the House. The Rajya Sabha was adjourned six times today over what the Congress described as the "biggest scam of the century".
Nitish Kumar broke ties with the Grand Alliance last month citing corruption charges filed against former Deputy chief minister and RJD leader Tejashwi Yadav. Claiming he was listening to the "voice of his conscience", the leader resigned and was re-elected with the support of BJP. Also read: 'Deeply pained' Sharad Yadav meeting Opposition leaders, likely to speak out soon. Click here.
Although he has not broken his silence on the developments, Sharad Yadav has recently held talks with Opposition leaders like Ghulam Nabi Azad and Sitaram Yechury.
(With inputs from PTI)
For all the latest India News, download Indian Express App