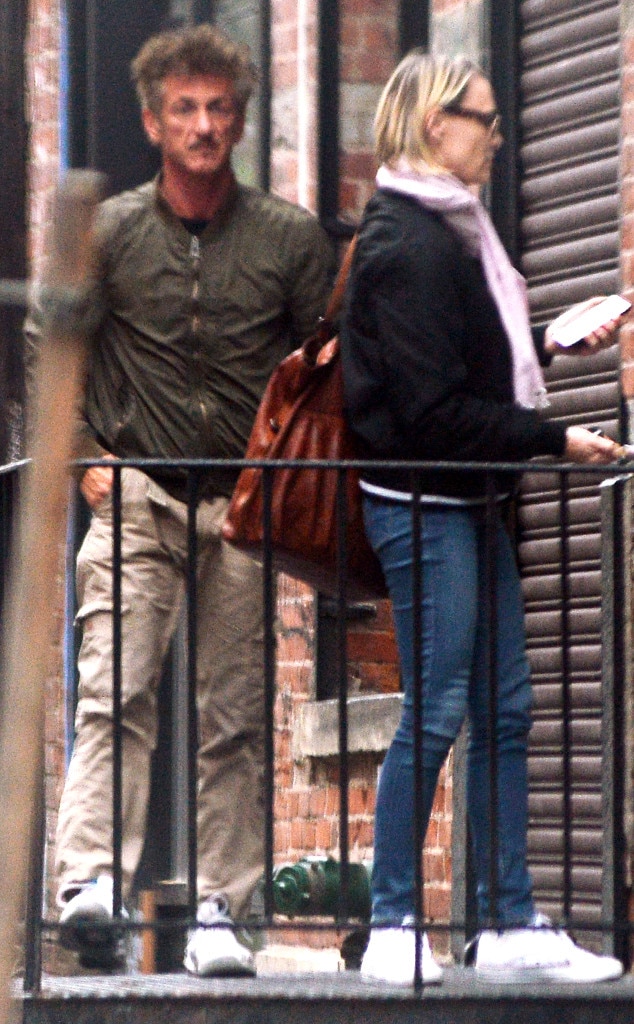 Elder Ordonez/Splash News
Sean Penn and his ex-wife, actress Robin Wright, were spotted hanging out together in New York City earlier today.
The on-again, off-again exes were pictured arriving at an apartment together with packed duffel bags. Penn looked quite the gentleman, carrying both suitcases for his one-time partner.
For the outing, Penn opted for khaki cargo pants, an olive bomber jacket and some comfy white shoes. Meanwhile, the House of Cards actress was low-key in her off-duty ensemble, which consisted of jeans, a black jacket and pink scarf. She was also wearing comfy white shoes.
Penn and Wright have quite the storied relationship, in and out of their 14-year marriage.
The two were officially divorced in August 2010, but Wright first filed for divorce in December 2007. However, the former co-stars withdrew the paperwork in April 2008.
In April 2009, Penn was back in court asking for a legal separation, but they soon reconciled. In August 2009, Wright filed for divorce a second time, citing irreconcilable differences as the cause. 
In 2012, the Oscar winner spoke to Esquire about the effects of divorce (he was also married to Madonna from 1985 to 1989).
"When you get divorced, all the truths that come out, you sit there and go, 'What the f–k was I doing? What was I doing believing that this person was invested in this way?' Which is a fantastically strong humiliation in the best sense," he told the mag. "It can make somebody very bitter and very hard and closed off, but I find it does the opposite to me."
"There is no shame in my saying that we all want to be loved by someone," also said in the interview. "As I look back over my life in romance, I don't feel I've ever had that. I have been the only one that was unaware of the fraud in a few of these circumstances blindly."
But it appears as if Penn's put those feelings behind him. Today, these two seem to be on good terms, despite their tumultuous past. 
Interestingly enough, their Big Apple reunion comes the same day that thedrama-filled fifth season of Wright's hit show House of Cards has dropped on Netflix.