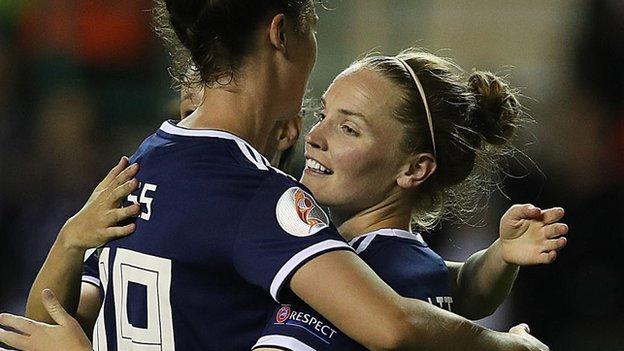 Kim Little scored five goals as Scotland began their Euro 2021 qualifying campaign in style against Cyprus at Easter Road.
It was the first game since a painful World Cup exit and also since news emerged that players had been left in tears after a heated exchange with head coach Shelley Kerr.
But there was no sign of any problems as they cruised past the minnows.
Claire Emslie, Jane Ross and Caroline Weir also scored in the rout.
Harder tests will be on the horizon, with Albania, Finland and Portugal still to contend with in Group E as Kerr's side bid to make the finals in England.
The group winners and three best runners-up qualify automatically, with the other second-placed sides going into a two-legged play-off.
Redemption for Scots
Scotland have had to wait 72 days for a chance to begin their redemption after the agonising draw with Argentina ended their World Cup dreams.
A wet and windy Easter Road may have felt a long way from summer in Paris, but even the sight of the Edinburgh ground hosting the women's side is a sign of the growing stature of the game.
The crowd of 6,206 was enough to beat what had been the previous record home attendance by more than 2,000, with only the pre-World Cup send-off against Jamaica in May trumping it.
While Scotland are now stalwarts of major championships, it was a historic night for Cyprus – playing their first ever European or World Cup qualifier. Not much was expected of them, and their resolve was tested early and often.
They were being forced to go to the limits of their abilities just to keep their hosts in check as Little and Weir pulled the strings, and Ross and Emslie's intelligent movement caused constant problems.
The wait for the opening goal was not long in coming as Emslie planted Lisa Evans' cross into the far corner on 10 minutes.
Little slotted in the second from Weir's through ball and, as her runs from deep continued to go unchecked, she nipped onto a Ross flick to net the third.
Ross got the goal her play deserved with a tap-in after the interval and, as Cyprus tired, the home side continued to have a spring in their step.
Antri Violari's shot over the bar was as close as Cyprus got and goalkeeper Eleni Ttakka – who had done well to keep the score down – was at fault as she allowed the ball to squirm out of her hands and into Little's path to complete her hat-trick.
The Arsenal captain was not done – adding another cool finish and a glancing header as Scotland continued to hunt for more, and Weir powered in a deserved eighth with an arrowed shot into the far corner.
It may not quite heal their World Cup wounds just yet, but the process and the road to England in 2021 has started in style.
'Cypriots couldn't live with Little' – analysis
Former Scotland striker Julie Fleeting
Little was absolutely tremendous. The Cypriots couldn't live with her. She was continuously going beyond the striker and making runs, and that was evident in the five goals that she scored.
It was actually a fantastic team performance. The back four were on the ball were on the ball a lot. Weir and Little were fantastic. The wingers were positive every time they got the ball. One of the great things about the game was that Kerr put on three substitutes and they just went on to strengthen the performance.