By Adam Bate
Last Updated: 25/05/17 12:12pm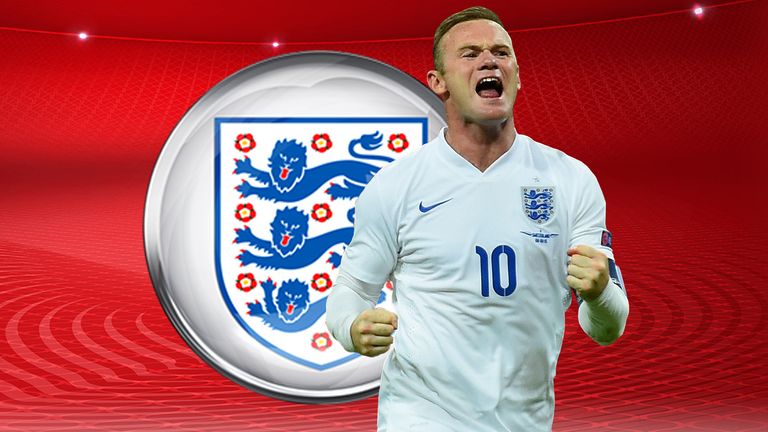 England's all-time record goalscorer Wayne Rooney has been dropped
With Gareth Southgate excluding erstwhile England captain Wayne Rooney from his latest squad, is the Manchester United forward's international career over?
Rooney has made 119 appearances his country, more than any other outfield player, and while silverware has eluded him, it's not been without high points.
Here, we pick out a dozen of the best moments of his England career…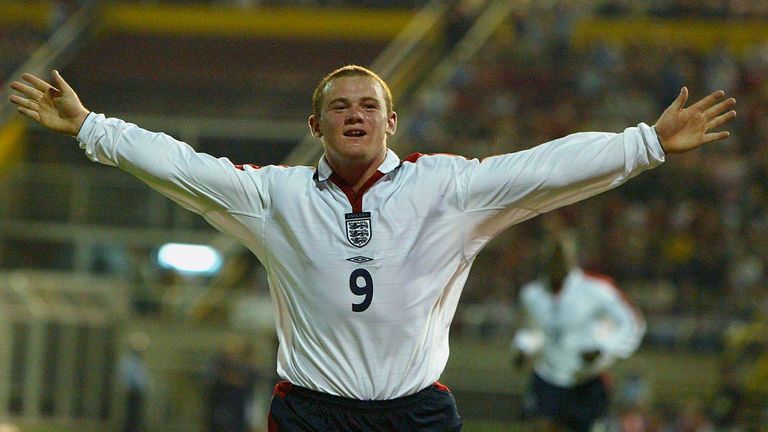 Rooney scored his first goal for England against Macedonia in 2003
International debut
There was unusual excitement when Rooney made his international debut against Australia at Upton Park aged just 17. Sven-Goran Eriksson introduced the then Everton forward as a substitute for the second half and while it was an ignominious occasion with England losing 3-1, it was also an historic one: Rooney became England's youngest ever player.
Strike against Iceland
Long before Iceland were to provide the modern nadir for English football, and indeed Rooney's international career, they were Three Lions fodder in a 6-1 defeat on the eve of Euro 2004. Rooney's second of the afternoon was among his best goals for his country – a 25-yard strike that arrowed into the corner of the net, providing a hint of what was to come.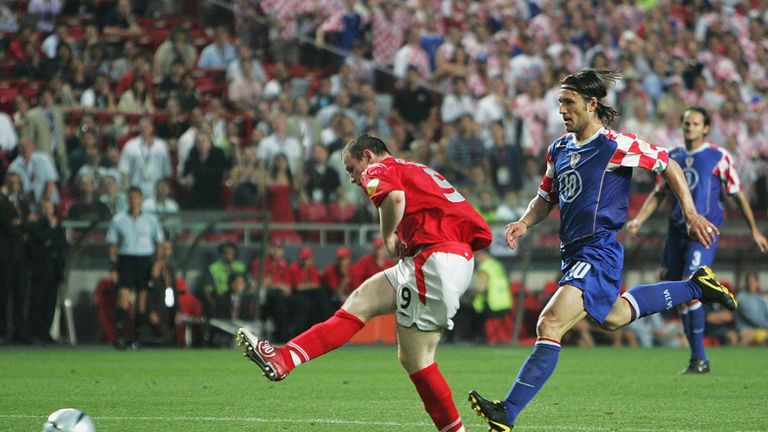 Rooney was one of the stars of Euro 2004 and scored twice against Croatia
Euro 2004 explosion
Rooney himself regards this tournament as "the standout" of his England career and how could he not? A stunning display against France in which he took the game to the defending champions was followed by four goals in two games against Switzerland and Croatia. What might have been had he not been injured in the quarter-final against Portugal?
Volley versus Russia
Rooney has hit some fierce shots in his long career but few were as well struck as the volley that opened the scoring against Russia in Euro 2008 qualifying. Latching onto Michael Owen's flick on, he slammed the ball into the net only to see the hosts score twice to win the game. Ultimately, England failed to qualify for the subsequent tournament.
Phil Neville says Rooney must leave Manchester United if he wants regular football
2010 qualifying goals
Optimism surrounding England is nothing new during qualifying but it hit great heights under Fabio Capello ahead of the 2010 World Cup. Rooney was the architect of much of it and when he scored the fifth in a 5-1 Wembley win over Croatia it was his ninth goal of the group – making him the second highest scorer in European qualification.
Euro 2012 comeback
A silly red card against Montenegro in England's final qualifier meant Rooney missed the first two games of Euro 2012 through suspension. He was still named in the squad and duly returned for the vital third group game against hosts Ukraine. England were up against it in Donetsk but Rooney popped up with the winner that took the team to the quarter-finals.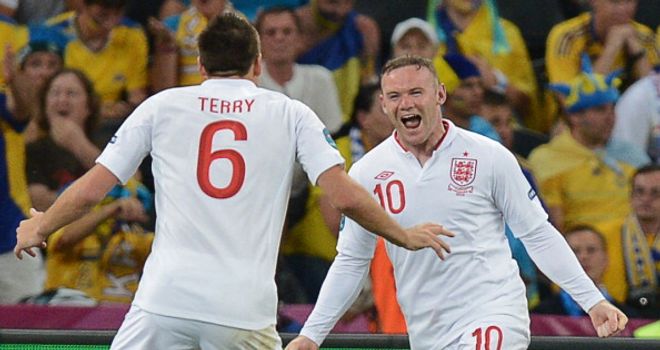 Rooney celebrates with John Terry after scoring against Ukraine at Euro 2012
Goal in the Maracana
Rooney had already scored in a fine Wembley win over Brazil earlier in 2013 but few expected England to go to the Maracana and get a result against the hosts of the following year's World Cup. But Rooney curled in a shot from the left edge of the penalty area to give England a late lead only for Brazil to equalise soon after in an entertaining 2-2 draw.
First World Cup goal
Rooney had to wait until his third World Cup before getting a goal in the game's biggest tournament. After providing a fine cross for Daniel Sturridge to net in the opening match against Italy, the moment finally came with his late equaliser against Uruguay next time out. Unfortunately, England lost both games in what now looks likely to be his last World Cup.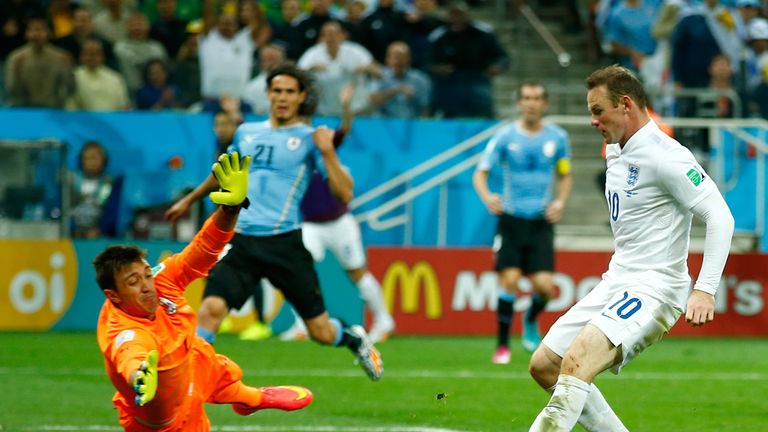 Rooney's one and only World Cup finals goal came against Uruguay in 2014
Free-kick in Estonia
England were struggling to find the breakthrough in a tough qualifier in Estonia in 2014 but it was Rooney that provided the game's only bit of quality to make the difference against dogged opponents who had been reduced to 10 men. His curling free-kick was one of his most spectacular strikes for his country and his 43rd international goal in all.
Acrobatics in Scotland
Rooney rolled back the years at Celtic Park in 2014 when he scored twice in a 3-1 win over great rivals Scotland. There was a knee slide following his headed first goal but the second saw him celebrate with a cartwheel. "It was for my son," explained Rooney. "He's been doing quite a lot so he wanted me to do one."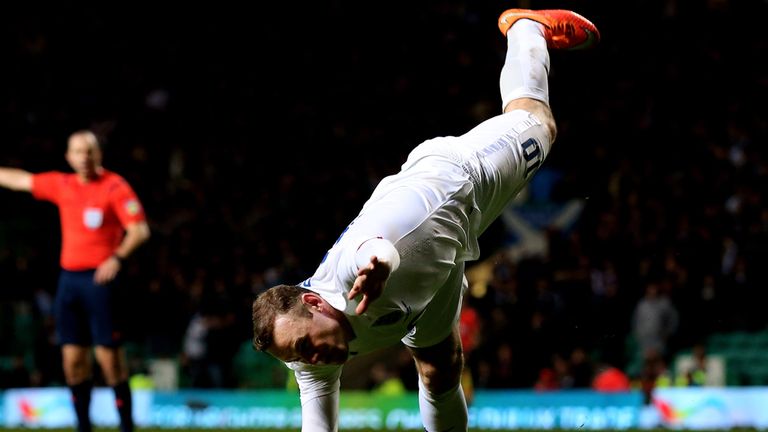 Rooney brought out a cartwheel following his second goal against Scotland
Winner in Slovenia
It's Jack Wilshere's two goals that many remember from England's 3-2 win over Slovenia during Euro 2016 qualifying but in one of the most exciting games under Roy Hodgson it was the skipper's late winner that sealed the points and saw him go level with Gary Lineker on 48 goals. "Rooney's performance said a lot about him as a man," said Hodgson afterwards.
Record-breaking penalty
Sir Bobby Charlton's record of 49 England goals had stood for 45 years but it finally fell when Rooney found the net from the penalty spot in a 2-0 win over Switzerland at Wembley in September 2015. With eight minutes remaining, goalkeeper Yann Sommer got a hand to it but he could not deny Rooney his piece of history and a place in the England record books.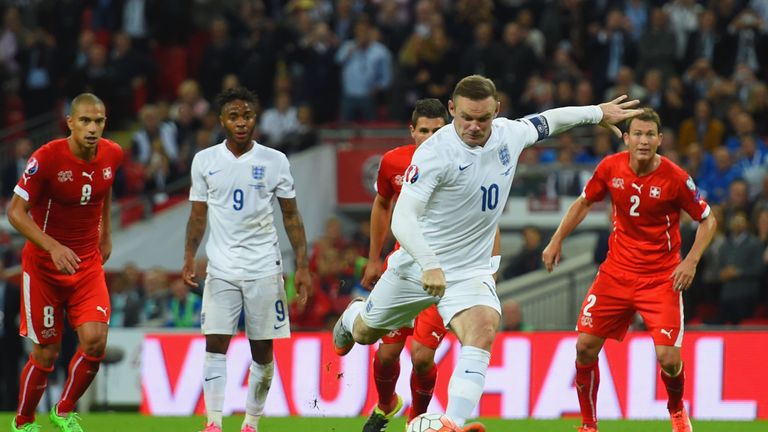 His record 50th England goal came from the penalty spot against Switzerland