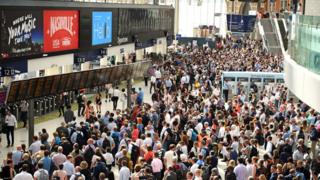 Severe weather and new timetable disruption have led to the worst punctuality on Britain's railways for 12 years, new figures show.
Fourteen percent of trains missed the industry measure of punctuality in the 12 months to August, according to the railways watchdog.
It is the highest level of delays since 2006, when 14.2% of trains were late.
The body representing the rail industry said it was "investing billions" but it was time for "root and branch reform".
The figures, published by the Office of Rail and Road (ORR), come after a series of major issues hit the rail network during the past 12 months.
Serious disruption
In February and March, the period of freezing weather nicknamed the Beast from the East brought parts of the network to a standstill.
And new timetables introduced on 20 May caused serious disruption to commuters in the north and south-east of England.
On Thursday, the ORR will publish its report into the causes of the timetable chaos.
That has previously been blamed on delayed electrification in the north, poor planning by train operators and the decision by ministers to phase in the introduction of new Govia Thameslink Railway services.
The government is expected to announce a review of the railways on Thursday, led by Keith Williams, the deputy chairman of department store John Lewis.
It is expected to respond to criticisms of the franchising model, after issues such as the collapse of the East Coast Mainline franchise in May.
'Root and branch reform'
Campaign for Better Transport chief executive Darren Shirley urged the Government and train operators to "learn from the mistakes of the recent timetable chaos".
He said that further fare hikes would "risk further denting passengers' confidence in the railways".
Anthony Smith, chief executive of passenger watchdog Transport Focus, said reliability was the "key priority" for commuters.
The Rail Delivery Group, which represents the rail industry, said it was "investing billions to ease congestion, reduce delays and minimise disruption".
Robert Nisbet, the group's regional director, said it would support a fundamental rethink of the way the rail network is run.
"We have been saying that the time is right for root and branch reform of the railway so that it can deliver more for passengers, communities, businesses and taxpayers," he said.