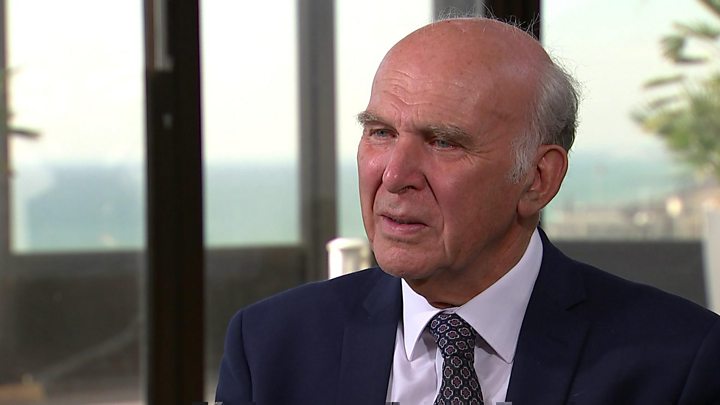 Theresa May should "shock us all" and back a referendum on the Brexit deal she strikes with Brussels, Sir Vince Cable will tell his party conference.
The Lib Dem leader will say he is "starting to feel sorry" for Mrs May who is "dutifully delivering a policy she doesn't really believe in".
And he will urge her to admit Brexit has "gone badly wrong" and "open her mind" to another public vote.
Mrs May has ruled out another referendum "under any circumstances".
The prime minister told the BBC that MPs would have a choice between her proposed deal with the EU – the so-called Chequers plan – or no deal at all, ahead of the UK's departure on 29 March.
Sir Vince has rejected this choice, arguing that there are "better alternatives", and vowed to do everything he can to stop Brexit in Parliament.
The Lib Dem leader is part of the cross-party People's Vote campaign for another referendum and claims support for it is growing, although he has put its chance of success at about "30%".
In his big speech to the party conference in Brighton, Sir Vince will say it "beggars belief that the army and the police are now being asked to prepare for riots in the chaotic aftermath of a botched Brexit".
He will also take aim at Conservative Brexiteers like Jacob Rees-Mogg.
"For the 'true believers' – the fundamentalists – the costs of Brexit have always been irrelevant.
"Years of economic pain justified by the erotic spasm of leaving the European Union.
"Economic pain felt – of course – not by them by those least able to afford it."
Turning to his former coalition cabinet colleague Theresa May, he will say people are starting to feel sorry for her because of the pressure she is under.
"She is dutifully delivering a policy she doesn't really believe in; failing in negotiations; losing public support; and all to appease a dwindling group of angry people in her party who will denounce her as a traitor, whatever she comes up with.
"But when we feel sorry for the country's prime minister, something is seriously wrong.
"Our sympathy can only extend so far, while she puts the interests of the country second to the whims of the extremists in her party."
He will claim that Mrs May, who voted Remain in the 2016 EU referendum but has vowed to deliver on the will of the people, knows "deep down" that Brexit is a "bad idea" whose "time has gone".
He will urge her to show "true leadership" by admitting that staying in the EU will be better than any deal she can get in Brussels.
"Instead of kowtowing to her enemies in the Conservative Party, she could lead her party and the country by opening her mind to a 'People's Vote' on the final deal," he will say.
Sir Vince is also expected to take aim at the Labour leadership, who have so far resisted his calls to get behind another EU referendum, in his keynote address to party members.
The Lib Dem leader, who has said he will step down when Brexit has been "resolved or stopped", is talking to Labour and Conservative MPs, who do back another referendum, about how to get their way in Parliament.
He has also set out plans to transform his party, which has 12 MPs and has languished in the opinion polls since being in coalition with the Tories, into a "movement for moderates" and open up its next leadership contest to non-MPs.
But anti-Brexit campaigner Gina Miller, who praised the party's efforts to fight Brexit in a speech from the main stage on Monday, ruled out joining the party or standing for leader.