By Mark Kleinman, City Editor
Last Updated: 08/06/17 8:46pm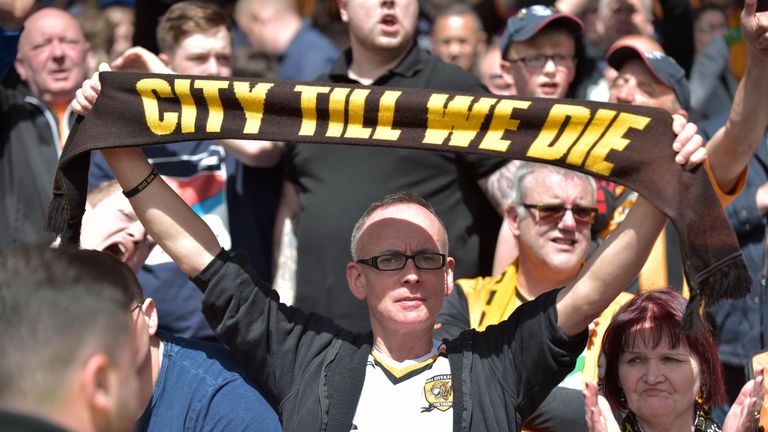 Hull City fans react after relegation from the Premier League
Premier League bosses have backed changes to club ownership rules that will make it easier to block potentially unscrupulous investors in the wake of controversies surrounding takeovers at Hull City and Southampton.
Sky News has learnt that the 20 club chairmen voted unanimously to approve changes to the Premier League's Owners and Directors Test at its annual shareholder meeting on Thursday.
The move will have the effect of enhancing the league's ability to block new owners in a bid to preserve the integrity of the competition, which is watched by billions of people globally every season.
A source said that the chairmen had voted to give the Premier League "the power to impose such conditions as it sees fit in order to ensure compliance with PL Rules on finance, Owners and Directors Test, disclosure of ownership issues and associations and influence".
New "disqualifying events" in relation to the ownership test would include a failure to provide all relevant information, or the provision of false, misleading or inaccurate information about a prospective new owner's finances, according to the source.
For the first time, the Premier League's rules will also allow it to block a new owner where they have "engaged in conduct outside the UK that would constitute an offence… if such conduct had taken place in the UK, whether or not such conduct resulted in a conviction".
Sources told Sky News last month that that amendment to the rule book had been partly inspired by a move by Chinese businessman Gao Jisheng to take control of Southampton FC in a deal reported to be worth £200m.
Gao had admitted to bribery offences, but gave evidence for the prosecution in two separate cases, meaning that he escaped charges himself.
Because he has not been convicted of an offence, the Premier League is understood to have had no existing grounds to block his bid.
The changes to the Owners and Directors Test follow growing unease – both in football and in Westminster – about the influx of club owners who have often sought to keep details of their financial affairs beyond the scrutiny of the Premier League.
There have also been growing objections to the number of clubs being bought by Chinese backers amid suggestions that there is a degree of opacity surrounding the ultimate ownership of some of those investors.
Roughly three-quarters of the 20 Premier League clubs are foreign-owned, including new champions Chelsea, Arsenal, Liverpool and Manchester United.
Aston Villa, Reading, Wolverhampton Wanderers and West Bromwich Albion are among the prominent English clubs now owned by Chinese shareholders.
Controversy erupted over an attempt by Dai Yongge and Hawken Xiu Li, his sister, to buy Hull City after a third party involved in the transaction insisted that he controlled the relevant funds necessary to undertake the deal.
It subsequently transpired that the finances were actually under the control of Dai, with the Financial Times reporting earlier this year that a Premier League investigation into him had raised several "red flags" over his commercial background.
Dai has since acquired Reading, who missed out on promotion to the Premier League in the Championship Play-Off Final when they lost to Huddersfield Town.
The Premier League's rules already permitted close scrutiny of the finances of club owners whose business plans are deemed to be unsustainable by the Premier League.
Clubs are permitted to overspend their budgets by £105m over a three-year period, providing they can demonstrate the viability of their financial forecasts, or that directors and financiers are prepared to write off their debts.
One source said this area was also likely to be tightened, although the League already has powers to impose draconian measures such as a transfer embargo.
The Premier League had previously made incremental changes to what was known as the 'Fit and Proper Person Test' in the decade since Alexandre Gaydamak's tenure at Portsmouth led to the club's financial ruin.
The Premier League could not be reached for comment on Thursday.