[youtube https://www.youtube.com/watch?v=Hihto8onbUU?wmode=transparent&w=560&h=315]
Attention Bellas!
The official trailer for Pitch Perfect 3 has arrived and it's making us feel some type of way. Anna Kendrick, Rebel Wilson, Brittany Snow, Anna Camp and Hailee Steinfeld all return to the stage one more time along with some new additions like Ruby Rose, John Lithgow, Andy Allo and DJ Khaled.
The movie sees the stars after they graduated college; They're unhappy and long to sing with each other again at a competition. Luckily, there's a chance: A USO show in Europe to support the troops. Look out, world, it's the Bellas!
The official movie poster was also recently revealed alongside the highly anticipated clip and with the title "Last Call Pitches." Could this be the end for the Pitch Perfect franchise?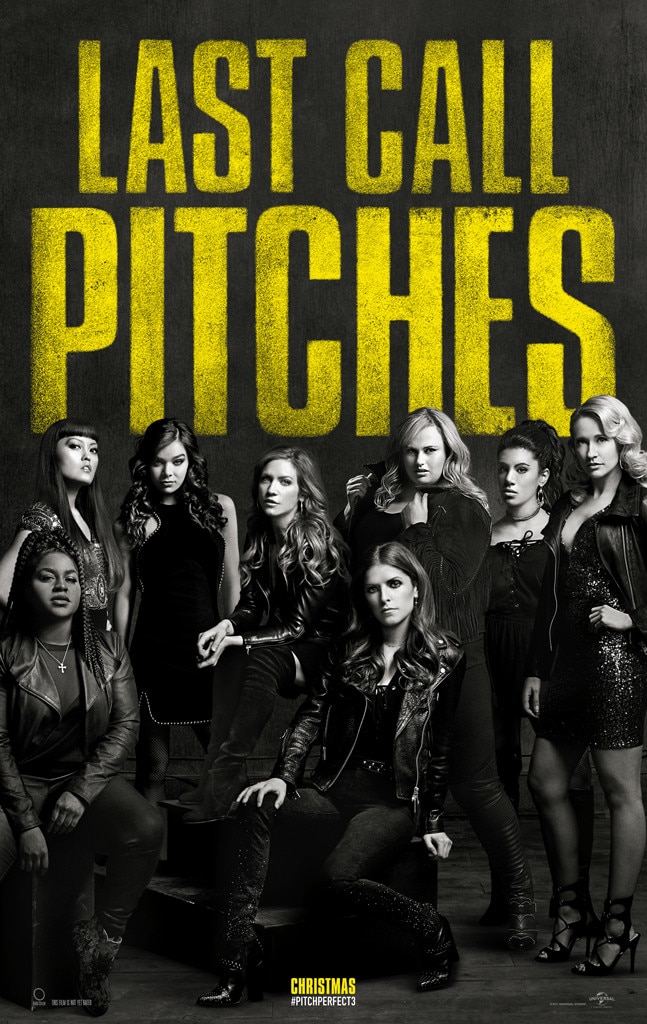 Universal Pictures
As the filming wrapped for what could possibly be the very last Pitch Perfect, the Bellas gave their goodbyes on Instagram and Twitter.
"This is not the end, Bellas for life x" says Rebel Wilson over a heartwarming Instagram video of the cast waving goodbye. Anna Camp also took to Twitter blowing a kiss to her co-stars and fans : "Can't believe it! Last day of filming! A kiss goodbye for everyone involved. Thankyou #pitchperfect3"
Director Trish Sie reveals to viewers in the teaser trailer that "we're taking you on a global tour with the Bellas." If that doesn't make you say "Accascuse me?" then this sure will. In an exclusive interview with Pitch Perfect screenwriter Kay Cannon, she tells E! "I think that people will cry, I think it's the end of the Bellas as we know them. If there's a Pitch Perfect 4, it will be a new crop."
Even if this is not the last, it's sure to be accamazing. Pitch Perfect 3 hits theaters on Dec. 22.
(E! and Universal are both part of the same NBCUniversal family.)