By Nick Wright
Last Updated: 21/06/17 4:13pm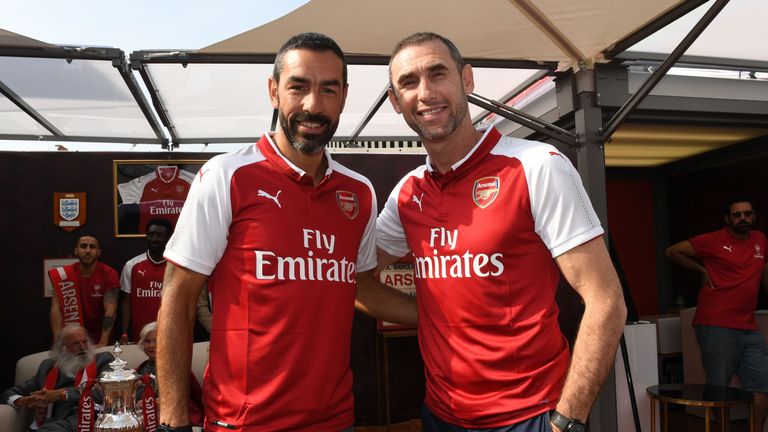 Robert Pires poses with Martin Keown at Arsenal's kit launch
Robert Pires speaks to Sky Sports about a pivotal season ahead for Arsene Wenger, the futures of Alexis Sanchez and Mesut Ozil, and why Arsenal need a summer of big spending in order to challenge for the Premier League title…
Over a decade has passed since Robert Pires' last appearance for Arsenal, but he remains a familiar face at their London Colney headquarters. The Frenchman, winner of two Premier League titles between 2000 and 2006, enjoys a close relationship with Arsene Wenger and regularly takes part in first-team training. "It keeps me fit," he says with a smile. He can still hold his own, too.
Pires is as popular at the training ground as he is with the Arsenal fans who used to chant his name, and his continued involvement has given him an inside track on a sometimes difficult period for the club. Pires was there as they struggled through last season – and he was there to see them celebrate with the FA Cup at the end of it.
"All the players and Arsene Wenger were very disappointed about last season," he tells Sky Sports at the launch of Arsenal's new Puma home kit for 2017/18. "Of course we won the FA Cup, but they were very disappointed about not qualifying for the Champions League. Now, the most important thing is to look forward for the new season. The objective is to win the Premier League."
They will attempt to meet that objective under Wenger, whose new two-year contract was confirmed a few days after their FA Cup triumph. For Pires, who played the best football of his career under the Frenchman, sticking with Wenger was the right decision.
Robert Pires believes Arsenal need a big summer in the transfer market to challenge for the Premier League title
"I understand that some fans are critical of him, but the most important thing is to believe him and believe in the team," says Pires. "I'm a privileged man because I can still train with the first team. I can see that Arsene Wenger is the same guy and the same manager he has been for a long, long time. He knows the most important thing when you manage Arsenal is to win the Premier League."
The hard work starts this summer. Arsenal are rated as 11/1 outsiders for the title by Sky Bet, and Pires acknowledges that the next few months will be vital if they are to defy the odds. "This summer is very important for Arsenal, especially for Alexis Sanchez and Mesut Ozil," he says.
The uncertainty surrounding Sanchez and Ozil has cast an ominous shadow over the Emirates Stadium, with both players yet to agree terms on new contracts as they approach the final years of their current deals. Sanchez, in particular, is attracting interest from elsewhere having scored 30 goals in 51 appearances last season.
Alexis Sanchez, Olivier Giroud and Mesut Ozil feature in Arsenal's home kit launch (Credit: Arsenal / PUMA)
"I hope and wish they extend their contracts because they are both very important players for stability and the quality of the team," says Pires. "We need warriors like Sanchez and we need Ozil. I don't know what will happen by the end of the transfer window but I know Arsene Wenger has a lot of work to do this summer."
Indeed, regardless of what happens with their superstar duo, Pires insists Arsenal must invest heavily in the transfer market in order to keep up with their rivals. "Arsenal need to buy some players and spend a lot of money because the first objective, and we need to focus on this objective, is to lift the Premier League trophy at the end of the season," he says.
They have already been linked with a host of names, but none of them has captured the imagination quite like that of Kylian Mbappe. The 18-year-old has emerged as one of the world's most coveted players after a stunning breakout season with Monaco. Wenger is known to be a huge admirer, and Pires has also followed his progress with intrigue.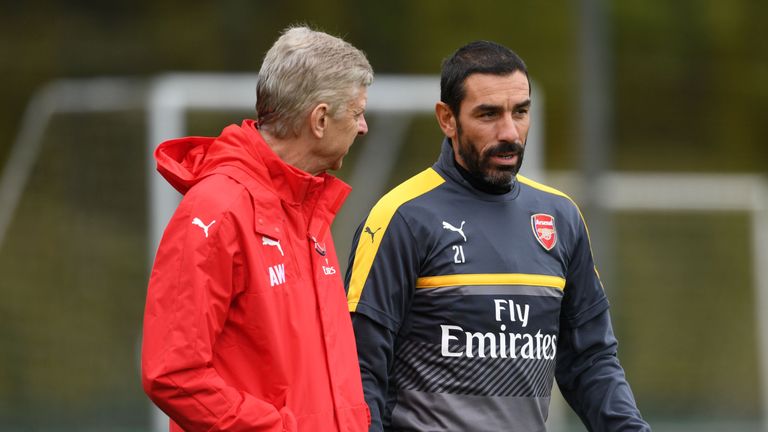 Robert Pires has been a regular fixture at Arsenal's training ground recently
"Kylian Mbappe is a great player with a very good future," he says. "He's young and he still needs to prove himself, but he has played very well in Ligue 1 and the Champions League for Monaco and also for the national team. He has a very good profile to play with Arsenal but a lot of clubs want to buy him, especially Real Madrid. He is also very, very expensive."
Arsenal are also said to be interested in Alexandre Lacazette, another French striker highly-regarded by Pires, but the former winger has identified another flaw in their squad. When asked to compare the current group of players to the one he was a part of, he gestures to the former team-mate standing a few yards to his right.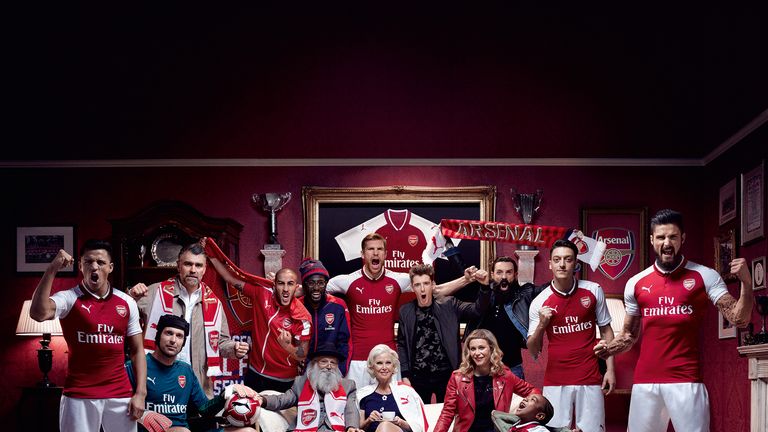 Arsenal launched their new home kit on Wednesday morning
"It's a hard question because the Invincible team was nearly perfect, but maybe this team needs a player like Martin Keown," he says. "The quality is there, believe me, some of the players can play at a very high level, but they need warriors. When you play in the Premier League, you need a good mix of players."
It's up to Wenger to strike the right balance this summer, but in Pires, he does at least have a valuable link to their past. If his experience starts rubbing off on those around him at London Colney, then Arsenal can allow themselves to dream of a return to the top in 2017/18.