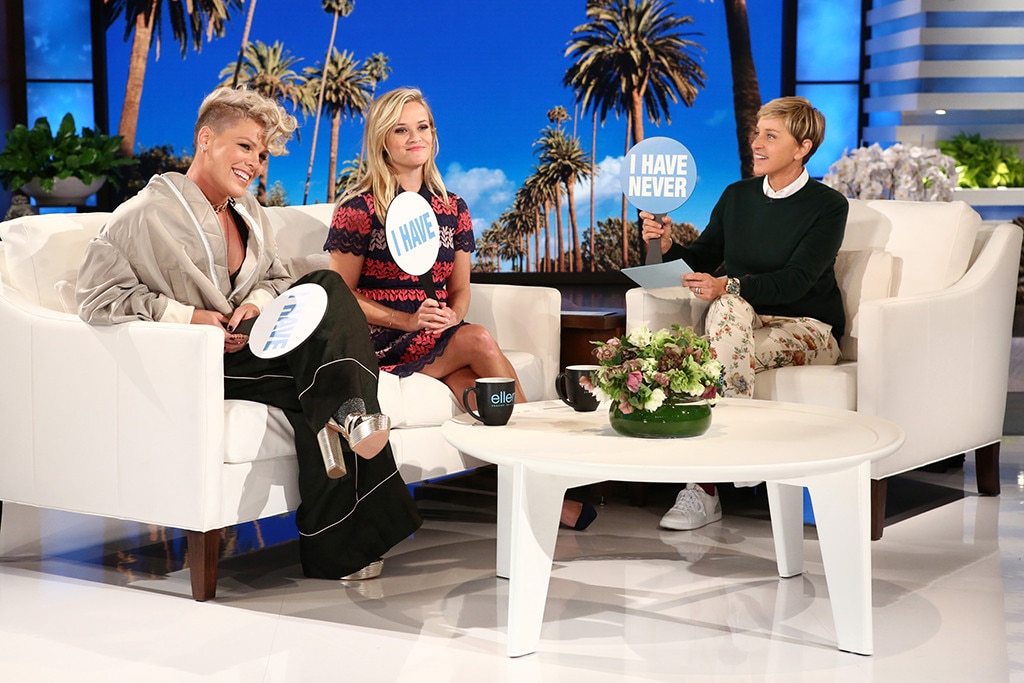 Michael Rozman/Warner Bros.
The Ellen DeGeneres Show is back for Season 15, and that can only mean one thing: it's time for stars to reveal hidden secrets about themselves during a game of "Never Have I Ever." Ellen DeGeneres played a round Wednesday with her two of her pals, Pink and Reese Witherspoon.
"It's a really fun game," DeGeneres promised. "It's a great way to find out who we really are." Before she read a series of prompts, DeGeneres reminded her two guests, "You have to be honest. That's the whole point of this game—otherwise you're a liar and no one will trust you."
After handing Pink and Witherspoon paddles, she then read a series of statements:
• "Never have I ever received or given a lap dance to a stranger."
• "Never have I ever faked an injury to get out of something."
• "Never have I ever done it in a public place."
• "Never have I ever snooped through my significant other's phone without them knowing."
• "Never have I ever gotten a tattoo I regret."
• "Never have I ever gone topless at the beach."
• "Never have I ever hooked up with someone while someone else was in the room."
At one point, Witherspoon said, "I will answer as long as there's no follow-up questions!"
To find out how the three celebrities answered, watch the video here.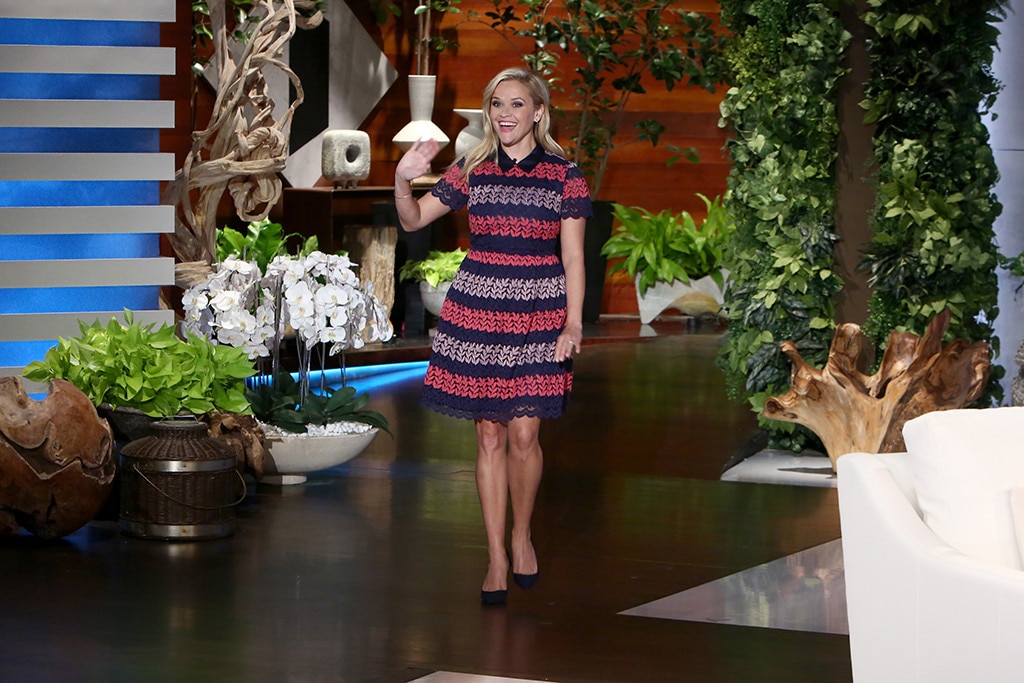 Michael Rozman/Warner Bros.
Witherspoon was on the show to promote her new movie, Home Again. But, during her interview, she got into a silly fight with DeGeneres over their mutual friend Jennifer Aniston.
"I don't want you to get hurt, but she is my best friend," DeGeneres said.
Witherspoon had some bad news for the host. "Well, she actually told me that she says that when you're around," the actress lied. "We're close; that's why we're doing a show together."
"I have a show, so I can't do it with her—because I have this show," DeGeneres fired back. "She goes, 'Well, if you can't do it, Ellen, I'll ask Reese.' And I said, 'You should, because Reese needs the work. Who knows how well Big Little Lies is going to do? So, make sure she's got a backup.'"
Witherspoon joked, "She said you would say that!"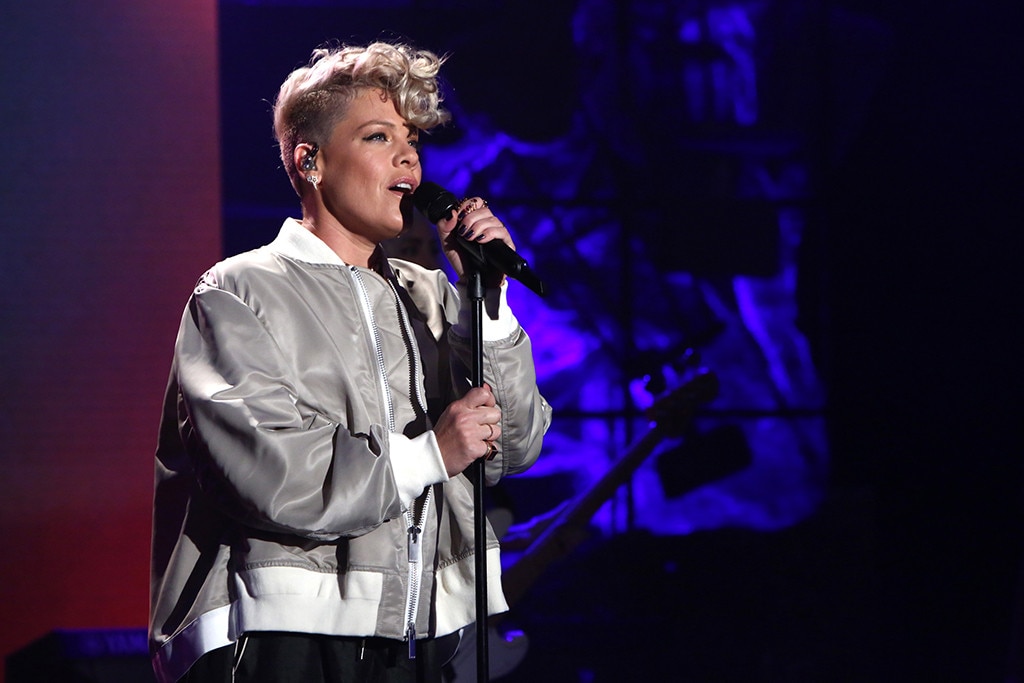 Michael Rozman/Warner Bros.
Pink, meanwhile, was on The Ellen DeGeneres Show to perform her new single, "What About Us?" in front of a live studio audience. During her interview, Pink reflected on the response to her empowering speech at the 2017 MTV VMAs last month. "My daughter was incredibly unimpressed by me. I was like, 'Babe are you excited about today? I'm going to win an award and I'm going to do a show.' And she goes, 'Exactly how many minutes after you sing does my sleepover start?'" the singer recalled. "I was like, 'Dude, can you pretend to be excited for me?'"
Asked about her speech, in which she reminded her daughter that she's beautiful just the way she is, Pink said, "I was driving her to school and out of the blue she just said, 'Mama.' I said, 'Yeah, babe?' She goes, 'I'm the ugliest girl I know.' And I was like, 'What are you talking about? You're incredible. I made you; you can't say that!' No, but actually I didn't say anything because I was so speechless and I didn't want to mom her and start preaching to her and not be affective at all so, I just stayed quiet. And I said, 'Why do you think that? Did someone say that to you? What's happening?' And she's like, 'I just look like a boy with long hair.' I just didn't say anything. I didn't know what to say. And I went home, I cried, and I made this Word document."
Pink showed her daughter photo examples of everyone who looks different and everyone who is powerful in the world—including herself. "I get my feelings hurt. I get my feelings hurt all the time. It hurts. It doesn't feel good to hear mean things about yourself, but if you're human you're going to hear it. If you're past the age of 12 you will at some point be heartbroken by someone else," the "Perfect" singer explained. "So, I'm just trying to make her more resilient."