In his latest 'Five things from La Liga' column, Guillem Balague reacts to another disappointing result for Real Madrid and claims there is room for Philippe Coutinho to improve his creativity in Barcelona's midfield.
A Real low
We start with a look at Real Madrid and their 2-2 draw at Levante. It was the fourth time they've dropped points after being ahead and the 10th time out of 21 games where they have dropped points. That is why they are fourth in the Primera Division. There are reasons for this. They have only kept seven clean sheets in all competitions this season and, in their 38 games this term, they've conceded 37 goals.
Clearly they are not doing well in defence but their problems are evident in attack too. Karim Benzema has scored just two goals in La Liga while Cristiano Ronaldo has just eight. This is a matter of mentality and concentration, they don't defend well against the counter-attack when they lose the ball – Levante realised that – and they don't track back with pace and order – another weakness Levante identified as a way to hurt Real Madrid. Both Levante goals came from a lack of attention on Real Madrid's part from Sergio Ramos and Dani Carvajal, who did not defend the space in behind well enough.
Zinedine Zidane has realised his squad is not sharp enough and has been conducting pre-season-like training in the middle of the season. It started last week and will continue this week in what they call 'clean weeks' because there is no midweek game, the intention of this is to become sharp enough for Paris Saint-Germain and the rest of the season. Of course, if they go out to PSG there will be nothing left this season other than contending that fourth space, which is incredible considering they have won three out of the last four Champions Leagues and La Liga last season.
There is not enough coming from bench. Substitutes have earned Real just one point compared to five at this stage last season when they had the likes of Alvaro Morata and James Rodriguez. So Real Madrid are giving less; their regulars are below-par, their substitutes are below-par and Zidane seems unable to stop this negative dynamic.
Room for improvement for Coutinho?
Having been on the bench against Juventus and Sporting Lisbon last year in the Champions League, Lionel Messi was among the Barcelona substitutes for the derby against Espanyol. The final score was 1-1 and what you saw for three quarters of the game was that Barca did not have enough creativity.
Philippe Coutinho was trying to fill that gap playing on the left and drifting inside the play in the pocket and in between the lines, but he did not create enough. He needs to be faster with his reactions and braver on the ball. Without Messi it's clear Barcelona suffer with a lack of creativity, but who wouldn't without the best player in the world?
Messi came on with Jordi Alba and Sergi Roberto in the end, but with Ivan Rakitic and the regular full-backs not in action, it made for a more even derby than usual. A very good Espanyol have managed to get one win, one draw and one defeat against Barcelona in the last few weeks in the cup and the league. That's good news for Espanyol, who you could argue deserved more than a point.
In the end, the star of the game was Gerard Pique, not only did he equalise but he decided to shush the Espanyol fans – I have three things to say about this. One, the fans of Espanyol should not insult his wife or his son, the club should be punished for that. Two, Pique should not celebrate in that way and he should also be punished because he provoked the crowd and players shouldn't do that. Three, the rivalry is spicy again and I feel that is good news.
There were incidents in the tunnel. Samuel Umtiti said he was racially insulted by Sergio Garcia and that has to be looked into, and if that's the case Garcia will have to be punished too. But there was intensity in that derby, whenever Barca feel like Espanyol are getting close they get unsettled and Espanyol like to play these games with a lot of intensity. The recent results suggest they have actually not got the weapons to stop Barcelona, so from that point of view it was a typical old-fashioned derby like the old times.
Goodbye from Griezmann?
Atletico Madrid got a 1-0 victory over top-four rivals Valencia. It was an offensive Atletico Madrid, they had Saul Niguez and Koke in the centre of the pitch, something Diego Simeone has been trying for two years but not often enough – he prefers to play Gabi in midfield in the big games, for instance. But this weekend he played Yannick Carrasco and Angel Correa on the wings with Antoine Griezmann and Diego Costa up front.
It was really offensive but the old Atletico Madrid came out as they battled for every ball as a unit and that was why Valencia did not have many chances. Correa scored the winner with a fantastic shot from outside the box and that underlined that we are seeing the best version of him at the moment. He is only short but he dribbles and is creative in tight spaces, while we haven't seen him strike the ball with such power as we saw for his fantastic winner.
There was an interesting moment where Griezmann opted against counter attacking and decided to stop and wait for everybody else. The fans of Atletico Madrid started criticising him and he turned around 'What are you talking about? It was a good decision', to which Simeone agreed in the press conference. That reaction from Griezmann suggests he's got nothing to hide, he won't be there next season for Atletico Madrid.
I'm pretty sure of that and his behaviour suggests that as well. Atleti are nine points behind leaders Barcelona, nine clear of Valencia in third and 10 ahead of Real Madrid. They have a nice cushion and are definitely meeting their targets having failed in the Champions League and in the cup – this is the way Simeone can at the end of the season say that they met the targets.
Eyes on the prize at Valencia?
Valencia were disappointing against Atletico Madrid, especially with the ball. They were without the injured Goncalo Guedes following that clash with Sergi Roberto and that meant the team lacked creativity. They are in the middle of a cup semi-final with Barcelona so the other creator, Rodrigo, was on the bench and, interestingly enough, Marcelino did not use his three substitutions.
He probably feels there is not enough coming from the bench and as a result injuries are starting to effect the side. Valencia are doing very well compared to last season, and having only lost the first leg of their semi with Barcelona 1-0 they still have to opportunity to reach the Copa del Rey final in the return leg at the Mestalla.
More struggles for Sevilla
Sevilla slipped to their fifth defeat in eight games in their 5-1 thrashing at the hands of Eibar. Despite this alarming run, things are starting to happen in Sevilla. Vincenzo Montella has a victory, a draw and three defeats. He had kept the same team for six games more or less but then managed to incorporate the three new players that came in plus another one that had come back from injury and it didn't work.
The team lack intensity physically and seem quite weak and we are seeing the consequences of the change Sevilla were trying to implement. Under Unai Emery, Sevilla were their typical selves; they were strong, they counter attacked and were strong physically. But then the fans decided that was not attractive enough and they brought in Jorge Sampaoli and a different style that in turn brought in different players.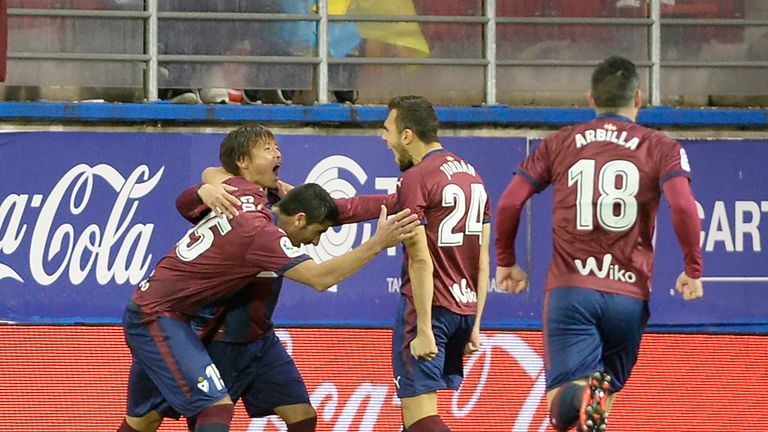 Under Montella, Sevilla want to bring back to glory days of Emery but the problem is that they don't have the players he had. So there is a clash between the mentality of the coach and the players he has at his disposal. Sevilla are six points away from fourth-placed Real Madrid. They need to get into the top four otherwise they will have to sell players because they've had the highest level of expenditure and it's not being reflected by results.
Right now, Manchester United are in a better position to progress to the next round of the Champions League as Sevilla don't have the consistency or the defensive structure to go through.
Also See:
Liverpool have 'rolled the dice' selling Philippe Coutinho, says Jason Burt