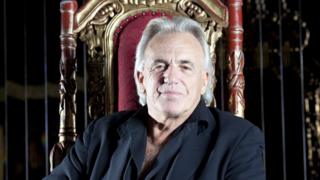 Sir Rod Stewart, Boy George and Frank Bruno are among those to have paid tribute to nightclub owner Peter Stringfellow, who has died aged 77.
The flamboyant businessman opened clubs around the world and became a magnet for a wide range of celebrities.
He died in the early hours of Thursday morning from cancer, having kept his condition a secret.
The Beatles, The Kinks and Jimi Hendrix were among those he booked in his six decades in the industry.
His family have asked for privacy. He leaves behind his wife, Bella, and four children.
Many of his famous friends and acquaintances have been sharing stories about him, with singer Sir Rod Stewart tweeting: "So long pioneer Pete. Thanks for the good times."
Fellow musician Boy George wrote on Twitter: "Wow, a big part of our lives and one of Sheffield's finest. What a character.
"He introduced me and my mum to Princess Diana."
Comedian David Baddiel shared a story from a meeting with Stringfellow, writing: "He had a sense of humour beyond the haircut.
"I asked him what he'd be doing if he hadn't ended up running strip clubs. He said: 'Two words: benefit fraud'."
Lord Sugar said: "He was a character and England is made up of characters, aren't we, and we've lost another flamboyant character."
Novelist and journalist Tony Parsons tweeted a picture of Stringfellow alongside American singers Stevie Wonder and Marvin Gaye, calling them "three legends".
Married three times and a grandfather four times over, Stringfellow married former ballet dancer Bella – 41 years his junior – in 2009.
Their two children – Rosabella and Angelo – were born when he was in his 70s.
Born in Sheffield in 1940, Stringfellow began running clubs in the 1960s before opening the first Stringfellows in London's Covent Garden in 1980.
Beyond the West End, he opened venues in Paris, Miami, Beverly Hills and New York.
The Stringfellow brand became known for its topless girls in the 1990s and he later opened an adult entertainment club – Angels – in Soho, London, in 2006.
Hanging out with Thatcher
Broadcaster James Whale, who knew him well, said Stringfellow invited him to one of his club's one evening to meet somebody.
"We turned up and he sat me down at this table with this woman. And I thought, gosh I recognise you, who's that?
"And it was Margaret Thatcher. He'd invited me to a do – they were doing fundraising for the Conservatives – and here was Margaret Thatcher in his club in the West End, chatting to all the people. It was quite a bizarre evening."
BBC Radio presenter Tony Blackburn tweeted: "He was a terrific guy who lived life to the full and was a wonderful person to be with.
"He was always full of fun and, to me, was a big part of the 60s and 70s."
American singer Sheila Ferguson, formerly of The Three Degrees, shared a memory of meeting Stringfellow for the first time at the Prince's Ball for Prince Charles and Princess Diana at the Royal Albert Hall.
She tweeted a picture of the event and wrote: "Just waking to the news of my lifelong mate Peter Stringfellow. We first met here".
She added: "Peter and I only flew together from Mallorca a while ago. RIP dear friend."
Former boxing champion Frank Bruno said he had met Stringfellow many times over the years and described him as "a great guy and king of the discos".
Comedy actress Su Pollard, who worked with him, said he was "a fantastic role model for other entrepreneurs".
She told BBC Radio 4's Today programme: "When he was in the room – for a start, I used to think he was so handsome, I love men with long hair – he was lovely.
"I liked him because he was always warm, he could have probably been in showbiz in another area, but he chose to be an entrepreneur."
TV personality Calum Best tweeted that he had "so many amazing memories" with the club magnate, adding: "From when I first came to UK and he took care of me for years in his club to staying with him and his family in Spain.
Former rugby player Brian Moore said he had spoken to Stringfellow at a Cambridge Union debate and he was "very good company".
Rock band Queen's keyboard player Spike Edney said it was working at one of Stringfellow's clubs that gave him a career break and the opportunity to audition for the band.
However, the strip club pioneer's controversial business was also reflected in some of the reaction.
Karen Ingala Smith, chief executive of Nia, a charity supporting women subjected to sexual and domestic violence, tweeted: "Can you stop it with the eulogising of woman objectifier Peter Stringfellow."