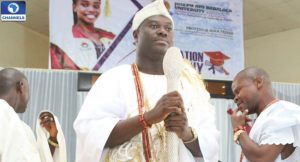 Some prominent Nigerians have called on all ethnic nationalities to stop hate speeches in order not to compromise Nigeria's unity.
Speaking in an interview with reporters in Ilorin, the Kwara state capital, the Ooni of Ife, Oba Adeyeye Ogunwusi Ojaja II, noted that the country is better united than being apart.
"Our unity is non-negotiable; even if they are grieved, we should look at why they are grieved but what is the essence of us breaking? Our togetherness is far better than our disintegration," he said.
On his part, the Kwara State Governor, Ahmed Abdulfatah, stressed that Nigeria's strength is in its diversity, adding that its people "must tap into that and use it to move to those levels of developed countries."
Elsewhere in Anambra State, a former Senate President, Ken Nnamani, explained that the country's greatness was made possible by its size.
He emphasised the need to prevent a reoccurrence of the civil war which he said those agitating for disintegration never witnessed one.
"The young guys from the north that issue an ultimatum to the south-easterners; many of them if not all of them have not seen war.
"They did not participate in the last exercise and any person who participated in the last civil war in Nigeria will not preach for another war in Nigeria," Senator Nnamani said.