[youtube https://www.youtube.com/watch?v=w9yak899MUs?wmode=transparent&w=560&h=315]
Ariana Grande returned to the stage Sunday to perform at the One Love Manchester concert, an event she co-organized to help benefit the survivors and families of the victims of the May terror attack.
A suicide bomber had killed 22 people and injured dozens more at the singer's concert in Manchester Arena. On Saturday, just a day before the benefit show, three people drove a van into pedestrians walking on London Bridge and stabbed others nearby, killing seven people and injuring dozens.
Check back for live updates below.
Marcus Mumford opened the show with a minute's silence for the attack victims and told the crowd, "Let's not be afraid," before performing his 2009 song "Timeshel."
Take That, a British boy band most popular in the '90s and mostly in Europe and Asia, then performed their 2006 song "Shine." They followed it up with their new track "Giants" and their 2006 song "Rule the World."
Original member Robbie Williams, whose departure from the group made headlines, then came out and sang his 1998 solo hit "Strong," which he began a cappella and which paid tribute to Manchester.
"Manchester is strong, we're strong, we're strong, we're still singing out song, our song, our song," he sang. "Manchester, are you with me?"
He then performed his biggest hit, the 1997 ballad "Angels," while the crowd sang along.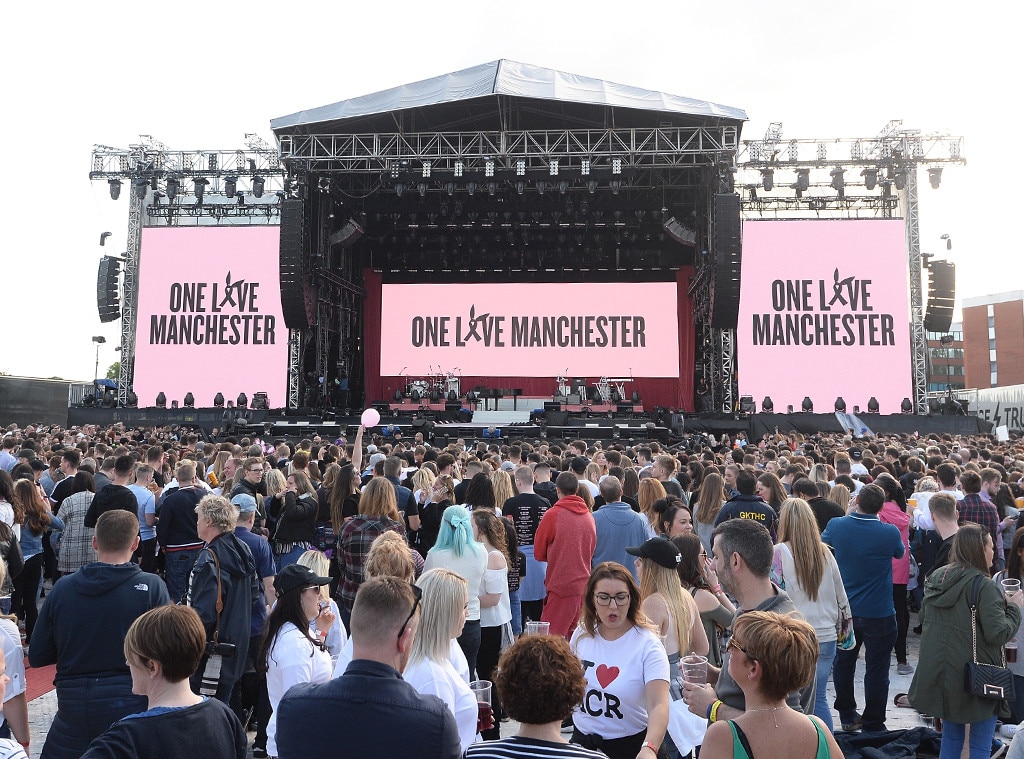 Getty Images/Dave Hogan for One Love Manchester
Take That had met Grande earlier in the day during a sound check and posed for a pic with her.
After Williams' set, a video of Bono onstage a U2 concert was then shown. The group performed in Chicago this weekend.
"All our hearts are with Manchester and with the U.K.," he said, calling the attacks "senseless, senseless horror."
"There's no end to grief, that's how we know there's no end to love," he said.
Pharrell Williams then took the stage to perform his and Daft Punk's 2013 hit "Get Lucky."
"I'm bowing because despite all the things that have been going on in this place, I don't feel, or smell, or see or feel any fear," he said. "All I fell here tonight is love resilience, positivity and you know what? I hate to be corny but it actually makes me happy."
Miley Cyrus then joined him onstage for a duet of his 2013 hit "Happy."
"The most important responsibility we have on this entire planet is to take care of one another," Cyrus told the crowd. "And look what we're doing today and how amazing that is."
Miley then performed her new ballad "Inspired," which she had dedicated to dad Billy Ray Cyrus.
Niall Horran then performed his 2016 solo tracks "Slow Hands" and "This Town."
"We love you, we're with you," he said. "The whole world is watching."
Grande's manager Scooter Braun then took the stage to introduce the singer. He paid tribute to the survivors of the attack, the people of Manchester and Grande, thanking her for "stepping up and taking action" after the tragedy.
Both of them had visited injured survivors in the hospital. Braun said one of them, a 15-year-old boy named Adam, who lost his best friend in the attack, told him, "Hey Scooter make sure you tell them, don't go forward in anger."
"Fear will never divide us because on this day, we all stood with Manchester," he said.
Grande then appeared onstage, wearing a white sweatshirt that reads "One Love Manchester," with backup dancers wearing the same outfit in black. She opened her set with her 2016 track "Be Alright" and followed it with "Break Free."
Stevie Wonder then appeared in a video message, saying, "I'm with all of you in Manchester. W e all know that love is truly the key I don't care what ethnicity you are what religion you are….Yes, I stand with you Manchester." He then sang a few lyrics from his 1976 song "Love's in Need of Love Today."
Little Mix took the stage to sing their 2012 hit "Wings."