Written by ANJALI MARAR | Pune |
Published:August 1, 2017 6:25 am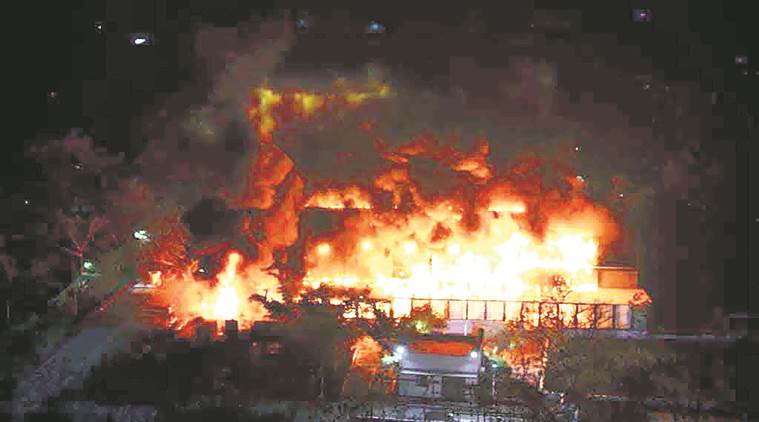 On five occasions, when the fire was massive, the fire fighting department of the PMC had to be called in. (Source: Express)
NINE out of the 14 fire accidents which occurred during 2002-2017 at the CSIR-National Chemical Laboratory (NCL) were triggered by short-circuit, incurring a total loss of Rs 7.87 crore in the process. This was revealed in a RTI reply sought by The Indian Express in the backdrop of a major fire that had gutted Indus MAGIC lab in the Pilot Plant III at the NCL in March this year.
Though there were no casualties reported ever, what is shocking is that a lab of NCL's nature, where high explosives, inflammables and other chemicals are handled on a day-to-day basis, had last undertaken a fire safety audit in 2009.
This audit was conducted by Mumbai-based National Safety Council. It has raised serious questions on the institute's preparedness to fire incidents in the future and its responsibility to ensure the safety of its over 1,000 staffers, including students, PhD scholars and scientists.
A majority of fire incidents, the report suggested, were as a result of electrical sparks that emerged from an old electrical appliance, like a refrigerator, switch board or broken electrical wires, that later spread to nearby inflammable materials or other chemicals present in the vicinity. On five occasions, when the fire was massive and the losses were to the tune of Rs 20 lakh or above, the fire fighting department of the Pune Municipal Corporation (PMC) had to be called in, indicating that the existing safety equipment at the NCL were insufficient to handle incidents of large magnitudes.
It has also been understood that the The Polymers and Advanced Materials Laboratory (PAML) is the most vulnerable laboratory, which has caught fire thrice during this period, though no major losses were encountered.
The Indian Express, in its June 29 report, had highlighted the lack of safety standards prevalent at the 13-month-old MAGIC lab, which was completely destroyed on the night of March 28, resulting in a loss of Rs 6.72 crore. Following The Indian Express report, the NCL management had decided to conduct a safety audit of some of the labs on the NCL campus.
However, the RTI response says that, "The CSIR-NCL has engaged a firm to conduct the fire safety audit, which is currently in progress."
Every division at the NCL has its independent Divisional Safety Committee, which is in charge of maintaining safety norms, along with conducting safety audits. During this audit, the division's overall functioning, standard safety process (like wearing of necessary safety gloves, apparels and footwears), leaks in the hydrogen or nitrogen gas outlets, electrical connections, etc are checked.
"This committee conducts an audit once in every three months and the reports are later shared with the Safety Committee of the NCL after which required action and corrective measures are initiated," the response stated.
For all the latest India News, download Indian Express App