As Lionel Messi turns 30, here's a look back at some of the Argentine's greatest moments in a Barca shirt
With Lionel Messi turning 30 on Saturday, Michael Hincks looks at 30 incredible stats to celebrate the Barcelona and Argentina forward.
The number 30
As Messi turns 30, it's only apt we start with that very number, which can be traced back to his Barcelona debut on October 16, 2004.
Messi's shirt bore said digits as he came on to make his first appearance for the senior side with eight minutes to go in a La Liga match at city rivals Espanyol.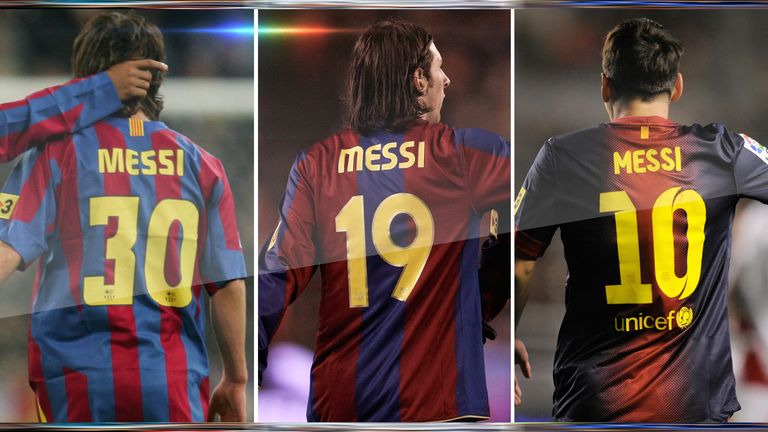 Lionel Messi wore 30 before switching to 19 in 2006 – he then took the 10 shirt after Ronaldinho left in 2008
Deco off, Messi on
The man Messi replaced to make his Barcelona debut was former Portugal international Deco, who was a player at the top of his game in 2004, having joined Barca after winning the Champions League with Porto and helping Portugal to the final of the Euros.
As Lionel Messi turns 30, here's a look back at some of the Argentine's greatest moments in a Barca shirt
May 1, 2005
Seven and a half months after making his debut, Messi scored his first goal for Barcelona in a Liga match against Albacete at the Nou Camp – he became the youngest player to do so for the club in a league game (since beaten by Bojan Krkic).
Watch as a 17-year-old Lionel Messi scores his first league goal for Barcelona, a deft lob against Albacete
The goal was every bit as sublime as we would come to expect as he effortlessly chipped the ball over the 'keeper following Ronaldinho's scooped assist.
Messi mounted the shoulders of his Brazilian team-mate in celebration – the Nou Camp knew they had a star in the making.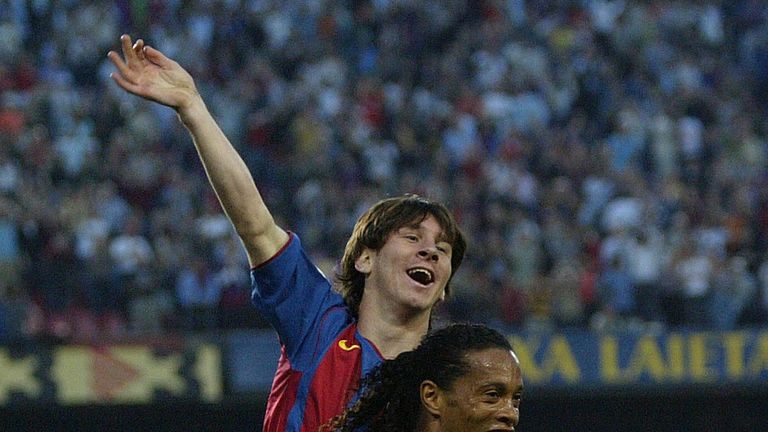 Gone in 90 seconds
Aged 18, Messi made his international debut in August 2005. It lasted 90 seconds. "It was not like I had dreamed it would be," he said, somewhat unsurprisingly, after the game.
Having received the ball for the first time after coming on in the second half against Hungary, Messi was fouled by Vilmos Vanczak and immediately retaliated, earning himself a straight red card.
It remains the only time Messi has seen red for club or country.
Olympic gold
Messi's trophy room (no cabinet would be big enough) even features an Olympic medal, after Argentina battled to gold at Beijing 2008. Messi netted twice in the tournament, while it was Angel Di Maria who scored the only goal in their gold-medal game against Nigeria.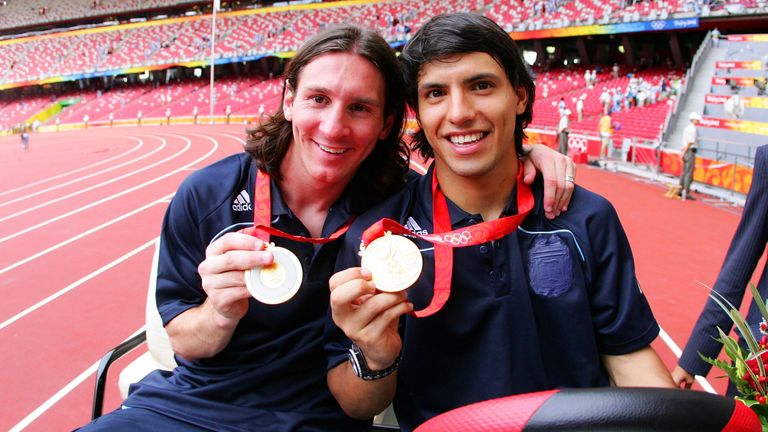 Lionel Messi (L) with Sergio Aguero after their gold-medal victory at the 2008 Beijing Olympics
60-year-old record – broken
Messi's brilliance means many of Barcelona's past legends have been displaced in record books.
In March 2012, the Argentine broke their 60-year-old goalscoring record held by Cesar Rodriguez, who played in the 1940s and 1950s, when netting his 233rd goal for Barcelona in a 5-3 win over La Liga rivals Granada.
Guinness World Record
2012 proved to be some year for Messi in terms of individual records. His tally of 91 calendar goals saw him topple the long-standing world record of 85, held by Gerd Muller.
Muller, who set the benchmark in 1972, told Sport1.de: "My record stood for 40 years – 85 goals in 60 games – and now the best player in the world has broken it, and I'm delighted for him. He is an incredible player, gigantic."
King of the world, five times
How could we ignore Messi's five Ballon d'Or awards? The Argentine took home the crown from 2009 till 2012 and once again in 2015.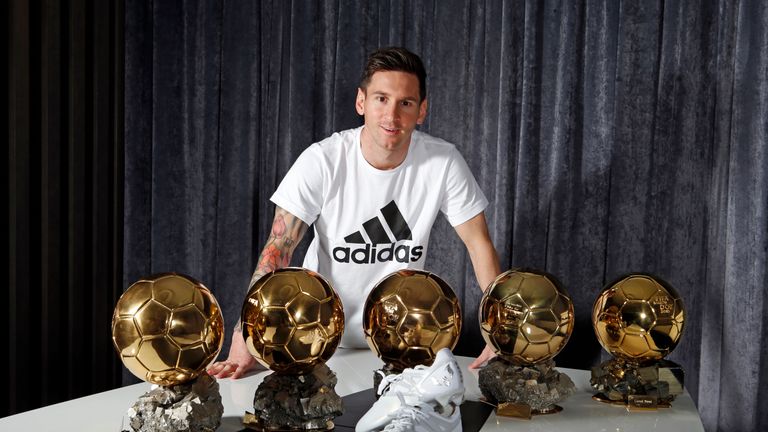 Lionel Messi with five Ballon d'Or and Platinum adidas boots
Every World XI since '07
Messi has featured in every FIFA FIFPro World XI team since 2007 – that first side saw him feature alongside the likes of John Terry, Steven Gerrard and Didier Drogba, while the most recent XI contained team-mates Gerard Pique, Andres Iniesta and Luis Suarez, as well as Cristiano Ronaldo – who has also been ever-present since 2007.
Then & Now – FIFPro World XI
| 2007 World XI | 2016 World XI |
| --- | --- |
| GK: Gianluigi Buffon | GK: Manuel Neuer |
| DF: Alessandro Nesta | DF: Marcelo |
| DF: John Terry | DF: Sergio Ramos |
| DF: Fabio Cannavaro | DF: Gerard Pique |
| DF: Carles Puyol | DF: Dani Alves |
| MF: Cristiano Ronaldo | MF: Andres Iniesta |
| MF: Kaka | MF: Luka Modric |
| MF: Steven Gerrard | MF: Toni Kroos |
| FW: Ronaldinho | FW: Cristiano Ronaldo |
| FW: Didier Drogba | FW: Luis Suarez |
| FW: Lionel Messi | FW: Lionel Messi |
One trophy-less season
Messi's only trophy-less season with Barcelona came in 2007/08. The club finished third in La Liga, while they were knocked out of the semis in both the Champions League and Copa del Rey.
Double-treble
A trophy-less 2007/08 was followed by a fruitful 2008/09 campaign, with Barcelona becoming the first Spanish side to claim La Liga, Copa del Rey and Champions League glory in one season. Messi netted 38 times that season, while he went on to score 58 goals when they repeated the feat in 2014/15 – in what was Luis Enrique's first of three seasons in charge at the Nou Camp.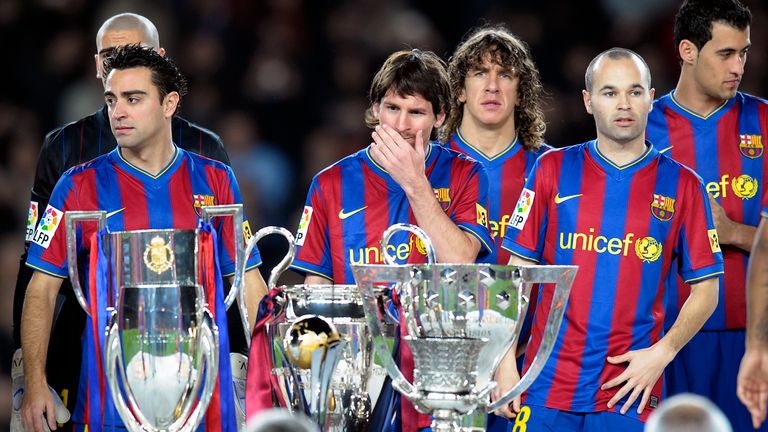 Barcelona became the first Spanish side to claim La Liga, Copa del Rey and Champions League glory in one season back in 2008/09
30 trophies and counting
To date, Messi has won 30 trophies with Barcelona. Iniesta joins him on that number having played for the senior side since 2002.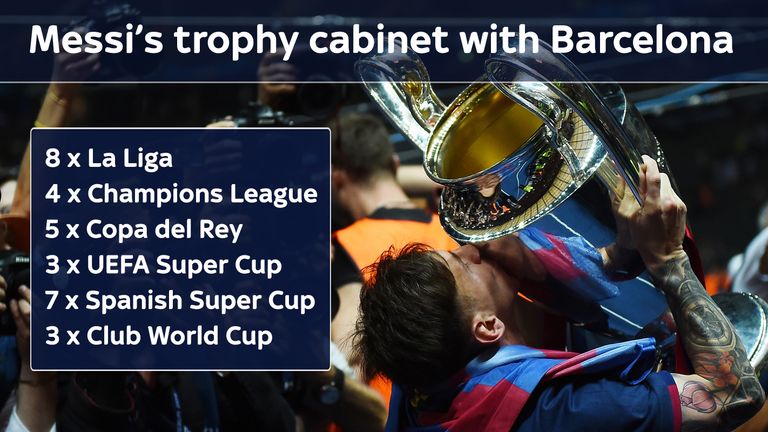 Four final losses with Argentina
For all of Messi's success with Barcelona, many have noted his failure at international level when it comes to major tournaments. The only cloud hanging over Messi's legacy is that he has failed to lift a trophy with his country, having tasted defeat in one World Cup final (2014) and three Copa America finals (2007, 2015, 2016).
Lionel Messi missed Argentina's first penalty as they lost the final of the Copa America on a penalty shootout against Chile
One international U-turn (and presidential plea)
The last of those final losses came against Chile in the 2016 Copa America. It all got too much for Messi, who retired from international duty afterwards, having missed a penalty in the decisive shootout.
The announcement caused a hullabaloo in Argentina. President Mauricio Macri even called Messi – whom he dubbed a "gift from God" – urging him to reconsider. Messi reversed his decision just a month later.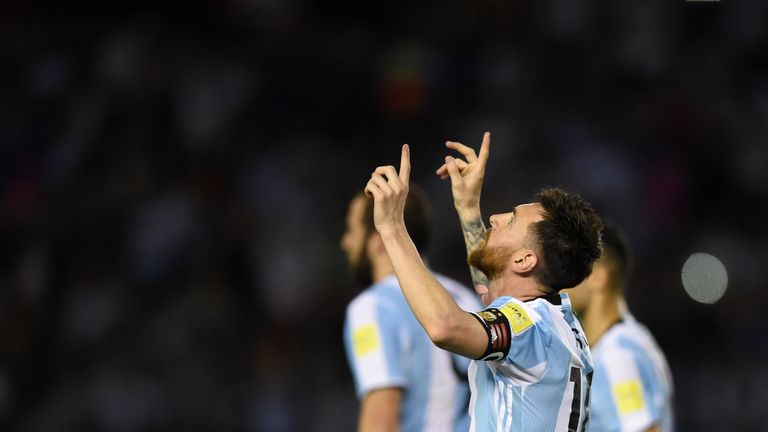 "Many things went through my head the day of the last final and I seriously thought of leaving, but I love this country and this shirt too much."
Messi after reversing international retirement decision
One global brand
Messi has appeared on the front cover of both Pro Evolution Soccer and FIFA video games, while he also featured in adverts for Adidas, Pepsi and Turkish Airlines – to name but three. The endorsements mean Messi has featured prominently in Forbes' annual list of the highest-paid athletes – most recently coming fourth in 2017, having earned $53m (£41.5m) in salary/winnings and a further $27m (£21m) from sponsorship.
Watch the moment a young Afghan boy meets, and walks out the tunnel with, his hero Lionel Messi. Video courtesy of Barcelona's official twitter account.
565 in 701
Back to football. The second half of our stat-pack will marvel at Messi's goalscoring record – which stands at 565 goals in 701 games for club and country. 507 of those have come for the Catalan giants from 583 appearances, while his international record reads as 58 goals in 118 games.
Now let's break down that tally of 565…
50-up in 2011/12
Messi became the first player ever to score 50 La Liga goals in one season, back in 2011/12.
However, he was powerless to prevent Real from storming to the title that year, with Jose Mourinho's side finishing nine points clear of their great rivals.
This is what we're used to seeing from Lionel Messi
1.217 ratio
Messi's most fruitful season came at a ratio of 1.217 goals per game in 2011/12.
On top of his 50 league goals, he netted in the Champions League, Copa del Rey, UEFA Super Cup, Spanish Super Cup and FIFA Club World Cup to take this overall tally to 73 goals in 60 games – an all-time record across the major European leagues.
349 La Liga goals, and counting
No player has more La Liga goals than Messi. He broke Telmo Zarra's all-time record when notching his 252nd goal against Sevilla in 2015.
Lionel Messi became the first player in history to reach 300 La Liga goals with this curled finish against Sporting Gijon
Now on 349, Messi is 64 goals clear of Ronaldo (285), who moved to Real Madrid from Manchester United in 2009.
74 penalties
Messi has scored 74 times from the spot for club and country and missed 20. That means 13.1% of his career goals have been penalties. It also makes for a 77.5% conversion rate from 12 yards out.
On top of 74 penalties, Messi has also scored 33 direct free-kicks
82% with his left
Messi's left peg has tucked away 462 goals throughout his career – 82% of his total strikes. Meanwhile, 77 goals have come from his right foot, 24 with his head – two have gone down as 'other'.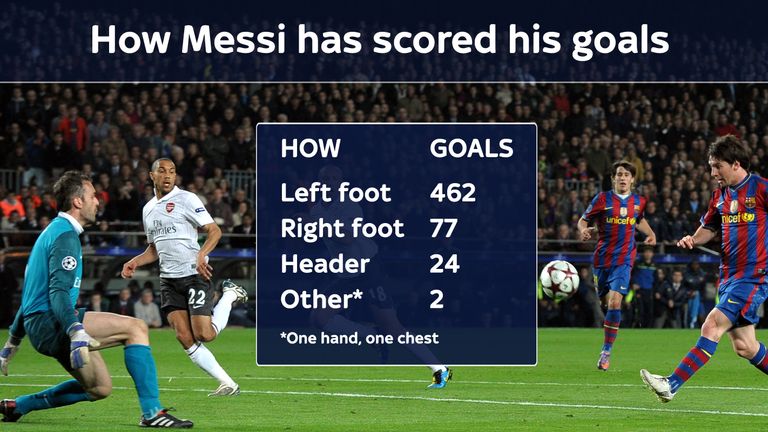 One 'Hand of God'
One of Messi's goals which falls in the 'other' category is his controversial handball goal against Espanyol in 2007. Many had started to compare Messi with Diego Maradona in terms of quality, but the fact that he emulated the legendary Argentine – whose famous 'Hand of God' steered Argentina past England at the 1986 World Cup – proved he could be just as deceitful.
Simply the chest
The second goal to fall under 'other' is Messi's chested goal against Estudiantes in the 2009 Club World Cup final. Barcelona won 2-1 thanks to his improvised winner in the 110th minute – that was also the only goal Messi has scored in extra time.
The late show
Messi has scored 141 goals from the 76th minute up to full-time. Here's a look at that injury-time winner from El Clasico earlier this year…
Watch how Lionel Messi brought up his 500th goal for Barcelona earlier this year
88 outside the box
No stranger to a screamer, Messi has netted 88 of his 565 goals from outside the box, meaning 477 have come from inside the penalty area.
40+ since 2008/09
For club and country, Messi has scored more than 40 goals every season since the 2008/09 campaign. He's showing no sign of slowing down, with his most recent tally of 57 ranking as his joint-fourth best season in front of goal.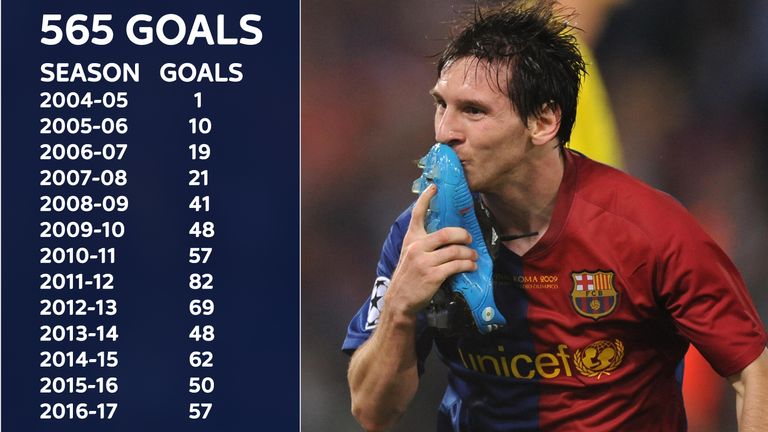 The tormentor of Sevilla
Messi has scored more than 20 goals against six different Spanish opponents, but no side have let in more than Sevilla. At a rate of 0.97 goals per game, Messi has found the net 29 times against Sevilla – six more than he has achieved against Real.
4 x 4
Messi has scored four goals in a game on four occasions. Three of those times came in La Liga, against Valencia (Feb 2012), Espanyol (May 2012) and Osasuna (Jan 2013), while he also achieved the feat against Arsenal in the Champions League quarter-final second leg back in 2010.
Five-goal haul
Messi became the first player to score five goals in a Champions League game when Barcelona humiliated Bayer Leverkusen 7-1 in the last-16 second leg, back in 2012.
"His class is just extraordinary, there's no discussion," said Leverkusen boss Robin Dutt at the time. "Without Messi, Barca are the best team and with him, they are in another galaxy."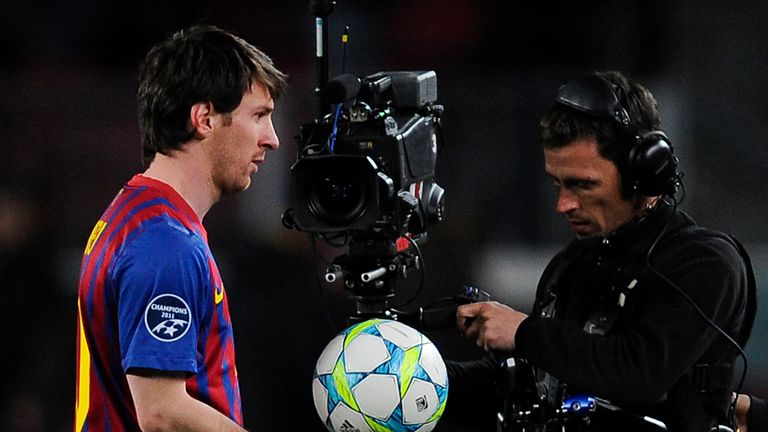 "His class is just extraordinary, there's no discussion. Without Messi, Barca are the best team and with him, they are in another galaxy."
Bayer Leverkusen boss Robin Dutt after the defeat
Two pairs of Golden Shoes
Messi's 37-goal haul in the league this season saw him claim the European Golden Shoe for a fourth time, having done so in 2009/10, 2011/12 and 2012/13. That equals Ronaldo's feat, while Diego Forlan (Atletico Madrid 2008/09) and Luis Suarez (Liverpool 2013/14, Barcelona 2015/16) are the only two players to have also taken home the Golden Shoe in the past decade.