Manchester United midfielder Juan Mata says the club's players wanted to win the Europa League for the people of Manchester following Monday's terror attack
World Cup winner Juan Mata says the Europa League trophy is the most special of his career after the terror attack on Manchester.
Paul Pogba's deflected strike and a goal from Henrikh Mkhitaryan ensured Manchester United beat Ajax 2-0 in Stockholm on Wednesday evening less than 48 hours after 22 people were killed and dozens more injured in a terror attack following a concert at Manchester Arena on Monday.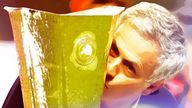 What next for United?
Jose Mourinho has given himself a platform to take Manchester United forward next year
Mata became a world champion with Spain in 2010 before going on to win the European Championships with his national side and the Champions League with Chelsea in 2012, but United's emotional victory ranks above all, according to the 29-year-old.
"Today was I would say more special than any other trophy because of that [Monday's terror attack]," Mata said.
"We felt the suffering and the sadness of the city of Manchester and today we tried to give this trophy for them, that's how we felt before the game, that's how we feel now.
"We feel a bit proud we have done that. Hopefully, they can be happy for at least some hours."
Manchester United posted an image on their official Twitter account of the players in the dressing room with the trophy following the match, presenting a banner which said 'Manchester – a city united'.