When you turn on QVC, there are a whole lot of items that could tempt shoppers.
Cookware from celebrity chefs like Rachael Ray are always a hot seller. Items for the home from Property Brothers Drew and Jonathan Scott are alluring especially late into the evening. There's also Lisa Rinna's clothing brand titled the Lisa Rinna Collection that has quietly been making waves in the fashion community.
It all started back in 2011 when QVC came out to visit Lisa's two boutiques in Southern California. 
"They looked at all of my clothes and the vibe of the store—kind of cozy, comfy, California chic vibe—and they loved it and we decided to go into business," Lisa explained to E! News exclusively. "I've always wanted to get into home shopping. I don't know why, but I always thought it would be a great way to reach all sizes of women and everybody."
Five years after her very first live show in West Chester, Pennsylvania, the fashion designer has become one of the biggest names on QVC.
This Sunday night, Lisa will celebrate her anniversary with a special two-hour broadcast live from her private home in Beverly Hills. It's a celebration that has arrived after plenty of hard work and impressive sales that have exceeded many people's expectations.
According to QVC, Lisa's line has sold over 1.4 million items and experienced five different Today's Special Values. Her first TSV was a Printed Top that sold out in less than 10 hours with over 64,000 orders placed.
Her most recent TSV this past March was a banded bottom knit crop pant that sold an impressive 119,000 units in less than 24 hours.
"It's awe-inspiring to be honest with you. It's hard to fathom that I could ever sell 100,000 pairs of pants. At my store, I'd be lucky if I sold five pants in a day so to sell 120,000 pants in not even a 24-hour period is awe-inspiring. It means that we've done something right and the customer loves it," Lisa explained to us. "I'm so proud of that. These women that are buying are savvy. They know what they like. They know authenticity and non-authenticity when they hear it and see it so I just feel really proud that they'll take a chance and that they love what they are seeing."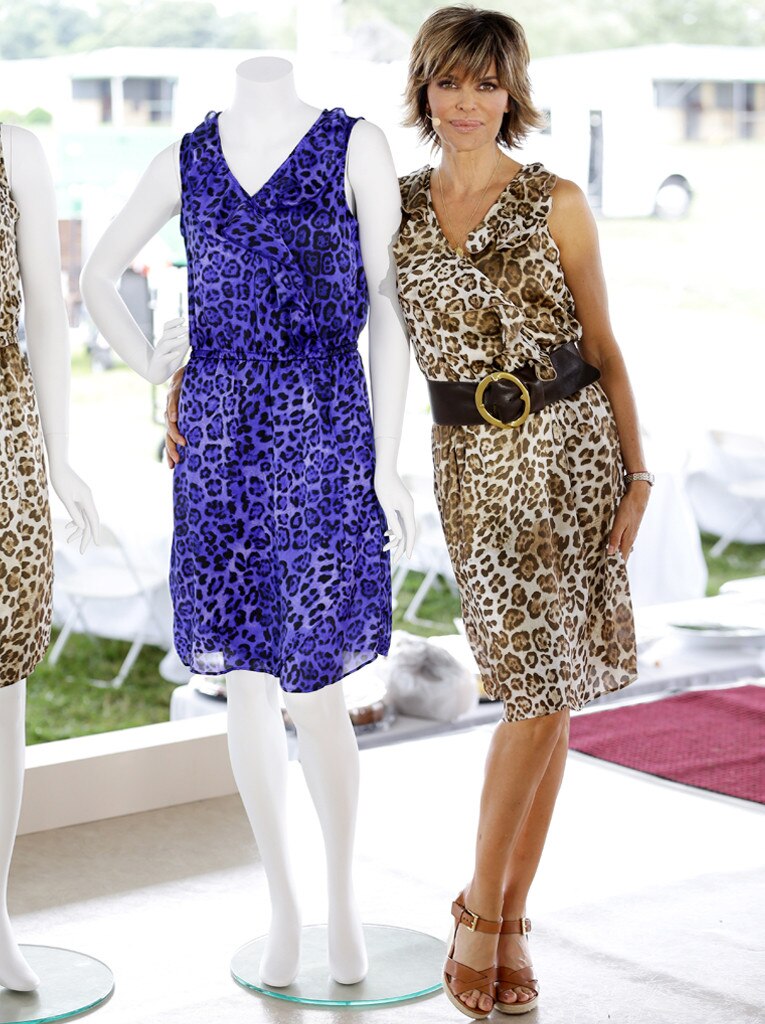 Neilson Barnard/Getty Images
Live TV has also proven to be a huge asset for Lisa. According to Rachel Ungaro, who serves as Vice President of Merchandising for QVC, the designer's genuine passion shines when she is in front of the camera.
"Every show with Lisa is fun, exciting and unpredictable! That's what our customers love about her," Rachel explained. "Her energy and passion comes through in everything that she does and she makes you have a good time along with her."
Lisa would later admit, "I try to have fun out there and I try to make it more of a party with the hosts, models, myself. It's a team effort. It's not just myself."
While Lisa is staying mum on the surprises viewers can expect Sunday night when she opens up her home to QVC, the designer assures fans that there is so much more to come with her collection.
As she continues to focus on her apparel brand, Lisa hopes to branch out with shoes, accessories, beauty and even a few lifestyle items.
"The sky is the limit. That's the way I look at it. The business is doubling and tripling and it's growing so quickly. It's just been so exciting," she shared with us. "I will continue to bring them fabulous fabrication and great pieces that will continue to update their wardrobe and make them feel fabulous."
Shop the Lisa Rinna Collection anytime on QVC's website. And watch her special two-hour show Sunday night at 7 p.m. EST/4 p.m. PST on QVC.