Kim Zolciak-Biermann is expressing her love for Kroy Biermann in another big way.
On Thursday evening, the Don't Be Tardy star headed to the All or Nothing Tattoo Studio in Smyrna, Georgia to receive a whole new ink job in honor of her husband.
As documented on Snapchat and Instagram, Kim trusted in Brandon Bond to create the meaningful tattoo.
"Two Hearts One Love, Two Lives One Dream," read the tattoo located on one side of her chest. The tattoo on the opposite side would spell out "Ask, Believe, Receive."
But wait, there's more! Kim's daughter Brielle Biermann, chef Tracey Bloom and Kroy also got new tattoos.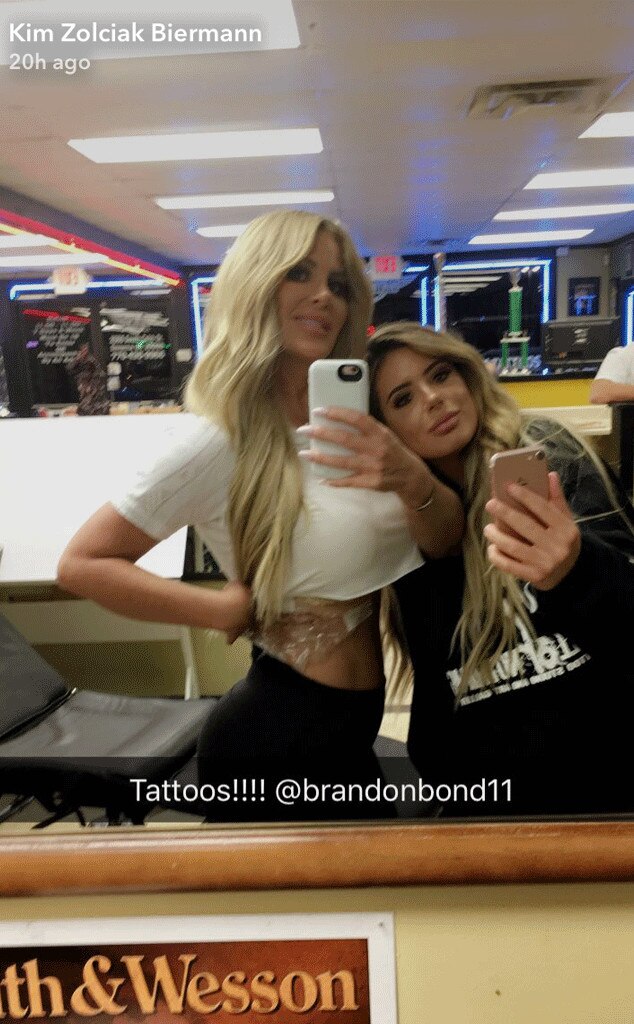 Snapchat
"Hey guys. I feel like total ass today," Kim shared on Snapchat. "I obviously was out way too late last night getting tattoos. I'm just going to bleach my teeth here and I'm going to lay out on the couch with my boys."
It's the latest gesture from Kim that proves her love for Kroy is stronger than ever.
Over Mother's Day weekend, the former Real Housewives of Atlanta star headed to the Turks and Caicos with her family for a very special vow renewal ceremony.
Kim was spotted wearing a full skirted strapless gown while the rest of the family joined her in wearing white.
"I am the LUCKIEST wife/mother on this planet!" she wrote on Instagram. "I never will ever take my family for granted! God is so good."
Don't Be Tardy season six returns later this year only on Bravo.
(E! and Bravo are part of the NBCUniversal family)