It sounds like a plot to movie, but it's turning out to be Kevin Hart's real life…

The Central Intelligence star is trying to get himself out of a bad situation that he got himself involved in—and so he's coming clean. The funnyman took to Instagram on Saturday to publicly and profusely apologize to his pregnant wife Eniko Parrish and kids Heaven Hart and HendixHart, his children from a previous marriage, for some "bad" behavior on his part and to say that someone was trying to extort him for "financial gains" as a result of his actions.

In the video he posted wide, the actor began, "I'm at a place in my life where I feel like I have a target on my back and I should make smart decisions and recently I didn't."

"I made a bad error in judgement and put myself in an environment where only bad things can happen and they did," he confessed. "And doing that I know that I am going to hurt the people closest to, whom I have talked to—my wife and my kids."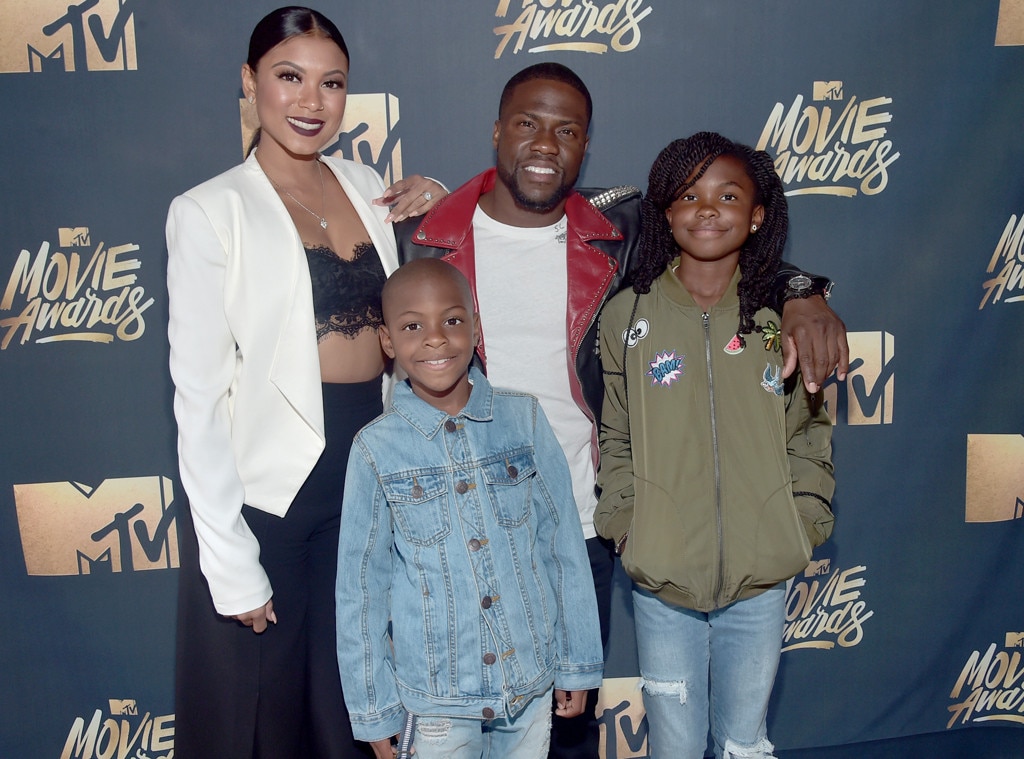 Alberto Rodriguez/MTV1415/Getty Images for MTV
At the end of the video, which is vague about details of the situation, the actor, who has been married to Parrish since 2016, said, "At the end of the day, I just have to do better."

The Ride Along star also said, "But I am not going to allow a person to make financial gains over my mistakes."

Along with the very honest video, Hart wrote, "Sending so many apologies to my wife & kids. I gotta do better and I will. I'm not perfect and have never claimed to be …I love you all."

TMZ reports that Hart was allegedly being extorted by someone who has a suggestive video of the comic and a woman, and that a person was demanding payment from Hart to not release the tapes.

It is also being reported that the the extortion attempt failed (hence the video) and that the authorities are now involved.
This isn't the first time Hart's had to deal with cheating allegations. In July, the comedian found himself at the center of what appeared to be a short-lived cheating scandal after photos of him and a mystery woman sitting together in the backseat of a car surfaced online.

Despite the photos surfacing, the possible extramarital affair did not seem to threaten the couple's exciting time ahead.

At the time, Hart responded to the rumors via Instagram by posting a photo of himself laughing with a border of text that read, "At the end of the day, you just gotta laugh at the BS." He added in the caption, "#LiveLoveLaugh ….. [Shaking my damn head.]"

Hart's certainly not laughing now…
Last month, Hart got into an online scuffle with his first wife and mother to his children Torrei Hart, who suggested that the actor cheated on her with Parrish.

In one of his Instagram posts, Hart thanked Parrish for eight years together, however, he'd only been divorced from his ex-wife for six years and the first Mrs. Hart did not let that timeline go unnoticed, alluding on Instagram that her husband had stepped out on her with the new Mrs. Hart.

Parrish stepped into defend her man, but the mom of two was quick with her words in a since-deleted post, writing,  "Eniko sweetheart normally I don't feed in to this, but when you addressed me directly, you forced my hand to respond.""

She added, "We have made successful strides to become a loving co parenting family, but you have now left it open for my character to be questioned. You, Kevin, and I know the truth."

Torrei wrote, "Either respond truthfully or don't respond at all."