Not only did Kesha come back with a vengeance when it came to releasing her third studio album Rainbow, she did it with massive success—and all on her own terms.
Rainbow was released Aug. 11 and debuted at the No.1 spot on the charts, selling 116,000 units throughout the week ending Aug. 17,  according to Billboard.
The singer took to Twitter to share her appreciation for the news, writing, "Many days my music was simply a coping tool – anyone has the power to turn emotion into art SO MUCH LOVE."
But Rainbow tells a story that's much bigger than album sales, which is why its success has been applauded by so many musicians and fans alike.
You see, Rainbow's release marked a new chapter for Kesha after years and years of battles, both personally and publicly.
For starters, it's her first album in five years, following 2012's Warrior. It also marks her first solo effort since her 2013 Deconstructed EP as well as her first single since "True Colors," the 2016 collaboration with Zedd.
It's also the first album she's released since her on-going legal battle with Dr. Luke began in October 2014. Kesha signed a contract with the Sony producer (real name Lukasz Gottwald) when she was 18-years-old, and after a decade of what her lawyer has described as "mental manipulation [and] emotional abuse," she decided to sue Luke for sexual assault and battery and sought to invalidate recording contracts with him.
The singer claimed Luke drugged her, made sexual advances toward her and even criticized her weight, which eventually led her to checking into rehab for an eating disorder (which we'll get to later).
In a countersuit, Luke called her allegations "defamatory" and claimed she was in breach of contract and attempting to extort him.
A New York City judge ruled in favor of Luke last year and denied Kesha the ability to invalidate her contract, calling it "heavily negotiated and typical for the industry."
Though Sony said they "made it possible for Kesha to record without any connection, involvement or interaction with Luke whatsoever," Kesha's camp told The New York Times Magazine that "Dr. Luke has insisted Sony's participation is just an 'accommodation' and has not denied that all decisions regarding the album are still being made by Dr. Luke."
However, Luke was released from his contract with Sony in April as the company's legal team explained he is "no longer the CEO of Kemosabe Records and does not have authority to act on its behalf." 
Kemosabe was the imprint that Dr. Luke founded in 2011 in partnership with Sony and is listed as the company that released Rainbow. Thus, although Luke's release from Sony certainly paved the way for Kesha's third album, it's still unclear whether he's seeing a profit from its release.
The next step in Kesha's pursuit against Dr. Luke will continue with Lady Gaga, who has publicly voiced her support for the "Tik Tok" singer. E! News confirmed Luke sent Gaga a subpoena to appear in court for his defamation suit against Kesha. His legal team claims Gaga has "relevant information regarding, among other things, false statements about Dr. Luke made to her by Kesha."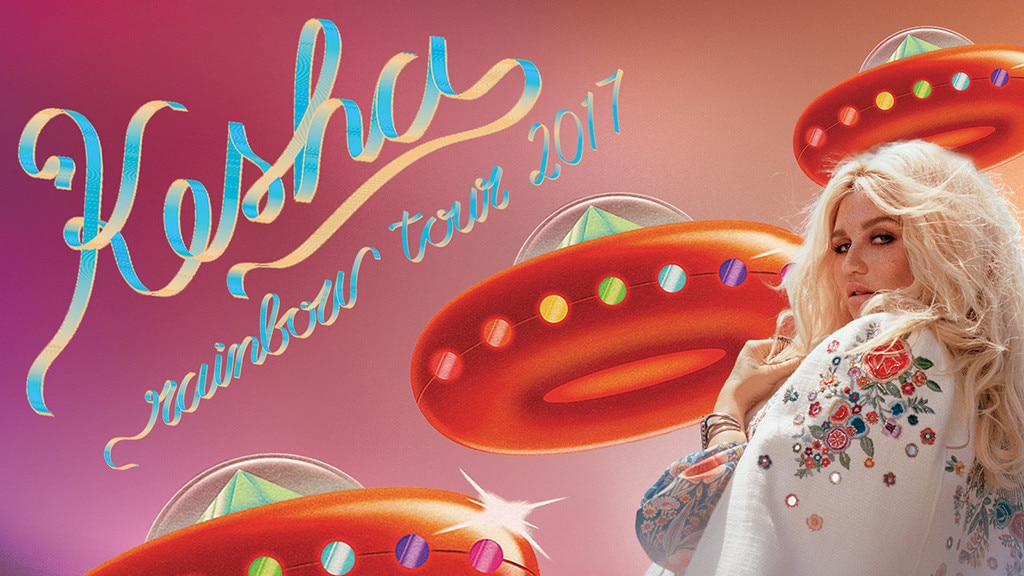 Live Nation Entertainment
Meanwhile, aside from her legal battle, Kesha has also faced some serious internal obstacles.
As we explained before, she entered rehab for an eating disorder in January 2014.
"I'm a crusader for being yourself and loving yourself but I've found it hard to practice," she told E! News at the time. "I'll be unavailable for the next 30 days, seeking treatment for my eating disorder…to learn to love myself again. Exactly as I am."
She explained her decision to Vogue as well, saying, "I went to a dark place. There was a lot of not eating—and I started to think being hungry to the point of feeling almost faint was a positive thing. The worse it got, the more positive feedback I was getting. Inside I was really unhappy, but outside, people were like, 'Wow you look great.'"
Needless to say, Rainbow has been a project that takes us on a journey through Kesha's ups and downs as well as her growth while facing all of these obstacles over the last five years.
"I have channeled my feelings of severe hopelessness and depression, I've overcome obstacles, and I have found strength in myself even when it felt out of reach. I've found what I had thought was an unobtainable place of peace," Kesha said in an essay for Lena Dunham's Lenny Letter last month.
"It's from our darkest moments that we gain the most strength. There were so many days, months even, when I didn't want to get out of bed," Kesha continued. "I spent all day wanting to go to sleep, and then when I did fall asleep, I had horrible night terrors where I would physically cry and scream through the dark. I was never at peace, night or day. But I dragged myself out of bed and took my emotions to the studio and made art out of them. And I have never been happier with a body of work as I am with this record."
She concluded, "I am so happy and grateful to begin sharing all the music I have been writing with the world. I've written a record that reveals my vulnerabilities, and I have found strength in that. In the past, I've always felt like I was trying to prove something, trying to be someone I thought people wanted me to be, but on this record, I'm just telling the truth about my life. This album is me. The most raw and real art I have ever created, and now it's my gift to you. I hope you love it. Thank you for not giving up on me."