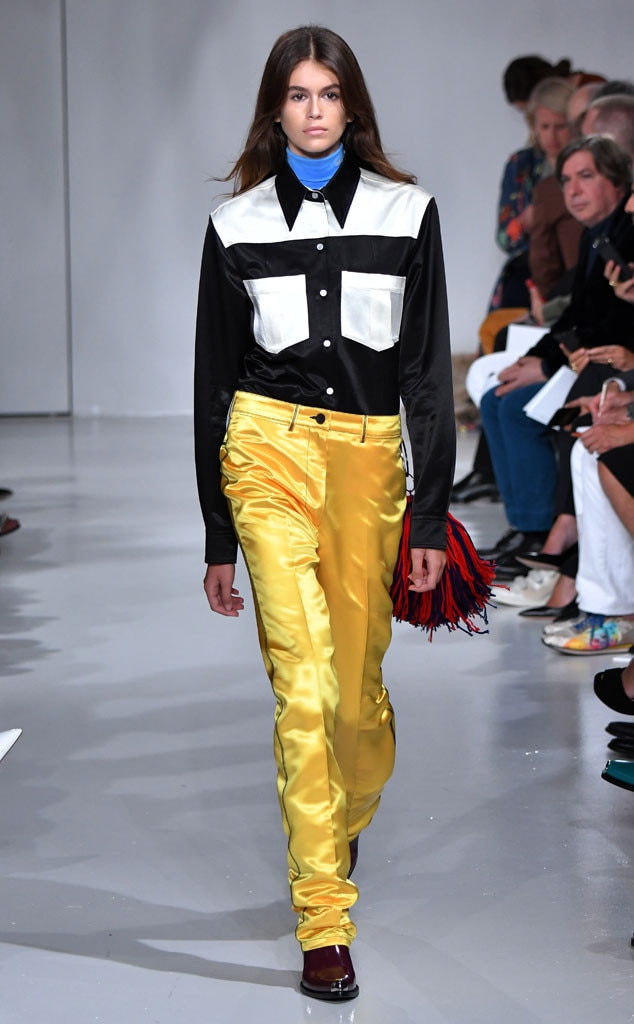 Rodin Banica/WWD/REX/Shutterstock
Kaia Gerber is officially in the big leagues! 
Cindy Crawford's 16-year-old daughter walked her very first runway at New York Fashion Week on Thursday evening, and the debut was nothing short of impressive. Gerber modeled for Raf Simon's Calvin Klein show, wearing a pair of gold satin pants, a color-block button down and a royal blue turtleneck. 
She accessorized the high-fashion look with a pair of leather boots and a fringed, black and red shoulder bag. Gerber's makeup was kept to a glowy minimum, and her brunette waves were parted down and around her shoulders. 
Big brother Presley Gerber, 18, took to Instagram with a video of the stunning teen hitting the runway as he cheered on the front row. 
And while Kaia had some certainly big shoes to fill with a mom as legendary as the one and only Cindy Crawford, we'd bet the veteran supermodel is super proud of her little girl. Back in May, E! News' Zuri Hall got the low-down on the best advice Gerber's received from Crawford. 
"My mom always told me to stay true to myself and be myself and I think people don't remind girls that enough," Kaia shared. "I think people might try to change themselves in this industry. Staying grounded and remembering who you are has helped me get through it."
Fashion lovers can expect to see much more of Kaia as NYFW Spring 2018 continues well into next week. Cindy told WWD that she's "chaperoning" her daughter throughout the big excursion, though it's unclear if she attended Thursday's show. 
Cindy told the outlet, "My advice to her—and it would be the same if she was going off to college or taking a job in a clothing store—is be on time, be professional, don't be a diva, get off your phone. You're around these incredibly talented people, soak up information, listen, watch, keep your eyes open, be present and enjoy it. Have fun. It's fashion."
Congrats, Kaia!