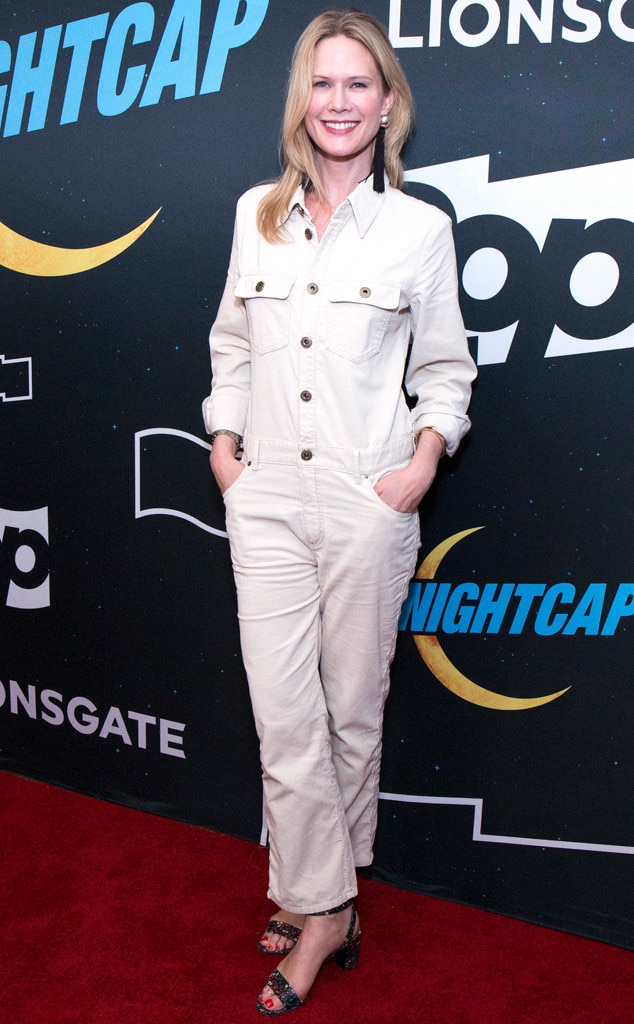 Santiago Felipe/Getty Images
Not that there's ever a good time for a marriage to end, but the grief that accompanied the end of Stephanie March's marriage to Bobby Flaycame at a time when it was only adding insult to injury.
That particular rough patch that actually started more than four years ago, however, does make the news that March married tech investor Dan Benton at their home in New York on Friday, all the more charming.
"She was happy being single, but this is the next chapter," a source told E! News about the couple's then-burgeoning relationship in April 2016.
And that sure proved to be the truth for March, who closed the book on ex-husband Bobby Flay for good two years ago but still had an epic amount of negative energy to expel from her life. Throughout, she managed to pull that off with utmost grace, despite the icky circumstances she found hersel fin.
"It's been quite a year," the Law & Order: SVU actress and owner of Rouge Makeup Salon acknowledged to The New Potato in October 2015. Asked what sort of winter holiday season she had in mind for herself, she said, "My holiday is going to consist only of hugging everyone I love 1,000 times over, while holding a bottomless glass of champagne and stuffing my face with cheese biscuits. Life is short."
And we hope she indulged in all the biscuits her heart desired. In 2014 she mentioned that she had undergone an emergency appendectomy in November 2013 after suffering a burst appendix, after which she had surgery to treat endometriosis that December. "I needed to give my body time to heal and be quiet," she recalled in an interview for Physique 57's blog, March being a devotee of the practice.
It wasn't until last year, once the dust of her divorce had cleared away, that she revealed that she was really brought low by breast augmentation surgery she had in August 2014—and then almost instantly regretted. At the time, she recalled in an essay for Refinery 29, her marriage was already falling apart and she was grasping at straws to figure out how to fix, not just that, but everything.
"I was 39 years old, and my life was disintegrating," she wrote. "Couldn't get a job I wanted on camera, couldn't get attention for my production projects, couldn't travel the world far enough or fast enough or immerse myself in philanthropy enough to make it all go away. It was like watching a glacier cleave into giant chunks: massive and seemingly well beyond my control. See, the other thing that was happening was that my marriage of nearly 10 years (and 14 together) was falling apart.
"And nothing, nothing was helping me cope. Not therapy, not patience, not wine-soaked dinners with friends where I 'got it all out.' Great spidery cracks widened over time. Boom. Boom. Boom."
Ultimately, "I decided to change my body because I couldn't change my life. The previous health issues and surgeries had left their mark, and I was down about 15 pounds. Down and sad and tired. You know what doesn't look so great when that happens? Your breasts."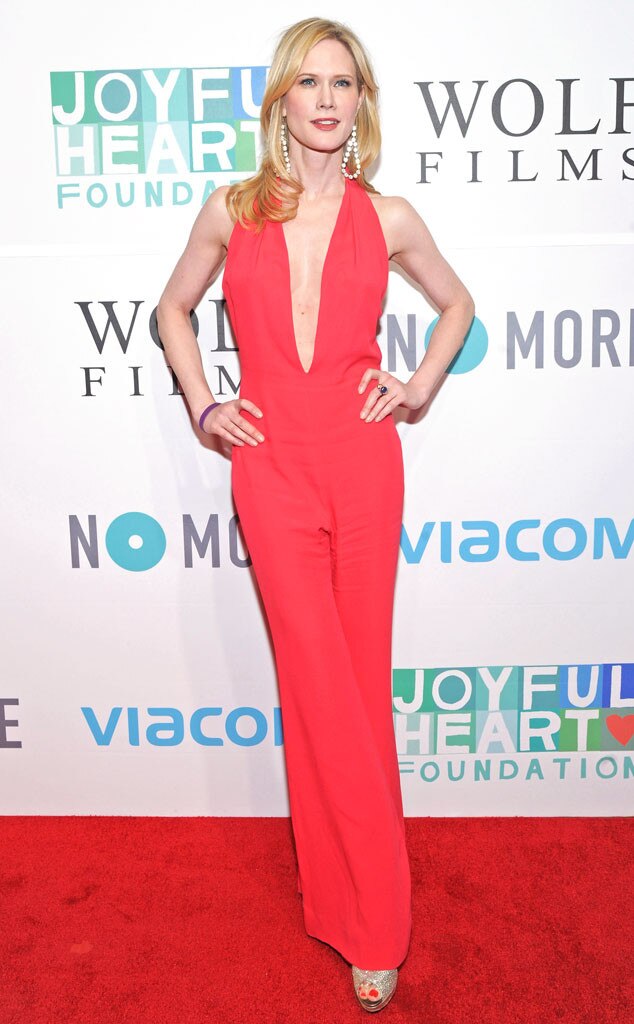 AKM-GSI
Five weeks after surgery, she was admiring the results. But then, in October 2014, boom again. Her right implant got infected and the seams of the scar on that breast burst. That moment and the aftermath ("I had a hole in my breast for six weeks") was as nightmarish as it sounds. 
March later learned that she had suffered an extremely rare complication (and she hasn't ruled out other forms of plastic surgery in the future), but by April 2015, she figured out she had no interest in keeping the implants.
By then, her marriage had "completely tanked."
E! News learned on April 9, 2015, that March and Flay had been living apart "for months"—while also at the time, March's mother, diagnosed with pancreatic cancer, had moved in with her while she had treatment. ("Quite a year" may also have been the understatement of the year.)
On April 10, Flay filed for divorce.
Within days, as March would later recall, "it was all over the tabloids."
First March reportedly rebuffed Flay's check for $5,000 in monthly support. Page Six reported that Flay had been having an affair with an employee from his restaurant Bar Americain, but a friend of March's told the paper that the celebrity chef did try to save his marriage, particularly when he surprised his wife by showing up in Amsterdam while she was on a trip with friends over the holidays.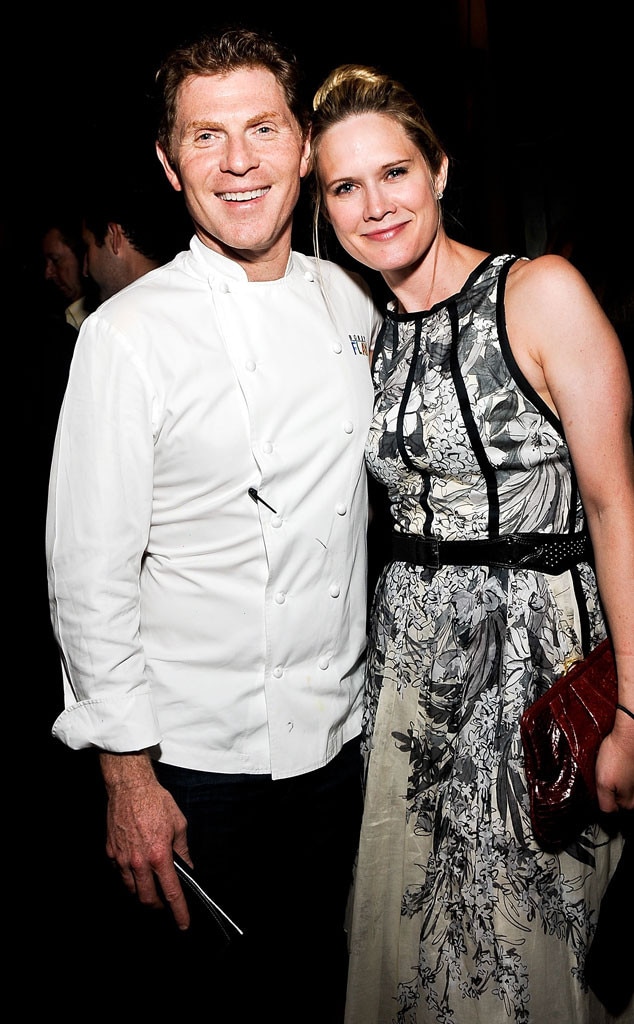 Daniel Zuchnik/Getty Images
"He did a Hail Mary and asked her to please try to work on their marriage," Maia Madison, a friend of March's, told Page Six. "Because she loves him, she said OK, and they went to a therapist and tried to work through their problems." A source told E! News that March "tried everything she could do to save the marriage."
Flay's rep said in a statement in response to the cheating allegations: "We will continue to refrain from responding to the continued efforts by certain parties to spread rumors and innuendo. This specific allegation was in a letter sent from one attorney in this case to the other. It was written and then leaked specifically to try to insert this story into the press, and that's unfortunate. Even more unfortunate is that all of this is being done in order to renegotiate a prenuptial agreement that was agreed to over a decade ago and never amended during the marriage."
While they were hammering out the details that spring, March argued in court documents that the $5,000 a month wouldn't cut it, as she had cut back on work due to her various health issues, citing the appendectomy and several infections. Per TMZ in May 2015, Flay then pointedly told the judge that his estranged wife's infections were actually due to a voluntary breast augmentation.
Their prenup did stipulate monthly support payments of $5,000, but March maintained that she was key to helping Flay build his culinary empire, which includes multiple restaurants, cookware and a variety of shows on Food Network—and therefore was entitled to more.
Their divorce would be finalized by July 2015, but the ill will in the air lingered. The Daily Mail reported that Flay got to keep both their Manhattan residence, where March had been living with her mom, and their house in the Hamptons.
Meanwhile, you would have never known by looking at March's Instagram that she was living anything other than her best life. Which isn't that unusual, considering how social media is often used to paint a glossy picture of things, but nonetheless it still served as evidence that March was doing her damndest to rebound from a downright crappy couple of years.
She traveled, exercised, ate fabulous food, spent time with her family and friends, focused on causes close to her heart such as Planned Parenthood and OneKid OneWorld… 
And by the time she opened up about her hellish year, she had gained perspective.
"Business is good, I have great friends, I love my new place, it's really a good time in my life," she told Extra in November 2015, her first time saying anything at length about her divorce.
March admitted it hadn't been easy seeing so many tabloid headlines about her life all of a sudden, but she was hardly alone. "I am by no means the only person to ever go through this and I'm very cognitive of that," she said, "and I have a wonderful support network of really good friends and really good family so I don't spend a lot of time feeling sorry for myself about it." 
"It's not pleasant to see your private life out there," she continued, "but, you know, I consider myself pretty lucky." And March kept her sense of humor.
"I thought I would have to learn to cook, 'cause I'm not really a very good cook," she said, "and I thought, 'I'm gonna have to pick up a few tricks,' but as it turns out I go out a lot, so looks like I don't have to… My toast is amazing… my cereal is incredible."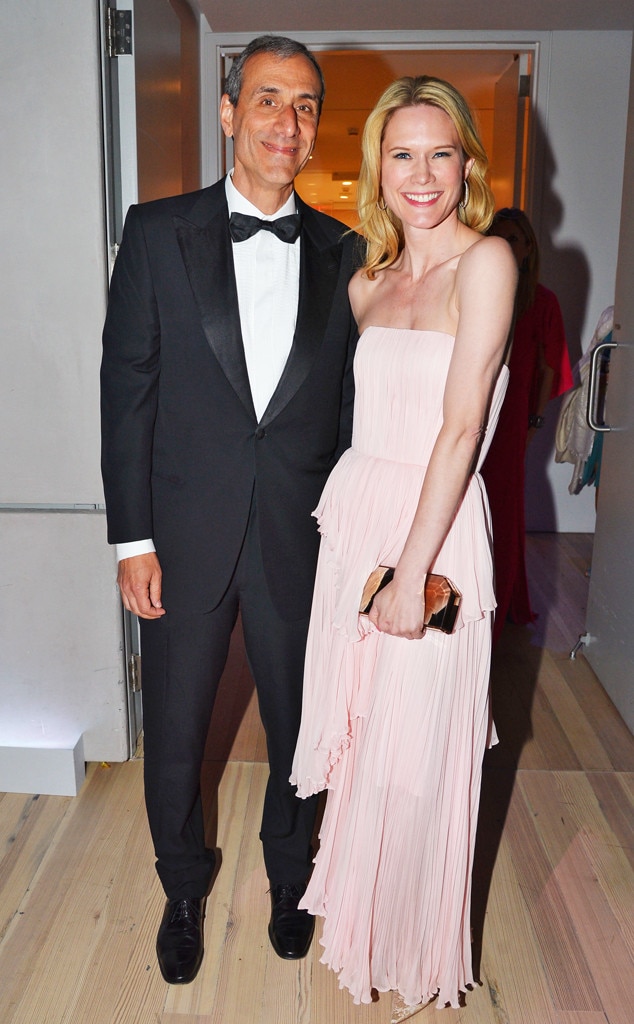 PatrickMcMullan.com via AP Images
Well, Dan Benton must be a breakfast fan!
Though she remained mum at the time, March had started dating the founder of Andor Capital in October 2015 after meeting through mutual friends. "They met for cocktails at the West Village bar Orient Express and had dinner afterwards," a friend explained to People, which first reported the nuptial news. "But their first real date was a TED Talk, after which they talked for four hours."
They made their red carpet debut as a couple at the Inaugural Whitney Collection Award gala in April 2016. That June March revealed in her Refinery 29 essay that her mom, Laura Derby, had finished cancer treatment and her scans looked good. And in October, Benton was there when March was presented with the 2016 Board of Governors Award from World of Children.
He proposed on July 24, the day after she turned 43, while they were vacationing in Greece.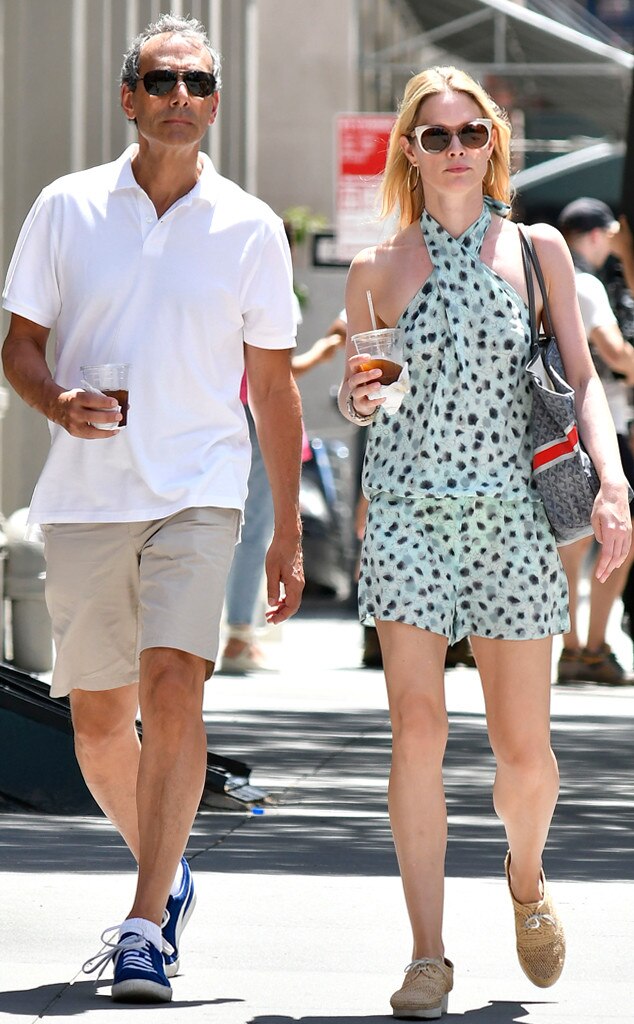 TheImageDirect.com
According to People, the bride wore Dolce & Gabbana and walked down the aisle to the Star Wars theme, played by March's best friend on her grandma's piano, which the couple have at their home in Katonah, N.Y., where the ceremony and lunch reception took place.
"She and Dan were surrounded by a close knit group of people who love, support and adore them," March's Rough co-founder Rebecca Perkins told the magazine. "Stephanie's family friend designed the magnificent floral arrangements, I did her makeup, and her best friend played her grandmother's piano as Stephanie walked down the aisle… It was an absolutely picture-perfect ceremony."
Cheers to new beginnings.
Don't miss E! News every weekday at 7 and 11 p.m.