Last Updated: 02/07/17 6:58pm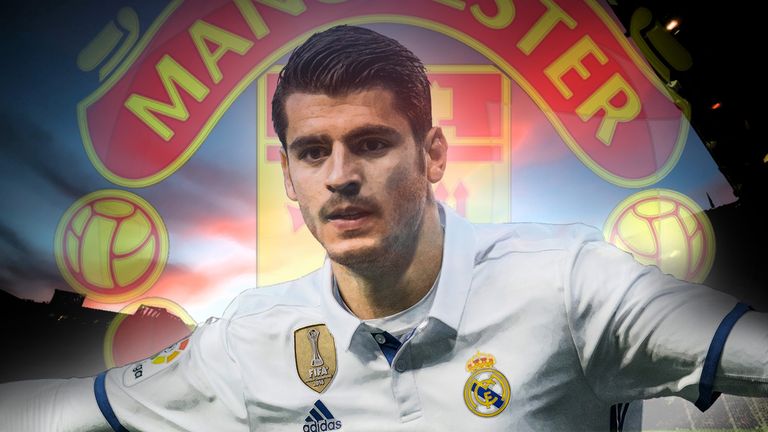 Real Madrid forward Alvaro Morata is a target for Manchester United
Manchester United's reported interest in Alvaro Morata has been questioned by some but there is good reason to believe that the former Real Madrid forward could make a big impact under Jose Mourinho at Old Trafford. Adam Bate examines the statistics.
It is natural that Manchester United's reported pursuit of Alvaro Morata is scrutinised. Of course, the Spain international clearly has pedigree. This is a man who has won league titles with both Juventus and Real Madrid, even scoring in the 2015 Champions League final.
However, the fact remains that United would still be opting to replace a striker in Zlatan Ibrahimovic who succeeded in averaging more than 30 goals per season for over a decade, with a young forward who is yet to find the net more than 20 times in a single campaign.
High expectations then. But that does not necessarily mean that buying him would be folly. His strike rate for Real Madrid last season was formidable, finding the net once every 89 minutes in La Liga – a superior record to everyone in the competition bar Lionel Messi.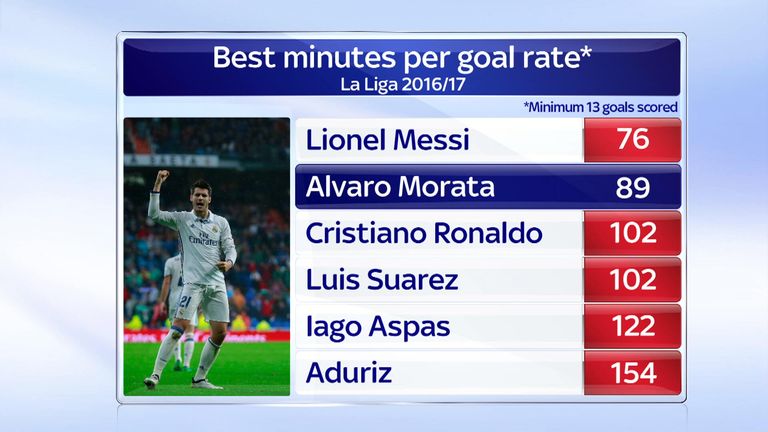 Morata's La Liga strike rate in 2016/17 was second only to Lionel Messi
There are dangers in extrapolating such numbers over a full season, but even so it is important to note that some of the criticisms of the player are misguided. For instance, any suggestion that his role at Real Madrid was merely a minor one should be dismissed.
While it is plausible that a striker who began on the bench more times than in the starting line-up last season could have padded his stats by netting cheap goals with his side well ahead and the game all but over, that is not a fair representation of Morata's contribution.
In fact, his knack for getting crucial goals is clear. He scored late winners against Athletic Bilbao and Villarreal. He also opened the scoring in narrow wins over Celta Vigo, Deportivo and Espanyol. His hat-trick against Leganes was the difference between victory and defeat.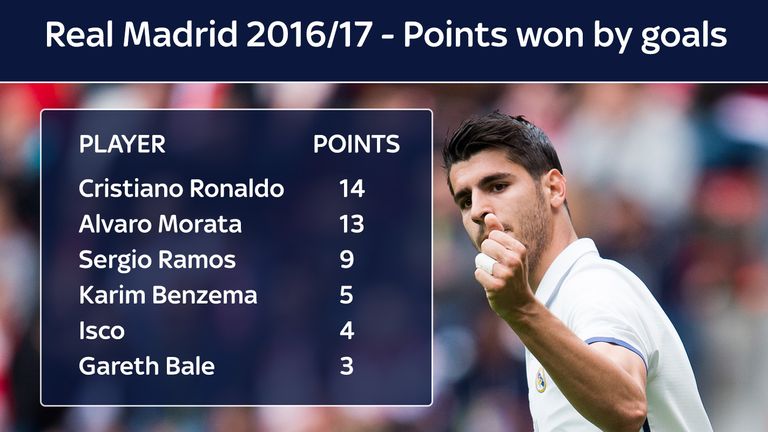 Morata's 15 La Liga goals for Real Madrid in 2016/17 delivered 13 extra points
In total, Morata's league goals for Real Madrid last season were directly responsible for 13 points as Zinedine Zidane's men edged out Barcelona to win their first La Liga title in five years. Even Cristiano Ronaldo's 25 league goals only yielded one more point than that.
Indeed, Morata's goals were more valuable than those of Gareth Bale, Karim Benzema, James Rodriguez and Isco combined. In the Champions League, the 24-year-old also scored a last-minute winner against Sporting. These were often clutch goals at key moments.
That will not be lost on Jose Mourinho, a coach who, of course, knows Morata well having awarded him his top-flight debut at Real Madrid back in 2010. Moreover, delving deeper into the statistics only adds to the sense that the striker is capable of much bigger things.
Watch Manchester United target Morata's best goals
"If you are going to pick out any aspect of a striker's performance that may be repeatable year-on-year then shots per 90 should be the metric you use," explains Ben Pugsley of the respected statistical analysis website StatsBomb. "A striker is more likely to reproduce his shot volume year on year than any other countable aspect of his performance."
Morata has form in this regard. Back in the 2013/14 season, he averaged more shots per 90 minutes from inside the penalty box than any other player in La Liga, just ahead of his Real Madrid team-mate Ronaldo. Those numbers remained encouraging on his return to Spain.
Last season, Ronaldo averaged 4.0 shots per 90 minutes from inside the penalty box, a league high. Second on this list was Messi with 3.3, an indication in itself that this metric is a telling indicator of goalscoring potential. The man in third was Morata with 3.2.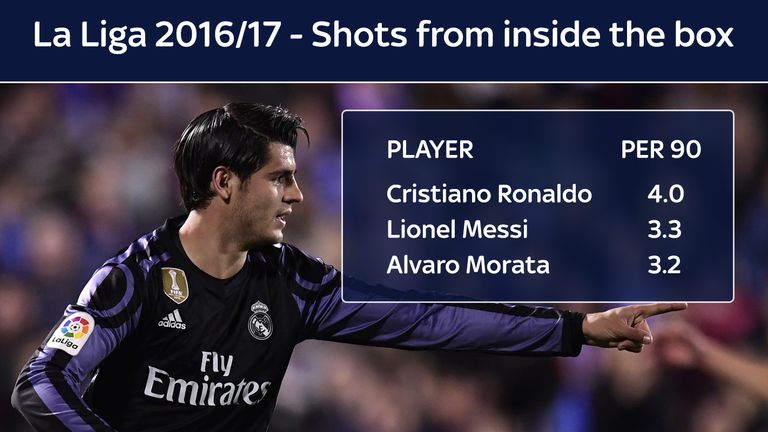 Only Cristiano Ronaldo and Messi rivalled Morata's shot volume in La Liga
Given Real Madrid's dominance in Spain, there will still be those wondering whether these figures are really repeatable in the Premier League. But there is an encouraging precedent with the example of Ibrahimovic that should allay some of those fears.
Predictably, the powerful Swede topped the charts for shots per 90 minutes from inside the box during his final season with Paris St Germain. But the suggestion that he would struggle to fashion so many shooting opportunities at United was soon disproved.
Only Sergio Aguero had more shots per 90 minutes from inside the area than Ibrahimovic in last season's Premier League. According to Opta, no player in the country missed more clear-cut opportunities to find the net. Shot volume between major leagues is transferable.
Marcus Rashford says he would welcome the addition of Morata
There is a risk that a striker favours certain types of chances that are not so prevalent at his new club. But here too, there is reason to believe that Morata's skill-set means that the risk is mitigated. This is a hybrid forward capable of benefiting from all types of services.
United attempted more crosses than any of their top-six rivals last season and at 6'2″ Morata has the physical presence to take advantage of that. Only Real Sociedad's Willian Jose scored more headed goals in the 2016/17 La Liga season than Morata.
But rather than being an immobile figure reliant on that delivery, the Spaniard has frequently been deployed in wide areas too in order to utilise his ability to run in behind defences and exploit the space on the counter-attack.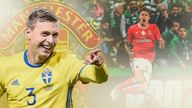 The making of Lindelof
From Vasteras to Manchester United, why new man Victor Lindelof will be ready for Jose Mourinho.
That could be an important weapon at United, a team that not only attempted more through-balls than any Premier League side last season, but also one that favours a counter-attacking approach in the biggest games. Morata can be an asset in all of these situations.
So the only real question is whether a player who is yet to feature in more than 43 per cent of his team's total minutes in a top-flight campaign, could lead the line for a club the size of United. But if Mourinho is favouring a rotation policy even that might not be a huge issue.
For all the scrutiny, the United boss would be getting a player of pedigree who he knows well. A man with a history of winning big matches for big teams and a medal collection to match. The fact that he will still feel he has something to prove could be an added bonus.