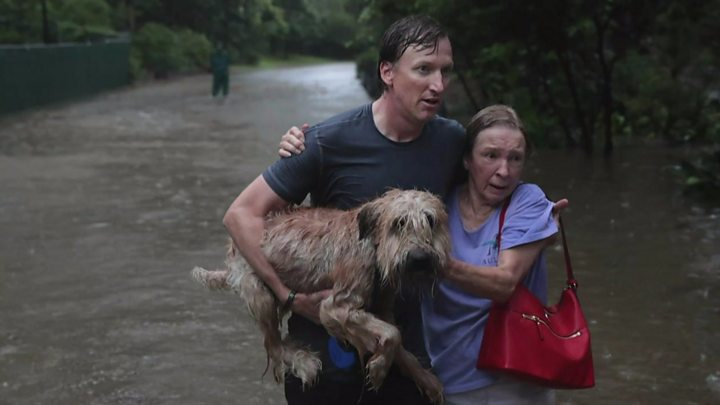 Two major dams outside Houston have begun overflowing as Storm Harvey pushes reservoirs past capacity.
Flood control official Jeff Lindner said nearby communities could face further flooding as a result.
President Donald Trump and First Lady Melania Trump are visiting Texas on Tuesday to see the devastation caused by Hurricane Harvey, now downgraded to a tropical storm.
Record rainfall has caused huge floods and is starting to affect Louisiana.
Thousands of people have been forced to flee their homes in the Houston area while rescuers are trying to reach others that remain stranded.
At least nine people are reported to have died, including six members of the same family whose van was swept away by rising floodwater, and a man in his 60s who apparently drowned while trying to swim to safety.
Engineers have been releasing water to try to ease pressure on the Addicks and Barker dams, which control the amount of water in the Buffalo Bayou – the main river into Houston.
But the water level in the Addicks reservoir west of Houston exceeded 108ft (32.9m) on Tuesday, geological data shows, causing it to flow over the top of defences.
Meanwhile flood gauges on the Barker dam have themselves been put out of action by the deluge.
Officials said the overspill could cause further flooding in areas close to the Buffalo Bayou, but the exact impact was unknown.
"This is something we've never faced before, so we're trying our best to wrap around what exactly this water is going to do," said Jeff Lindner, meteorologist with the Harris County Flood Control District.
Meanwhile, officials in Brazoria County, south of Houston, said a levee at Columbia Lakes had been breached, tweeting: "Get out now!"
Harvey was the most powerful hurricane to hit Texas in more than 50 years when it made landfall on Friday near Corpus Christi, 220 miles (354km) south-west of Houston.
The slow-moving storm – currently over the Gulf of Mexico – is expected to continue dumping huge amounts of rain in the coming days over already flood-hit areas.
Forecasts suggest that some areas in and around Houston could see up to 12in (30cm) of further rain on Tuesday.
One neighbourhood in south Houston has seen the heaviest total rainfall from a tropical storm in the US since records began in the 1950s, the National Weather Service says.
A total of 49.2in has fallen at Mary's Creek at Winding Road, beating the previous record of 48in.
Harvey is expected to make landfall again on Wednesday morning, probably in south-western Louisiana.
Residents of the city of New Orleans, which marked the 12th anniversary of devastating Hurricane Katrina on Tuesday, are bracing for heavy rain and flash floods over the next two days.
---
Makeshift armada
By James Cook, BBC North America correspondent, Houston
All day in the suburbs to the west of Houston, hundreds of families waded cautiously along a road they usually take to the shops, to school and to work.
It was an exhausting journey of well over a mile in waist-high flooding.
All night, as water lapped into their homes, people had been calling for help, they said, but no-one came.
Eventually a lone police officer arrived but by then people had taken matters into their own hands, forming a makeshift armada of little boats, jet skis, blow-up mattresses and even rubber rings.
All day long they streamed out in the teeming rain.
Occasionally someone would collapse and have to be helped up. Some children cried but most sat in shocked, soaking silence as they bobbed along on their inflatable rafts, teeth chattering in the cold.
Wading through the water, Anthony Rogers, 54, summed up the mood. The authorities, he said, had been "useless".
---
---
Are you affected by Tropical Storm Harvey? Let us know about your experiences. Email haveyoursay@bbc.co.uk with your stories.
Please include a contact number if you are willing to speak to a BBC journalist. You can also contact us in the following ways: