Boy band superstar, then solo rocker and now actor. Harry Styles, does it ever drive you crazy just how fast the night changes?
The heartthrob One Direction member has taken to the big screen for his acting debut in Christopher Nolan's Dunkirk. E! News caught up with the new actor at the movie's premiere to talk about what made him want to make the leap from music to film.
"I've been such a big fan of Chris's for a long time," Harry told us. "Hearing him doing this film, I was incredibly excited to watch it. I just wanted to be involved if I could. Now watching it I'm incredibly proud of the film, as we all are."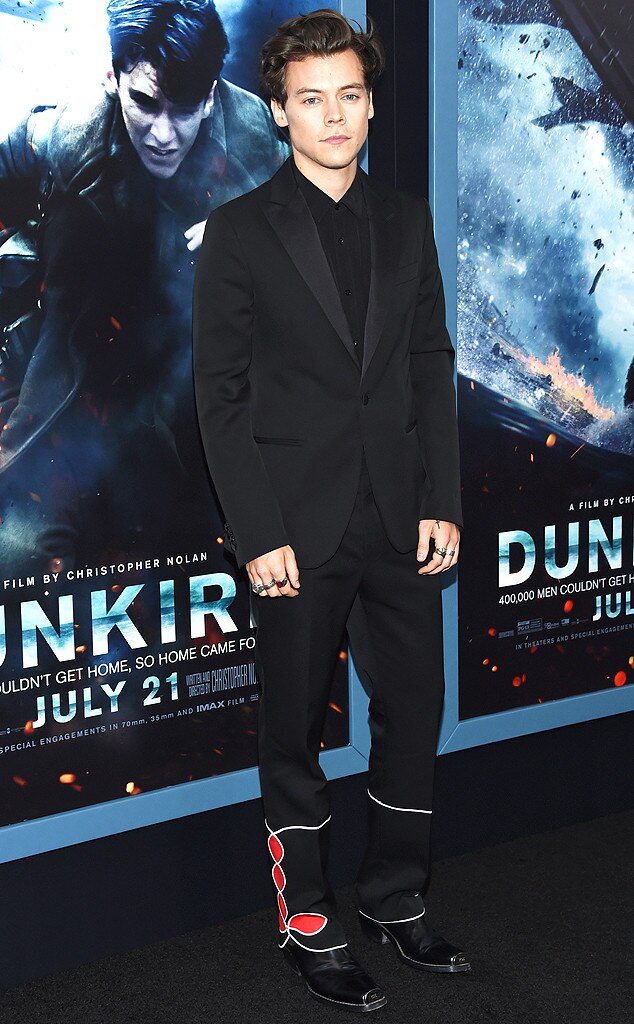 Andrew H. Walker/REX/Shutterstock
The film follows the evacuation of Allied soldiers in Dunkirk during World War II, and in addition to forcing him to chop off his long locks, it put the "Sign of the Times" singer in some tough drowning scenes. However, the history of what the actual soldiers went through humbled the cast during the most difficult takes.
"There was never a time where any of us felt unsafe," he told us. "It was draining, but at the end of the day we're on a film set, so we felt lucky. We got to shower at the end of the day and it made us realize we were going through nothing compared to what [the real soldiers] obviously would've gone through, so it was pretty difficult to complain."
With an acting credit under his belt after releasing a critically and commercially successful debut solo album earlier this year, it seems like nobody can drag Harry down. But is there anything else he'd like to add to his resumé?
"Netball!" the Dunkirk star joked. "Like, professional netball. This is me announcing my netball debut. I'm just begging for a contract from some netball team." Seems like the singer/actor is about to become a triple threat!
While waiting to see Harry's acting chops in Dunkirk, which comes out Friday, June 21, you can catch him as a guest tonight on The Tonight Show with Jimmy Fallon.