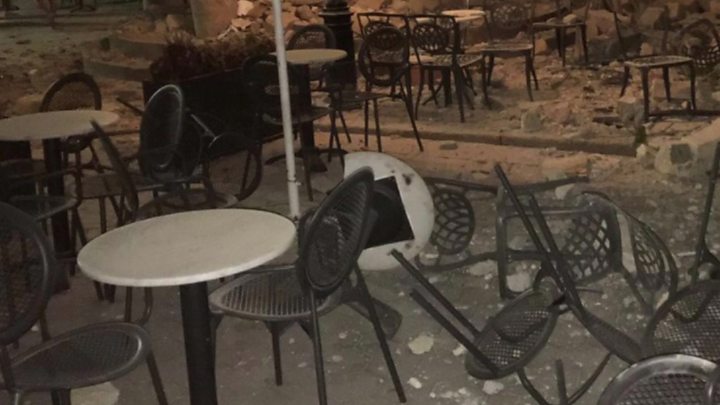 A strong earthquake in the Aegean Sea has killed at least two people on the Greek island of Kos, officials say.
The 6.7-magnitude quake hit 12km (seven miles) north-east of Kos, near the Turkish coast, with a depth of 10km, the US Geological Survey said.
At least 100 others were also injured at the popular tourist destination. Some buildings were damaged.
In the Turkish city of Bodrum, several people were injured as they tried to flee the quake.
The earthquake struck at 01:31 on Friday (22:31 GMT Thursday).
The two deceased have not been named but police said that one of the victims was Swedish and the other was Turkish.
They died after they were crushed by debris from either a collapsed wall or an old building, police said.
Dozens more were injured when buildings collapsed, some of them suffering broken bones with a number in serious condition, Kos regional government official Giorgos Halkidios said.
The army is supporting the emergency services with the rescue operation, he added.
'Everything was shaking'
British student Naomi Ruddock felt the earthquake in Kos, where she is on holiday with her mother.
"We were asleep and we just felt the room shaking. The room moved. Literally everything was moving. And it kind of felt like you were on a boat and it was swaying really fast from side to side, you felt seasick."
Ms Ruddock said that a staff member told her it was the worst earthquake the area had seen.
Kos was nearest to the epicentre of the quake and appeared to be the worst hit, with damage caused to a number of older buildings, including cracked walls and smashed windows.
The mayor said the buildings that suffered the most damage were built before "earthquake building codes" were introduced.
"The rest of the island has no problem. It's only the main town that has a problem," Mayor Giorgos Kyritsis said.
The roof of a bar on the island also collapsed, and a ferry was unable to dock due to damage at the harbour, Greek police said.
In Turkey, pictures shared on social media showed people in the city of Bodrum walking with water lapping their ankles and localised flooding, and about 70 people sought hospital treatment for minor injuries.
Others described waking in the night after being violently shaken in their beds.
Kristian Stevens, a British tourist in Didim, 90km (60 miles) from Bodrum, said the building he was in began to "shake like a jelly".
Residents fled their homes and tourists ran from holiday apartments with pillows and blankets.
Sophie Wild, another British tourist in Turkey, said she fled her third floor accommodation in the coastal town of Altinkum, about 800km (500 miles) from Bodrum, when she woke to a loud banging noise.
"People were running out of rooms, banging on people's doors to make sure they were out," Ms Wild told the Press Association, adding: "Everyone just ran outside."
The earthquake also triggered high waves off Gumbet, a resort town near Bodrum, which flooded roads and left parked cars stranded, Turkish media report. There were no reports of casualties.
Turkey and Greece sit on significant fault lines and are regularly hit by earthquakes.
One of the deadliest in recent years hit the heavily populated northwest of Turkey, in 1999, killing some 17,000 people.
---
Have you been affected by the earthquake? If it is safe to do so, please get in touch by emailing: haveyoursay@bbc.co.uk.
Please include a contact number if you are willing to speak to a BBC journalist. You can also contact us in the following ways: