Written by
RAMENDRA SINGH
| Lucknow |
Published:August 8, 2017 5:09 am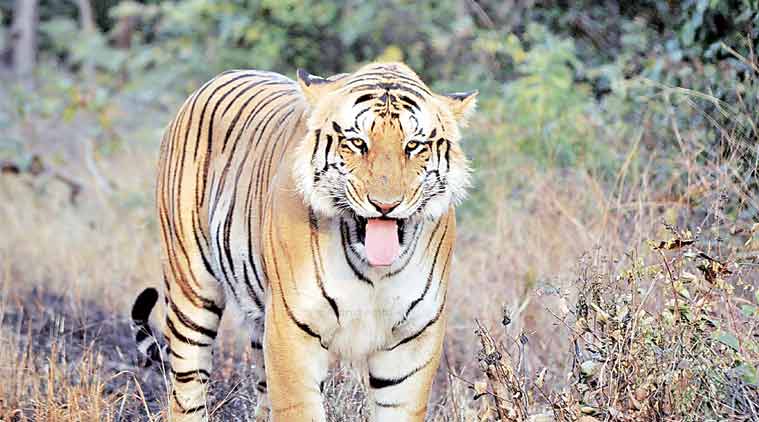 Picture for representational purpose
A TIGER mauled a 28-year-old man to death in a sugarcane field of Pilibhit's Amaria area on Monday afternoon. This was the fifth incident of a tiger killing a human being in the district in the last three months. Mohammad Tasleem, a resident of Dang village, was cutting grass in the field when he was attacked around 2 pm. "The tiger, which dragged him for a few metres, left the mauled body after villagers started to gather at the spot," said Amaria police Station Officer Madhav Singh Bisht.
He added that the field where Tasleem was killed is about 12 km away from the designated forest area. The area is also at a distance of around 25 km from the villages near the Mala range of Pilibhit Tiger Reserve, from where four deaths were reported earlier.
"The tiger had strayed into an area, which is away from the forest, so, the villagers are scared. They held a demonstration and demanded that the tiger be caught soon… A nilgai was killed by a tiger in the same area on Sunday," said Bisht. Divisional Forest Officer Adarsh Kumar said efforts are being made to catch the tiger. "The forest department will decide on the amount of compensation for Tasleem's family after getting his postmortem report," he added.
Previously, the death of Nanki Devi, an elderly resident of Methi village in Niuria area of Pilibhit, had led to demonstrations. Local had then demanded that fences be put around the forest area to make it difficult for tigers to stray outside. Before Nanki Devi, Mihilal (40) was mauled to death when he was collecting grass from a sugarcane field on June 20. Keval Prasad, a farmer, was also killed by a tiger on the fringes of the forest area on June 16. On May 8, forest watcher Tara Chandra was killed by a tiger in the same range.
For all the latest India News, download Indian Express App