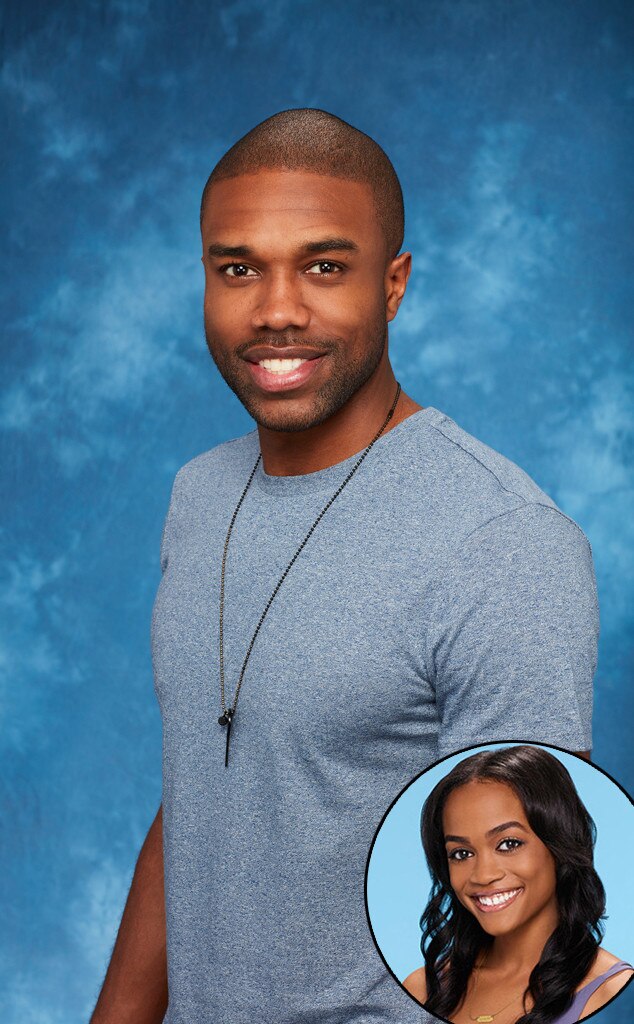 ABC
When will contestants learn that their secrets will always be revealed in the Bachelor Mansion?
Monday night's all-new episode of The Bachelorette saw a dramatic moment not even Chris Harrison could prepare for.
After an innocent group date that featured a basketball game with NBA legend Kareem Abdul-Jabbar, one contestant received quite the surprise visitor.
As it turns out, DeMario was greeted by a lady who claimed to be his girlfriend. A round of he-said, she-said followed before Rachel Lindsay told the contestant to "get the f–k out."
"Karma's a bitch, isn't it DeMario?" the unnamed girlfriend shared on national TV. While we have to wait until next week to see if Rachel gives DeMario another chance, we decided to look back on a few other contestants who were eliminated partly because of their relationships back at home.
The truth will set you free—and give us viewers excellent television.
Frank Neuschaefer
Ali Fedotowsky's final three episode took a dramatic turn when Frank revealed that he's still in love with his ex-girlfriend Nicole in Chicago. "There's something that was holding me back, and basically it was unresolved feelings for an ex-girlfriend," Frank admitted. "Before I came to Tahiti, I went to Chicago to see Nicole. The second I saw her, all the old feelings kinda came rushing back. Ali, I'm sorry." Ali would later tell Chris Harrison that Frank was the "biggest jerk I've ever known."
Justin "Rated R" Rego
As if Ali hadn't been through enough, The Bachelorette star found out Justin had a girlfriend back home. Her proof? A phone call with the rumored girlfriend to confirm the betrayal. "I was not in a relationship before I went on the show and I am still single now," he claimed in a Facebook post after the episode aired. "I went on the show to experience an opportunity with possibilities of meeting the love of my life." Ali obviously felt different.
Rozlyn Papa
During Jake Pavelka's season, one contestant didn't have a relationship with someone at home. Instead, it was in the Bachelor mansion! Rozlyn was sent home after it was revealed that she had an "inappropriate relationship" with a staffer, who was then fired. While she denied the allegations saying the producer just let her use his phone so she could call her son, viewers later learned that the staffer had visited Roz's hometown with his father.
Casey Shteamer
Just when Ben Flajnik thought he was developing feelings for a contestant, Chris revealed a bombshell revolving Casey and a man named Michael. "From Michael's perspective anyway he said you guys are still in a relationship and he said that you guys spend practically every day and night together," he shared. "I was completely in love with him and he told me from day one that he might not want to get married. A year ago I broke up with him and got back together because I still love him. Obviously my perfect scenario would be to be in love with Ben," Casey explained. Ultimately, Ben wasn't having it and sent her home.
Wes Hayden
Loyal Bachelorette fans won't forget Jillian Harris' season when a contestant named Wes was accused of coming on the show to promote his music while having a girlfriend waiting for him at home.  "I'm the only guy in Bachelor history who's made it to the top four with a girlfriend," Wes shared after being eliminated. He would later claim false editing made it look much more dramatic. "They can take whatever they want and just play what they want. It's not rocket science. I promise you," he told Buddy TV.
The Bachelorette airs Monday nights at 8 p.m. on ABC.