Dermot Gallagher mounted a defence of the VAR system he says made the "right decisions" in disallowing a goal and awarding a penalty during Tottenham's 6-1 win over Rochdale in their FA Cup fifth-round replay on Wednesday.
With the score 1-1 at the break, Spurs turned on the style after half-time scoring five goals without reply, but referee Paul Tierney had found himself at the centre of plenty of controversy before the interval.
Fernando Llorente was penalised for an alleged foul on Harrison McGahey and led to Erik Lamela's sixth-minute goal being ruled out by VAR.
The video referee then decided Matthew Done's foul on Kieran Trippier, which began outside the penalty area, continued inside the 18-yard box, and overruled Tierney who had originally given a free-kick.
Controversial moments
| Time | Incident | Decision |
| --- | --- | --- |
| Pre-match | Groundsmen paint lines blue to help officials on snowy night | Lines relaid to assist with VAR algorithms |
| 7th minute | Fernando Llorente scores after tussle with Harrison McGahey | NO GOAL – Llorente penalised for foul on McGahey |
| 23rd minute | Heung-min Son scores opening goal for Spurs | GOAL – Paul Tierney takes brief advice from VAR but considers goal valid |
| 25th minute | Free-kick awarded after Matty Done pulls back Kieran Trippier | PENALTY – VAR finds foul continued into box, and Tierney overrules himself |
| 28th minute | Son scores from spot to double Spurs' lead | YELLOW CARD – Tierney cautions Son for feint in his run-up, before consulting VAR for around a minute |
Heung-min Son scored the resulting spot kick, but Tierney ruled the goal out for a stutter in the South Korean's run-up, despite the Laws of the Game deeming a "feint" during a penalty run to be legal.
Gallagher told Sky Sports News VAR got all the big decisions right at Wembley, although he conceded the several minutes taken to verify the decisions on video would need to be shortened.
"Whatever time it took, everyone wants it faster," he said. "At the end of the day, the decisions were correct and the reason we wanted VAR was to get correct decisions.
"People are now moaning because it's got the decisions correct – alright, it will take a little bit of time to get it quicker, we want it quicker, but the right decision has come on the night.
"At the moment, people say they wanted VAR, it's now been put in place but people are saying it's got this and that fault.
"Let's iron out the little things we've not quite got right at the moment, get it quicker and smoother and get everyone embracing it."
There was confusion after Son's penalty was ruled out, with the South Korean cautioned for unsporting behaviour, as Tierney spent around a minute listening to his ear-piece for guidance.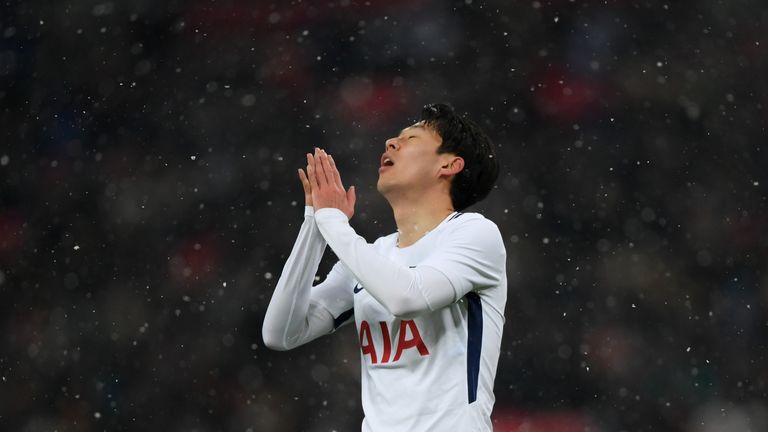 While a stutter during a run-up to a penalty is allowed in the Laws of the Game, if a player is deemed to have feinted at the end of his run, the rules state a yellow card must be given and an indirect free-kick awarded to the opposing team.
"I'm not sure that the VAR was used there," added Gallagher. "It was certainly used to arrive at the penalty. It started outside the box, and finished inside, in the old days that would be a free-kick and is rightly a penalty today.
"Paul Tierney probably made that decision himself, and there's no evidence for me it came down to VAR. What I think is that Paul judged Son in his run-up had got too close to the ball, and therefore completed his run-up and that's why he disallowed the goal and gave an indirect free-kick, as per law."
FA referee guidance on "feinting"
"Feinting in the run-up to take a penalty kick to confuse opponents is permitted as part of football.
"However, feinting to kick the ball once the player has completed his run-up is considered an infringement of Law 14 and an act of unsporting behaviour for which the player must be cautioned."
La Liga and Ligue 1 will use VAR in their leagues from next season, but there is still no word on whether it will be adopted full-time in the Premier League.
And Gallagher feels it presents a useful tool for referees, despite its issues in its short life in England to date.
"I do [think it's good for referees]. In the old days, I've always said, the major difference between VAR and not was factual. The big fact today was whether the foul was in or out of the box.
"The referee gave a free-kick, the VAR corrected that. That's a major decision, had a massive impact on the game, and it was a penalty.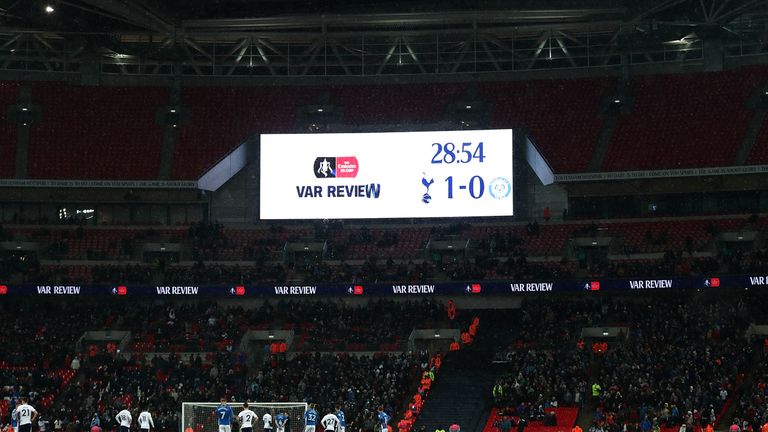 "We've had 12 matches it's been used on, and in those 12 we've had teething problems, at Liverpool in the FA Cup, it's taken time tonight, but in those 12 matches decisions which have arisen have been the correct decisions.
"What you'd hope moving onto the end of the season and August next year is that we'll find a way to make it smoother, quicker and get the information communicated to people. When it takes so long, people wonder what's going on."
Also See:
Jose Mourinho says Manchester United have 'some problems' with injuries