Loris Karius has once again been handed a run of starts ahead of Simon Mignolet at Liverpool – but has criticism aimed at the German been unfair?
Amid the scrutiny and rotation of both goalkeepers, Liverpool were linked with Stoke's Jack Butland during the transfer window – but Klopp suggested the pair have received excessive criticism and have the ability to succeed.
"The problem they have [Karius and Mignolet] is that everyone is watching them and saying 'still not good enough'," he said.
"Everyone then says 'we need another [goalkeeper], and another one, and another one'. We have to cool down. These boys have big quality.
"These lads are here and now they have to create a situation where they can show it every week. It doesn't mean they will be free of mistakes for the next 20 years."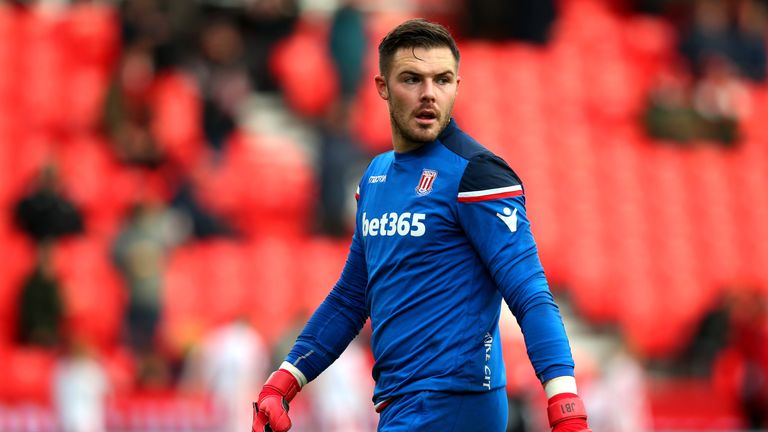 When asked about Mignolet's future at the club on Tuesday, Klopp told reporters: "Nobody knows about the future, or I don't know about the future."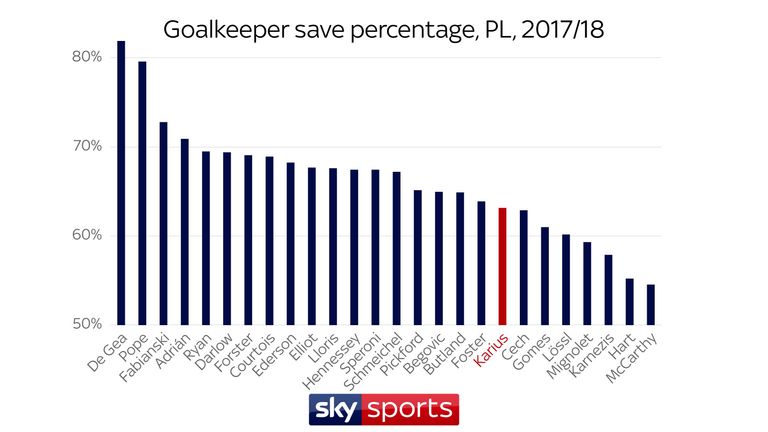 So has Karius been criticised excessively? The global football agency World in Motion's head of research and analytics Sam Jackson has produced a detailed study to find out.
He has developed models to assess two key components of goalkeeping: how well a 'keeper responds to a shot on target and the quality of his distribution.
'Shot-stopping quality' is gauged by looking at the difficulty of a shot – how far out it was, its power, whether the 'keeper was sighted and where the effort was going in the goal.
In addition, the metric factors how well a 'keeper deals with the shot faced – was it held, parried to safety, parried back into the danger zone, or was a goal conceded?
For distribution, Jackson looks at whether the 'keeper was under pressure, the number of opponents bypassed, and uses a five-point accuracy rating, to incentivise playing a team-mate into space rather than 50/50s.
The graphic below reveals the results of these metrics for every Premier League goalkeeper to have faced more than 30 shots and to have more than 150 distributions in all competitions this season.
Karius records an average shot-stopping rating – a metric that runs vertically on the graphic – while his distribution – displayed horizontally, is above the Premier League average.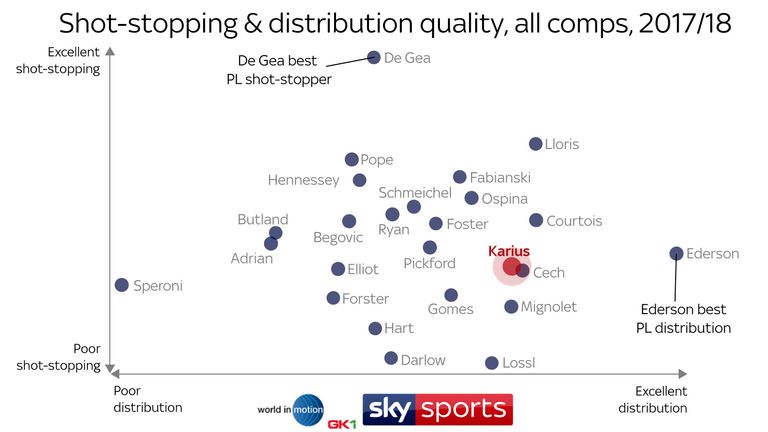 Based on difficulty and outcome, each shot gains a 'keeper a rating between zero and 100 per cent. According to Jackson's data, Karius' best save this term was against Tottenham, clasping a powerful shot from Mousa Dembele – despite having an obscured line of sight and it heading for the bottom left corner.
In terms of distribution, Karius ranks sixth for open-play distributions made with feet, and he is the most consistent with feet in open play. He is also the best in the league for interception situations outside his box.
But Jackson is quick to point out that Liverpool stoppers face a tougher job than most. "Karius has faced the second highest average shot difficulty among 'keepers at a top-six club, after Lloris.
"That's courtesy of Liverpool's extreme tactical style, which leaves their goalkeeper disproportionately exposed."
In context with other Premier League goalkeepers, Karius is comfortably above average for distribution but slightly below-average for shot-stopping – although the German has shown signs of improvement as the season has progressed.
After a poor start to the season, the data reveals a steady improvement in save quality, shown in the graphic below – averaging at around 40 per cent in August and rising to 60 per cent this month.
Jackson's data also provides a measure of how many goals goalkeepers have prevented from above-average shot-stopping – or how many additional goals they have shipped.
The graphic below ranks Karius slightly below the Premier League average, while David de Gea's reputation as the league's top stopper is confirmed.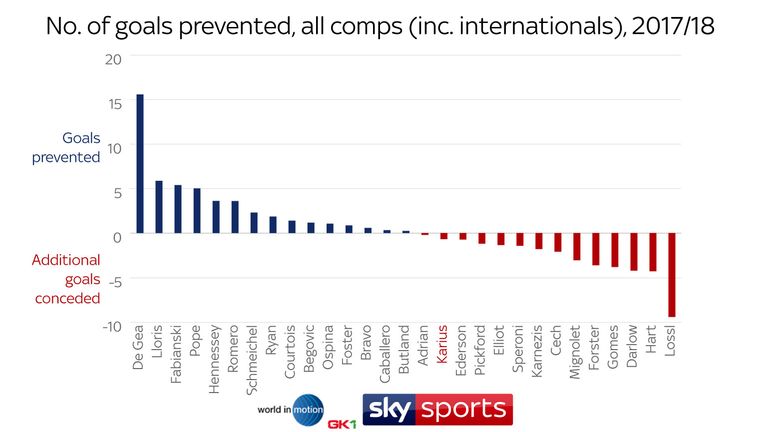 "In terms of overall shot-stopping and distribution, Karius comes out in a very similar position to Petr Cech – though there's an argument that Cech is better at reading the game to claim crosses and dominate his box," says Jackson.
"As with Mignolet, Karius fits the system well in terms of enabling a high line, with his distribution game very underrated.
"Has Karius been criticised excessively? Given Klopp's tactical style, almost certainly yes – although there is room for improvement."
Also See:
De Gea move from Man Utd to Real Madrid 'only a matter of time'
Manchester United searching for the right blend with Alexis Sanchez