Last Updated: 27/05/17 9:47pm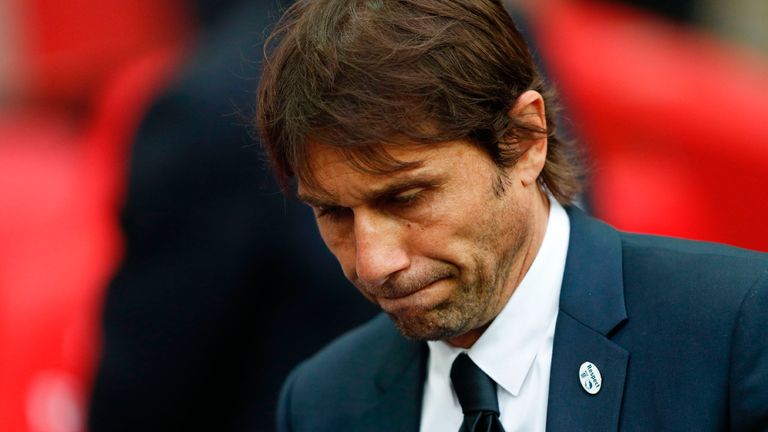 Antonio Conte missed the chance of winning a double
Chelsea boss Antonio Conte felt referee Anthony Taylor made a mistake in the FA Cup final by allowing Arsenal's opener to stand.
Aaron Ramsey scored 12 minutes from time to win the FA Cup final for Arsenal in a pulsating 2-1 victory at Wembley on Saturday.
Chelsea trailed 1-0 to Alexis Sanchez's controversial opener, and looked down and out when Victor Moses was sent off on 68 minutes for picking up a second yellow card for diving. However, Diego Costa sensationally levelled for the 10 men on 77 minutes, only for Ramsey to hit an instant reply for the Gunners just 60 seconds later.
Conte pointed towards the Sanchez goal as a key moment in the match.
David Luiz's clearance was blocked by Sanchez, who used his hands to divert the ball into his path. With the Chelsea players appealing for handball and offside, Sanchez carried on his run and scored. The linesman had flagged for offside but referee Taylor overruled his assistant after a 30-second deliberation, and awarded the goal.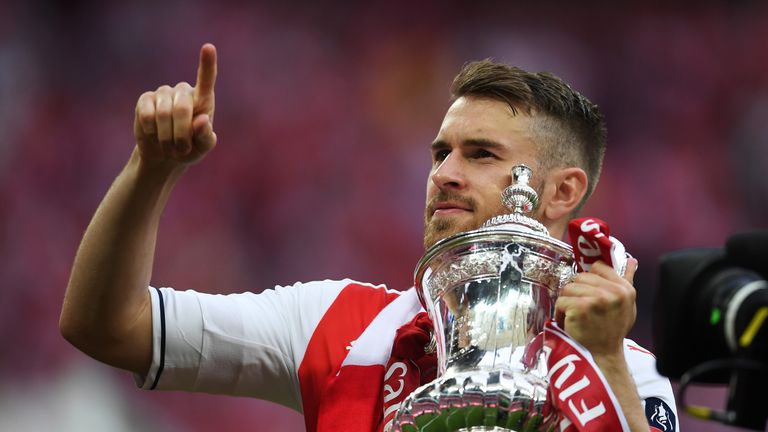 Aaron Ramsey of Arsenal celebrates with the trophy
"It's a clear handball – it's very clear," Conte said.
"I don't understand why the referee didn't see this situation. It can happen. Players can make mistakes – referees too.
"By the end of the season, I saw a lot of mistakes against us. Manchester United, Bournemouth… we were unlucky."
The result meant Conte could not secure a double in his first season in charge at Stamford Bridge and singled out the dismissal of Moses as one of the turning points.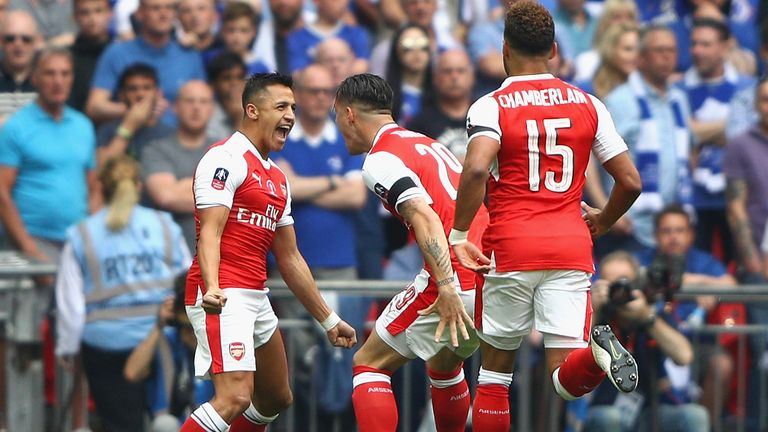 Alexis Sanchez of Arsenal celebrates scoring
"I think our start, for sure, wasn't good enough," he said.
"Arsenal started the game better than us. Honestly, I think the goal after three minutes… it was not disallowed but there is a clear handball.
"Our start wasn't good – then we started to play. In the second half, we started very well and created the chances to equalise.
"The second yellow card for Moses, was for sure, one of the two key moments.
"But to play with 10 men, we were able to equalise and then to concede a second goal was a key moment for the loss."