The internet let out a cohesive weep on Sunday after hearing that Anna Faris and Chris Pratt decided to legally separate after eight years of marriage.
The news broke after Pratt released the following statement via his official Facebook page: "Anna and I are sad to announce we are legally separating. We tried hard for a long time, and we're really disappointed. Our son has two parents who love him very much and for his sake we want to keep this situation as private as possible moving forward."
He continued, "We still have love for each other, will always cherish our time together and continue to have the deepest respect for one another."
Shortly after Pratt's post, Faris also took to Instagram with the same statement, except she took out the final line, "And continue to have the deepest respect for one another."
Though the news was particularly surprising for fans of the beloved couple, as we take a deeper dive into the last year of their marriage, there were some signs that seemed to point to bumps in the road.
For example, they spent most of the year apart.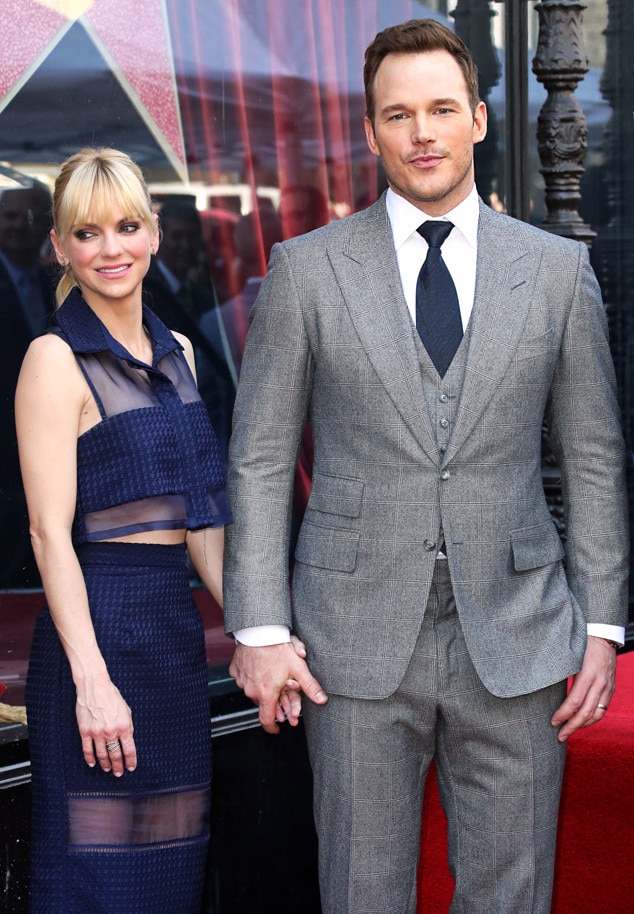 Image Press/AKM-GSI
Pratt was on a press tour for Passengers at the end of 2016, traveling around the world to promote the film alongside Jennifer Lawrence. Though their playful friendship was adored by their fans—especially Pratt's hilarious habit of cropping Lawrence out of photos—it also sparked headlines about an affair.
The rumors originally began swirling when Pratt and Lawrence began filming, and Faris admitted it was "devastating" and "stinging." 
Fast forward to last year, and Faris opened up on her Unqualified podcast about the situation. 
"We grapple with the idea of being a public couple. For the first time, maybe a year ago or 10 months ago, we were in the public a little bit," she recalled, speaking with Isla Fisher. "There were some tabloid rumors about strain on our relationship. I just remember feeling so hurt in a way that bothered me because I didn't want to think of myself as somebody that could be affected by tabloid s–t. There was a picture of me walking alone on the beach: 'Aging Anna Faris, Alone on the Beach.'"
She continued, "I take pride in how great my relationship is with Chris. But having said that, of course, in this crazy world where he's off doing movies, and I'm in L.A. raising our child, of course I'm going to feel vulnerable, like any normal human would. It did make me feel like, 'Is public perception—even though it's false—is there a grain of something?' It made me feel incredibly insecure."
Despite the rumors, however, the couple denied any issues and continued being their adorable selves.
In fact, in December, Pratt upgraded Faris' wedding ring. During an interview with E! News at the L.A. premiere of Passengers, she told us, "He just got me this ring. I know. Like two days ago. I look [at it] and I'm like, 'I can't believe it either!' He's an incredibly romantic man and I'm very, very lucky."
"She got me a tractor," Chris explained at the time, "So we're kind of even!"
They went on to celebrate the holidays together and even rang in the New Year from bed, though Faris fell asleep a little early. 
Unfortunately, as Faris continued filming her television series Mom in Los Angeles as well as her podcast, Pratt was in the U.K. in the beginning of 2017, filming Jurassic World: Fallen Kingdom.
Faris was able to visit him for a romantic trip to Paris in March before he had to return to work again. He shared the photo above, writing, "Just spent the most amazing night in #Paris with my dear, sweet and amazing wife @annafaris I mean… just look at her. Back in the U.K. now and back to work. Happy (European) #mothersday to my sweetie and all the moms in Europe. We love you!"
But Pratt's work didn't stop there. In the middle of filming, he had to take off for the world press tour of Guardians of the Galaxy: Volume 2 beginning in April during which Faris and their 4-year-old son, Jack Pratt, joined him.
Pratt couldn't help but gush over his appreciation for his wife and her decision to stick by his side for the tour.
"My dear sweet @annafaris getting flashbacks from her hilarious role in Lost in Translation," he captioned this photo. "Thank you for the support honey! You look so beautiful. These press tours can be such a whirlwind. I'm grateful to have you and the boy with me on this one. Although it's 3:00am right now, I was just awakened by a square kick to the back as little man climbed into bed and then must have had a karate dream or something and now I can't sleep. I'm on insta instead. All you dads and moms know what I'm talking about."
Faris and Jack were also by Pratt's side in late April as he was honored with a Star of Fame on the Hollywood Walk of Fame.
Once again, the actor gushed over his wife, telling E! News, at the time, "She's funny, she's strong, she's beautiful. She's gracious. She is really smart. She's just kind of better than me in every way. She's perfect."
However, less than a few weeks later, Pratt and his family were forced to separate again as he had to get back to filming Jurassic World 2 in Hawaii. Faris, on the other hand, headed to Canada to begin filming Overboard in Vancouver.
Though Pratt shared photos of spending time with his son fishing and hanging out in Hawaii, Faris didn't appear to take part in the visits. 
In fact, Faris opened up about feeling lonely in her last podcast before she and Pratt announced their split.
She was joined by guest musician Josh Ostrander with whom she discussed the downside of fame. 
"I play a character on Mom, I play a character in movies, but I also play a public character," Faris told him. "There's definitely a loneliness and, like, an internal element to being a performer. I feel like I have to laugh."
Ostrander admitted it breaks his heart to watch how Faris handles herself in public sometimes, and the actress admitted her public role can be the most difficult.
"I play a public character. I laugh loud sometimes—maybe too loud but it is a public character sometimes," she said. "Like, if I have a red carpet thing or whatever, which I'm never comfortable, but I'm always like, 'I'm fine!' And it never feels like me."
This, of course, bodes the question: Was fame the ultimate cause of the beloved couple's split?
We may never truly know, but stay tuned as we continue the discussion on E! News tonight at 7 and 11 p.m.