The 2017 Emmys has come to an end, but the most daring fashion will live on.
The best and worst dressed stars have already been named, but more style accolades need distributing. For instance, let's praise the celebs who actually took a chance, who ventured away from the typical mermaid gowns and black suits, who kept us alive with opinions whether good or bad. It can be daunting getting dressed for such a high-profile occasion—most celebs do what's safe in order to avoid criticism. So, for the risk-takers on the red carpet Sunday night, we applaud you.
REESE WITHERSPOON
The Big Little Lies star was a big winner of the night, for her role in the show and as an executive producer. While Reese's Stella McCartney tuxedo dress and matching Christian Louboutin pumps seemed like safe choices, the ensemble was a big departure from her ultra-feminine, body-hugging gowns of Emmys' past. She showed up to the red carpet making a style statement: "I'm not just some pretty Hollywood actress; I'm a boss." Her men's-inspired piece said it all, and we listened.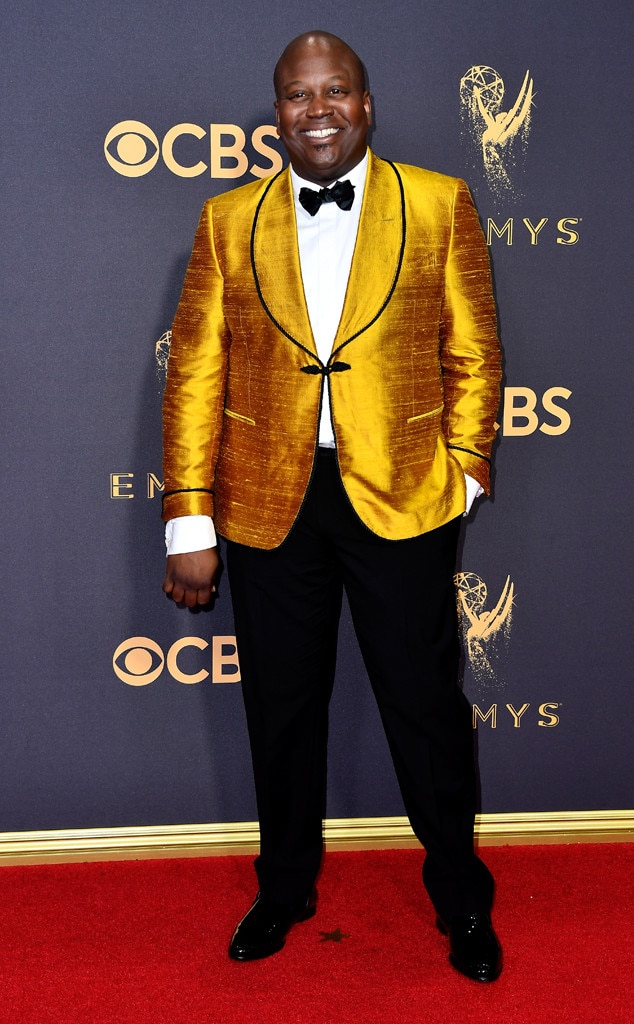 Frazer Harrison/Getty Images
TITUS BURGESS
Mellow, this is not. The Unbreakable Kimmy Schmidt star turned heads in a mustard-yellow jacket that looked at both times luxe and fun. Cheers to more men taking a fashion risk on the red carpet!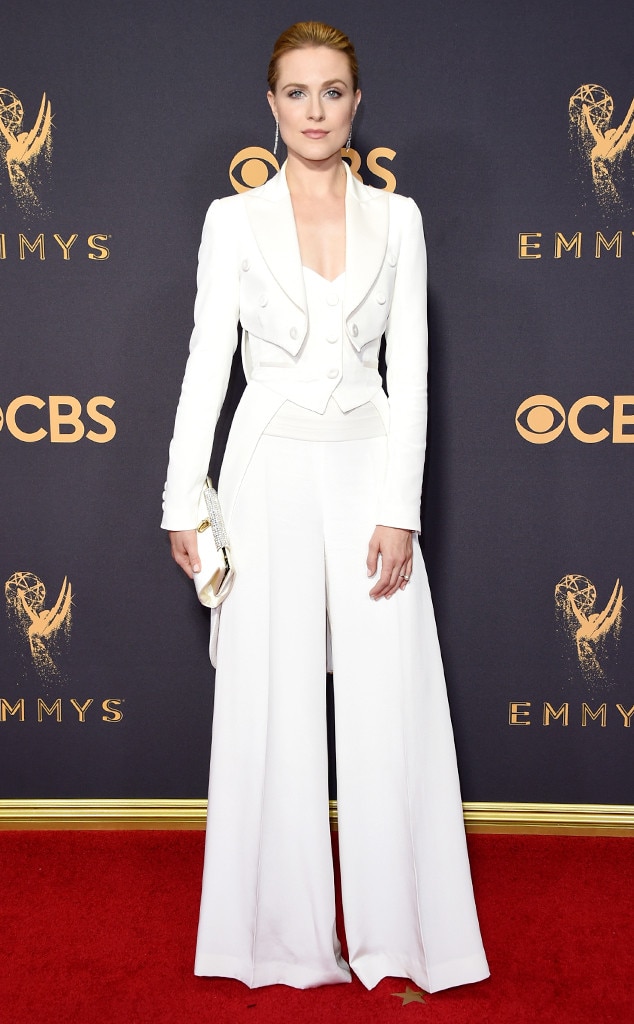 John Shearer/WireImage
EVAN RACHEL WOOD
There's no bigger fashion risk-taker in Hollywood than the Westworld actress. You will never find her in just a pretty, fit-and-flare dress, so when Evan showed up to the Emmys in an all-white, three-piece Moschino suit, we were totally enthralled. Not only did she channel major circus ringmaster vibes with chic execution, but, honestly, do you know how hard it is to pull off all white? Brava!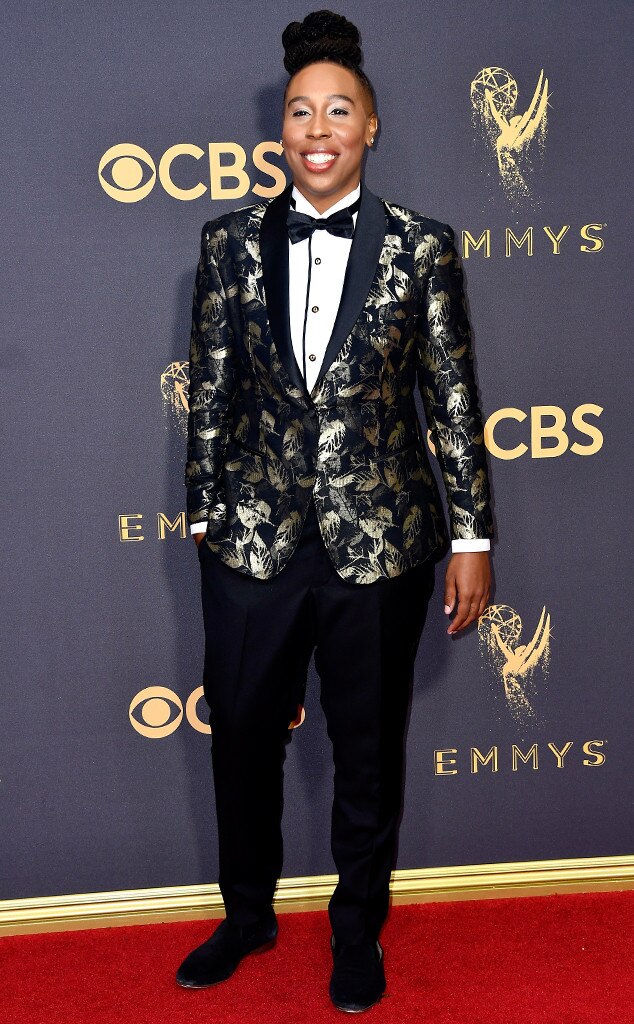 Frazer Harrison/Getty Images
LENA WAITHE
The Emmy winner looked like a golden statue in a brocade tuxedo jacket, proving you don't have to wear a metallic dress to get attention.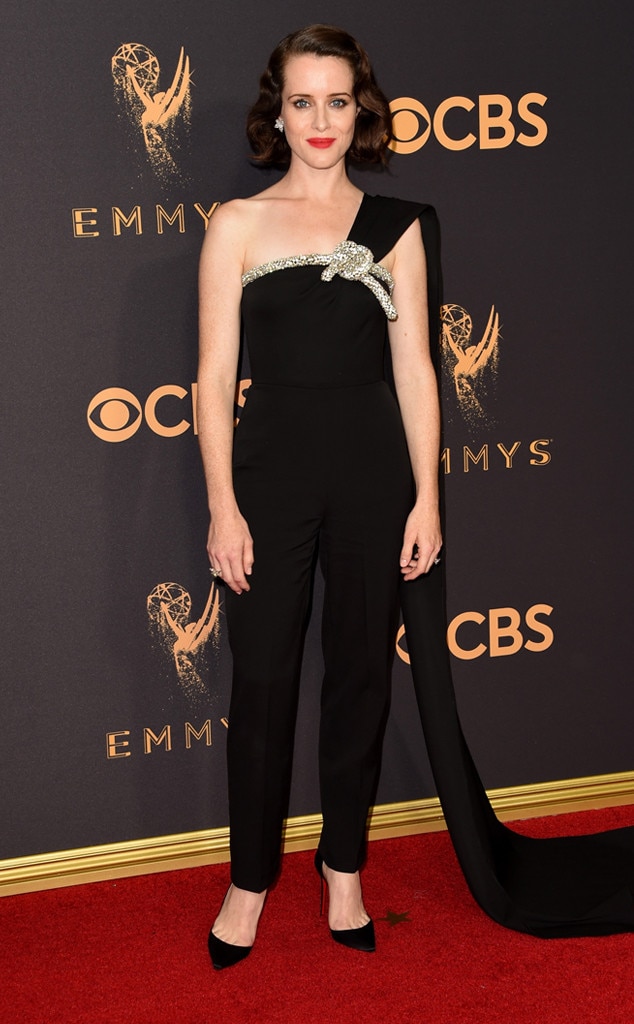 J. Merritt/Getty Images
CLAIRE FOY
Pants on an Emmys red carpet always deserve attention. It's 2017—but for some reason, glamorous gowns and pretty dresses are still major indicators of femininity. Well, not for The Crown actress, who showed everyone how regal you can look in a jewel-encrusted Oscar de la Renta jumpsuit and Harry Winston jewels. We gotta say: The over-the-shoulder train was pretty majestic.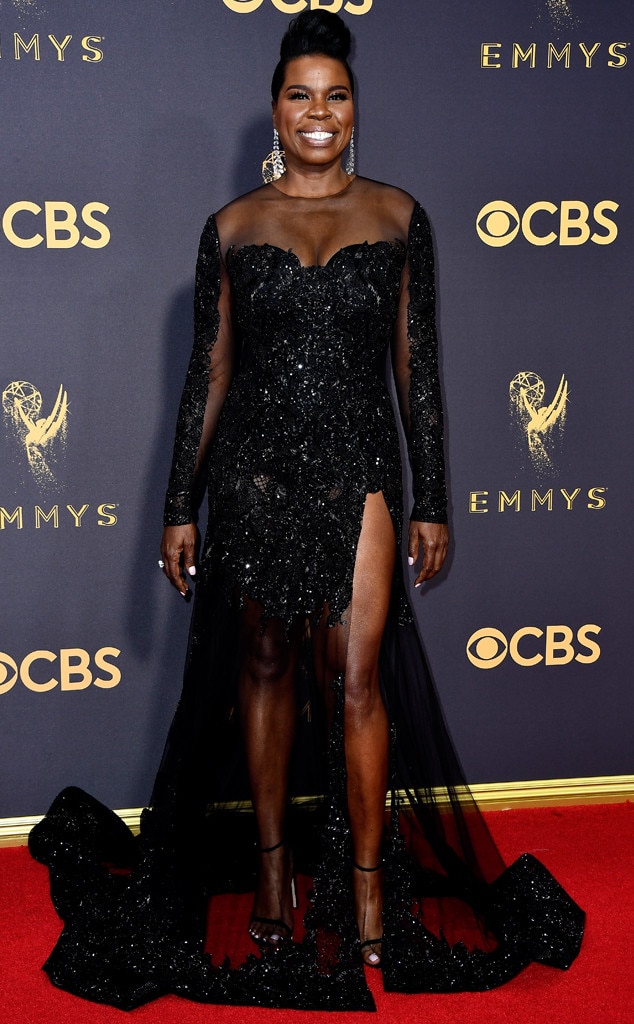 Frazer Harrison/Getty Images
LESLIE JONES
Slay, girl, slay! A sexy, see-through, black dress on a red carpet? Been there, done that…except on the comedian, which makes her appearance in the Christian Siriano gown so refreshing. Leslie, who is more known for comedic timing than as a fashion plate, proved you can be funny and ooze sex appeal. It's all about confidence.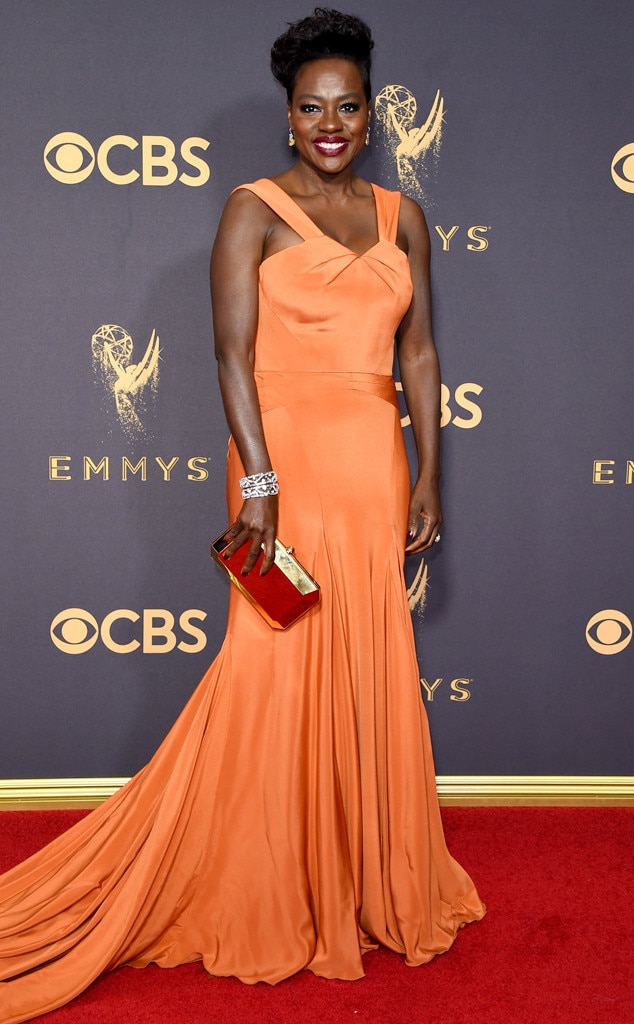 John Shearer/WireImage
VIOLA DAVIS
Orange you so happy Viola wore such a happy color on the red carpet. OK, maybe not so funny joke, but the How to Get Away With Murder star stood apart from the black and sequins pack in her Zac Posen frock.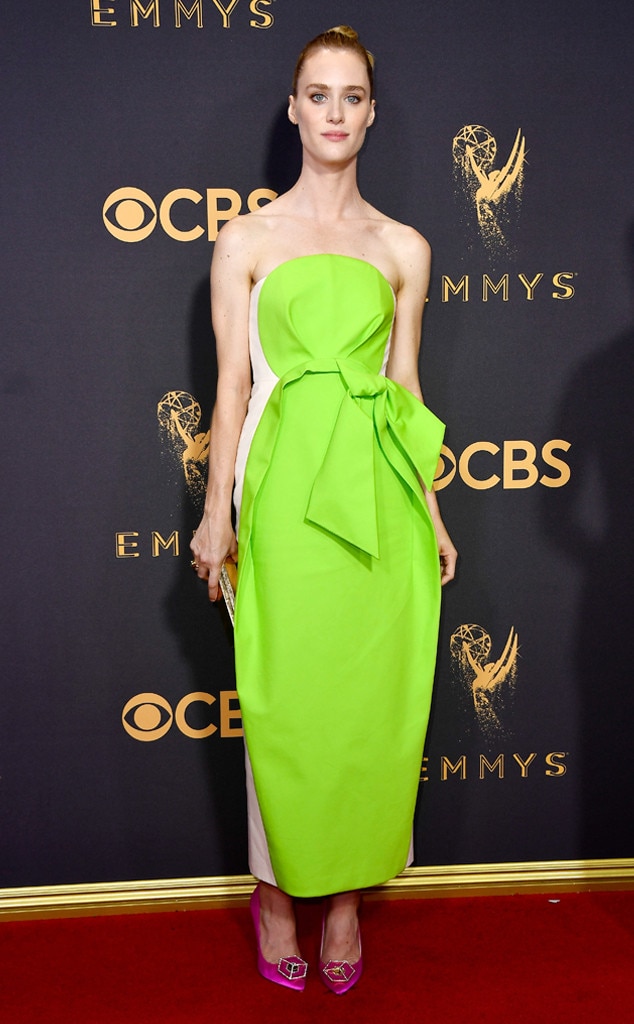 Frazer Harrison/Getty Images
MACKENZIE DAVIS
The Canadian actress deserves applause for being the only star wearing such a vibrant, electric color. Wearing highlighter green is a bold choice, especially if you're not running at night or on a bicycle, but MacKenzie looked confident in the tied Delpozo number. The fuschia, gem-encrusted heels pushed the limits even further.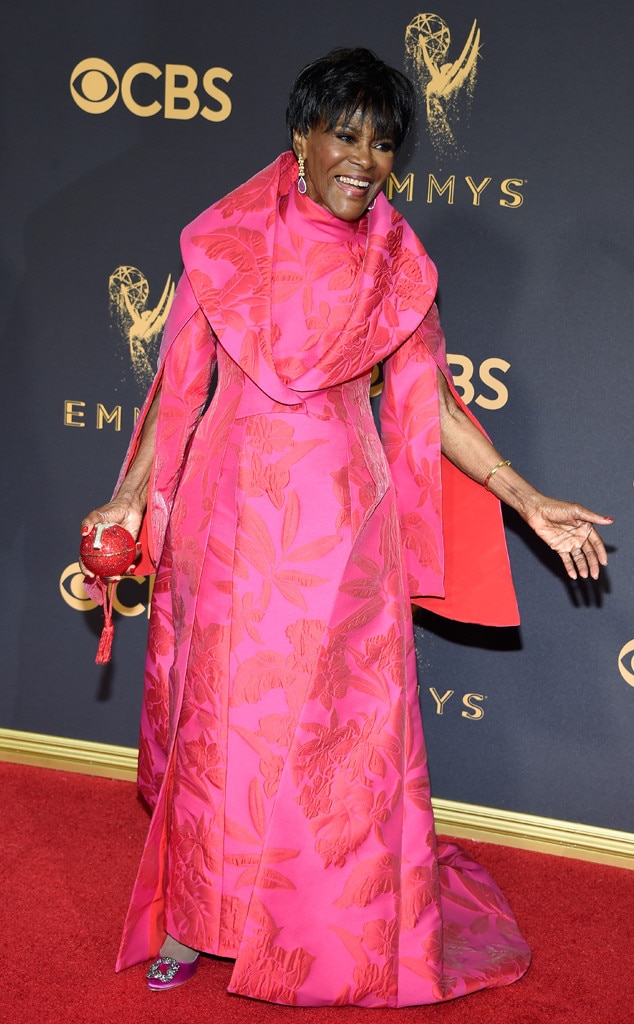 Kevin Mazur/WireImage
CICELY TYSON
Everything about this ensemble says fashion risk-taker. Leave it to the Hollywood veteran to set the bar. Not only did the 92-year-old actress wear vibrant pink from head to toe, but the slit sleeves, exaggerated lapel and circular bag could make a statement on its own. The best thing about this outfit? Cicely's smile.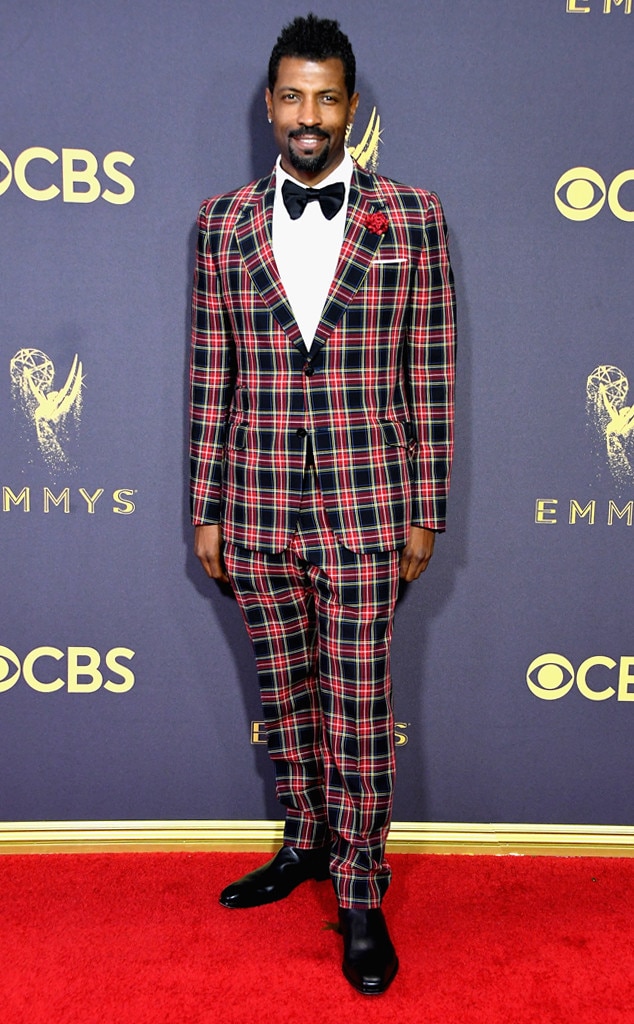 Steve Granitz/WireImage
DEON COLE
The risk-taking dudes deserve our praise, too. One by one, leading men arrived to the Microsoft Theater in dapper-but-traditional suits and tuxedos. Wearing head-to-toe plaid is no easy feat, but Deon pulled it off and looked comfortable,