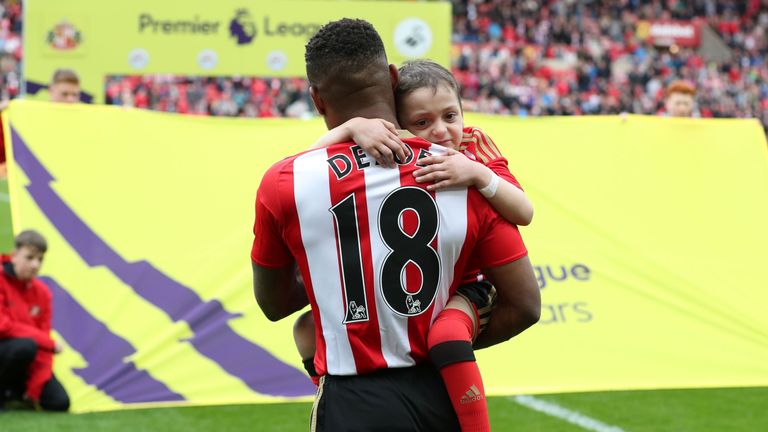 Bradley Lowery is held by Sunderland's Jermain Defoe
He was the brave young boy who captured the hearts of football fans everywhere.
Bradley Lowery's fight against neuroblastoma, a rare childhood cancer, began in January 2013 and his positivity in battling the disease has gone on to inspire millions.
A Sunderland fan from Blackhall, County Durham, Bradley's fight became closely tied to football thanks to the support of his local side and the relationships that were forged.
Bradley was a mascot for Sunderland on numerous occasions, memorably scoring a penalty at the game against Chelsea in December as Diego Costa looked on.
Sunderland's players also visited Bradley in hospital and a friendship with his favourite player, the club's star striker Jermain Defoe, soon blossomed.
Defoe came to refer to Bradley as his "best mate" with an image of the youngster asleep in his arms at the Royal Victoria Infirmary in Newcastle seeming to sum up their bond.
A Sunderland fan from Blackhall, County Durham, Bradley's fight became closely tied to football
Bradley would later accompany Defoe onto the Wembley pitch in the forward's comeback appearance for England in March.
Defoe was also there alongside Black Cats goalkeeper Vito Mannone for Bradley's sixth birthday party last month – one that included fire-eaters, jugglers and stilt-walkers.
But the campaign was not restricted to the North East. Bradley's fight was taken up by those all over the country – with football fans often at the heart of it.
In particular, he received support from Everton, the club pledging £200,000 towards an appeal to pay for groundbreaking treatment in the United States last year.
Even world governing body FIFA wished him happy birthday earlier this year and an appeal to send him Christmas cards resulted in 315,000 being sent through the post.
Sadly, pioneering antibody treatment could not save Bradley but as well as the joy that he brought to so many, the legacy of his all too short life will go on.
The Bradley Lowery Foundation will look to help other children with their campaigns and more than £100,000 has already been raised.
Bradley will continue to make a difference.