Watch Gareth Southgate's post-match interview with Sky Sports after England drew 2-2 with Scotland
Gareth Southgate insists England's injury-time equaliser against Scotland is a "big moment" for the team, as they finally proved they have character.
England were trailing 2-1 at Hampden Park as two late free-kicks from Leigh Griffiths had put them on course for a shock defeat, the first in 35 qualifying matches.
Highlights from a dramatic Group F World Cup Qualifier between Scotland and England at Hampden Park.
But captain Harry Kane volleyed an equaliser four minutes into added-on time to salvage a 2-2 draw and keep England in pole position to qualify from Group F for the World Cup.
And Southgate said that after the embarrassment of their Euro 2016 loss to Iceland last summer, it proved his players have character.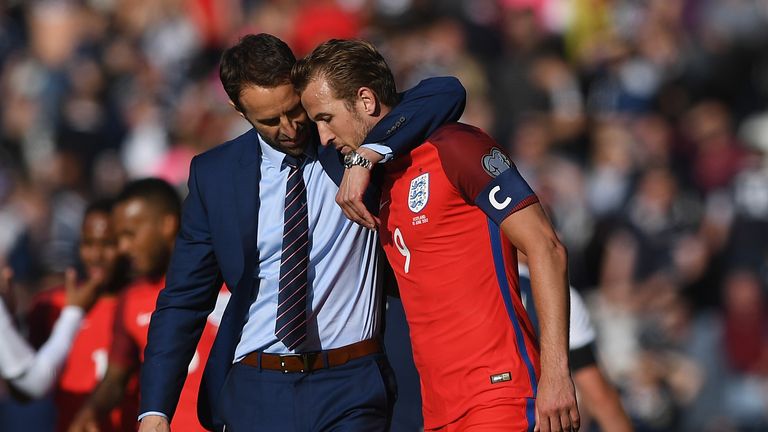 Southgate embraces Harry Kane after his late equaliser at Hampden
He told Sky Sports: "To come back from 2-1 down with the whole stadium bouncing and the memories that might have brought for the team, they put that to one side and they came through it.
"It's a big moment for the team. We have questioned character and they've shown character today.
Watch Kane equalise late in stoppage time for England to break Scottish hearts
"Our supporters were fantastic today and whatever had happened, we said we were going to go over to them at the end, so I'm glad we went over having got a point.
"They were with us all the way and they helped us get over the line or get the point."
Alex Oxlade-Chamberlain appeared to have won the game for England with his 70th-minute goal, before Griffiths struck in the 87th and 90th minutes.
Kane says the crazy end to England's 2-2 draw with Scotland showed the team's spirit
But Southgate said he and his players always believed they could recover – and they were rewarded by Kane's dramatic leveller.
He said: "I could see we had four minutes left and we had a chance to get back into the game. We have the ability to score a goal in 30 seconds and we must never lay down.
"I was pleased I didn't see people lying on the floor or on their knees. They were upright and they were back at it.
"We had a free-kick just before we scored again and you must never, ever turn it in."
Joe Hart says it was not a perfect performance from England but they must be happy with the point
Southgate added that the result was not just progress in their quest to reach Russia next summer, but also in the development of his young side.
"The objective is to qualify," he added.
"We are in pole position and it's in our hands. We have home matches to play, but it's not just about qualifying, it's about improving and developing as a team.
"In some areas we did that today and in some areas we didn't, but mentality-wise it was very good."