She's back!
After a whirlwind trip to Cannes with party boy Scott Disick, Bella Thorne kept the party going with her ex-boyfriend, Gregg Sulkin. The two former flames were keeping the heat alive at a sunny pool party on Sunday. The British actor was celebrating his 25th year on this planet, and the former Disney darling was clearly making sure he had a good time, playfully getting on top of the shirtless Brit just days after she was spotted getting cozy with the Lord Disick. 
The 19-year-old actress, who was sporting a bra top not a bikini and Moschino briefs, posted a frisky photo of the two, along with the caption, "Happy birthday Gregg!!!! I love you :)) always been such a wonderful person:) glad we are here through thick and thin. Let's party you old man!!"
And party they did!
The teen returned home from her trip to Cannes on Friday after a dramatic week with the Keeping Up With the Kardashians star. Upon leaving, Bella Snapchatted a photo of herself with the caption, "Bye Cannes, you were boring."
It looks like a good time was not had by all…
Meanwhile, Scott remained in France, partying with a bevy of beauties, including her pal Sofia Richie.
Despite several snugly snaps taken by onlookers during the vacation, Bella took to Twitter after the trip to explain that she's "not talking to Scott or anyone else."
While she may not be talking to Scott, there is someone who does appear to be lifting her spirits…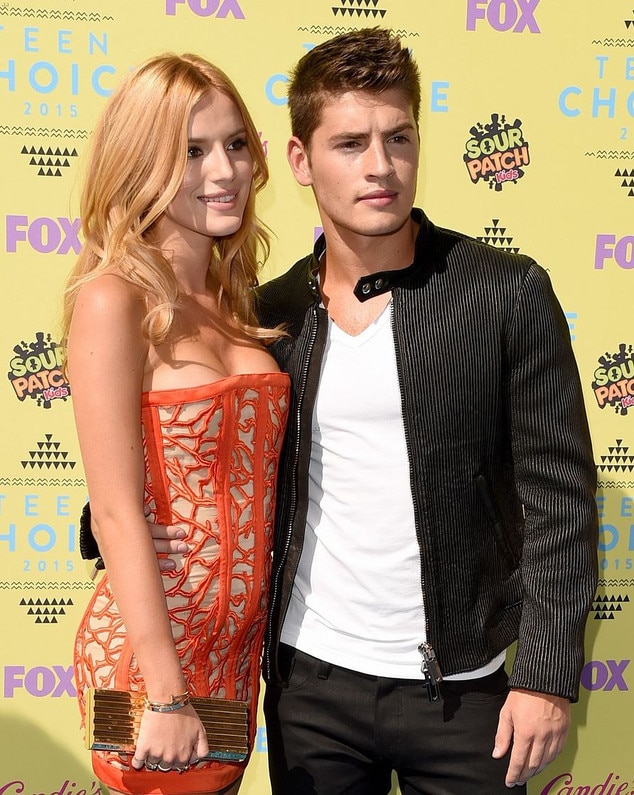 Instagram
Gregg and Bella dated for a little over a year before splitting last August.
"After much thought and soul-searching, we have made the difficult decision to end our relationship," the actors told E! News in a joint statement at the time. "We will always love each other and have a deep respect for one another, as we have each grown to be better people because of our time together."
When a fan expressed dismay over the couple's breakup via Twitter, Thorne said not worry. "Things just didn't end up working the way we had hoped," the Shake It Up actress tweeted. "But I'll always love the bub."
Sulkin and Thorne started out as a friends, so it's no surprise that they've continued to be pals post-split.
They've known each other over eight years. "Getting to know Gregg has been great. Our families are close," Thorne told Teen Vogue in July 2015. "It's hard because in this business, every boy my age wants to go out all the time and party! I'm much more of a homebody and so is Gregg. He just wants to stay in and watch Netflix."
That doesn't seem like it's still the case, but the two seem to still be as close as ever (literally).