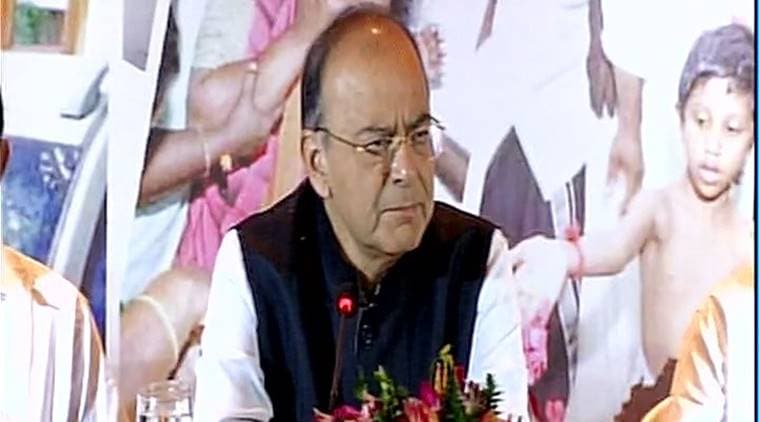 Union Minister Arun Jaitley addressing the media in Trivandrum, Kerala. (Source: ANI)
Union Minister Arun Jaitley on Sunday alleged that Kerala has always witnessed a spike in political violence under the CPI-M led LDF regime, insisting that the onus lies on the state government to ensure perpetrators of heinous crimes are brought to justice. "Sad that every time LDF is in power, incidents of violence increase. You have political opponents being killed," Jaitley said while addressing a press conference in Thiruvananthapuram.
Earlier in the day, Jaitley met family members of slain RSS worker Rajesh Edavakode, who was allegedly hacked to death by CPI(M) workers on July 29. "The kinds of wounds inflicted on Rajesh would have embarrassed even terrorists," the Union Minister said.
"Let's assume if the kind of political violence in Kerala had taken place in BJP or NDA ruled state, what would've happened," asked Union Finance Minister Jaitley, adding  "Awards would have been returned, parliament would not have been allowed to function and campaigns would have been carried out within and outside country."
Jaitley further said environment of violence will not come to an end until and unless police conduct a fair probe into such incidents. He also expressed hope that state government will take strict action against recurrence of any such incident. "Political will and determination by state government needed to discipline its own cadres rather than let them loose on political opponents," said Jaitley.
The state has been witnessing a series of violence involving BJP-RSS and CPI-M workers with the capital district rocked by incidents of attacks on houses of rival partymen in the past few days.
After meeting the family of murdered RSS worker, Jaitley had said: "Visited the family of our deceased karyakarta Rajesh, who was slaughtered in the most barbaric manner. This kind of violence will neither suppress ideology in Kerala nor it will be able to scare our workers. It will only increase their determination to work harder against those who are perpetuating this operation."
"He belonged to the weaker section of the society. . Rajesh belonged to a poor family and now his family has no means of a livelihood. He was stabbed mercilessly and there were 70-80 wounds inflicted on his body, even enemies would not be as brutal as those involved in the murder. In the past few months party officers are being attacked, our workers are being attacked and their houses are being set ablaze," Jaitley added.
With inputs from ANI, PTI
For all the latest India News, download Indian Express App