Last Updated: 08/06/17 10:39am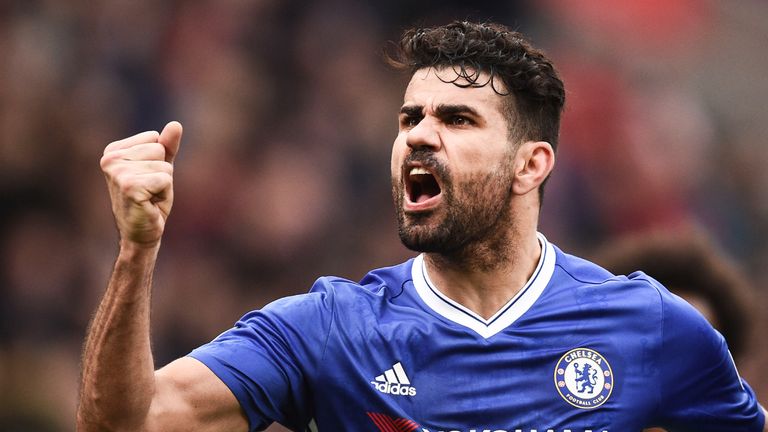 AC Milan are in talks with Diego Costa's agent about a deal for the Chelsea striker, according to Sky sources.
Jorge Mendes met Milan directors Marco Fassone and Massimiliano Mirabelli in Cardiff before the Champions League final on Saturday and another meeting is scheduled this week.
Milan are interested in three Mendes players – Costa, Porto striker Andre Silva and Real Madrid midfielder James Rodriguez.
Their number one target up front is Torino striker Andrea Belotti. They made a £39m bid for him yesterday but Torino would prefer to do business with clubs outside Italy because he has an £87m release clause for foreign clubs.
With Diego Costa's future at Chelsea in doubt, here's a look at how key he's been to the club compared to other players
Milan have money to spend after they were taken over in April in a £630m deal by Chinese investors Rossoneri Sport Investment Lux.
Costa has said that he would like to return to Atletico Madrid but they are banned from registering players this summer so he would not be able to play for them until next January.
Another option for Costa is a move to China, where his agent Mendes has strong links after selling 30 percent of his GestiFute agency to a subsidiary of Fosun International, one of China's biggest investment companies.
The mid-season transfer window in China is open from June 19 to July 14.
Antonio Conte was asked regularly through the season on Costa's future, but never confirmed the striker would be staying at the club
In January Tianjin Quanjian offered Costa the chance to become the best-paid player in the world, although they released a statement last month saying they had not made contact with Costa or his agent "during the past six months".
Any move to China would be complicated because of new rules on foreign signings introduced by the Chinese FA and the fact that Costa told reporters after the FA Cup final that he did not want to move there.
Chinese clubs now have to pay a 100 per cent tax on foreign signings, with the money going into a youth development fund.