Last Updated: 26/05/17 12:11pm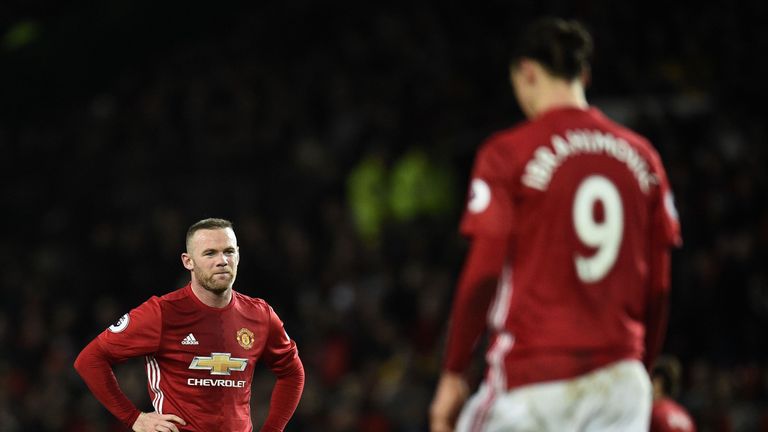 Wayne Rooney has been with Manchester United since 2004
Wayne Rooney looks set to leave Manchester United this summer, but where will he be playing next season?
Sky sources understand he has offers from both the Premier League and abroad, with newspaper reports saying a return to boyhood club Everton, who he left in 2004, could be on the cards.
Rooney is under contract with United until 2019, but after making just 15 Premier League starts this season he wants to play first-team football, with the 31-year-old having been dropped from the latest England squad by Gareth Southgate.
But where will he go? We asked the Soccer Saturday pundits for their views…
Paul Merson
"I would like to see him go back to Everton. He's earned a lot of money now, and it's where he started and the club he supports.
"He would play regularly there, and he can't be staying at Manchester United because he doesn't get a game now, let alone in two years' time. If he wants to play on for three more years I would go to Everton.
Everton 1/1
Stay at Man Utd 12/1
Any Chinese club 1/1
Celtic 20/1
Any MLS club 8/1
Newcastle 33/1
"It would only be a positive for Ross Barkley – assuming he stays – as he can learn from someone like Rooney. He is the leading goalscorer for England and Manchester United, and if you can't learn from him you might as well pack the game in. If he went to Goodison, it would only help Barkley improve as a player.
"I know he hasn't played much this season but I don't think Rooney gets enough credit. People overlook what he's done in the game."
Charlie Nicholas
"Is he going to be at United next season? I don't think so.
"Everton would be a good move for him but not for the club. People talk about him going home but it's been so long since he was there and football isn't sympathetic.
Everton would be a good move for him but not for the club.
Charlie Nicholas on Rooney
"Everton fans might still have an image of this fast and powerful player rather than a slower one looking to play deeper. You don't need to be a doctor to see he's not in his peak physical shape.
"If I was Wayne Rooney I'd go to America. He doesn't need the money or hassle of China."
Matt Le Tissier
"I'd imagine this is his final season at United and I'd be very surprised if he stayed. I would like to see him stay in the Premier League but it's going to be a tricky one because it depends on his ambitions in terms of playing time.
We look back on the England career of Wayne Rooney after he was left out of the squad for the games against Scotland and France.
"I'd imagine he'll have some serious offers from China and America. I still think he's a bit young to go out to America but it wouldn't surprise me."
Phil Thompson
"I don't see him being at United next season. I think that it would be the right thing for him to leave.
"If he stayed his role is likely to remain the same as it did this season, and while he offers a lot in terms of his experience to the likes of Marcus Rashford, that would benefit United but not Rooney.
"From what I've heard, his heart is set on going back to Everton and if they think that works for them then it makes sense. You've got to remember he's 31, not 36 or 37, so I think Ronald Koeman will be interested."
Watch Brook vs Spence Jr, from Bramall Lane, Sheffield, May 27, live on Sky Sports Box Office. Book the event online here or via your Sky remote.